TDmonthly Magazine asked tween expert Juliette Brindak, 16-year-old co-founder of the Miss O and Friends company and website, to report on what tween girls want for Christmas. She polled girls on the site, and this is what she found:
Juliette: Many of the items that the girls wanted had to do with electronics: a laptop computer, a cell phone or an iPod. During the holidays, girls seem to lean more towards electronics because they are more expensive, and they hope that maybe now their parents will buy these hot gadgets for them.
Basically, I took the items and categories that were coming up numerous times and picked the coolest versions of what the girls were asking for. Itís so important to listen to what the girls are saying. They know better than anyone.

I-Dog Interactive Music Companion by HASBRO
Itís the cutest way of listening to your iPod, MP3 or discman without your headphones. This tiny robot puppy not only plays your music, but it also lights up while wagging its tail and shaking its ears along to the beat.
Firefly Phone by FIREFLY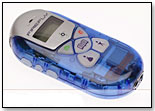 Itís genius: the first cell phone for kids. With customized ring tones, animations and a maximum contact list of 20, this phone has all the basics needed. Mom and dad will love the fact they can control the incoming and outgoing calls as well as the special button just for them. It also lights up when it rings and has many changeable faceplates. It sounds like a pretty good first cell phone!

Lucky Charm Necklaces by TINA TANG
These very simple but pretty necklaces can go with anything. Girls can mix and match chains and charms creating their ďperfect everyday necklace that they never take off.Ē The charms vary from peace signs to lightning bolts and angel wings to dog bones, clearly covering everything.

Dolly Girl Fragrance by ANA SUI
Itís the perfect mix of so many different smells, creating a perfume that appeals to many different kinds of girls. Itís fun and quirky, but subtle and soft. The packaging, the face of a doll, is really cute too, and naturally is the dolliest color out there, pink. It looks great on the dresser and smells awesome on the tween.

Synchilla Marsupial Fleece Jacket by PATAGONIA
Nothingís better in the cold winter months than a comfy and warm fleece. Girls can wear them to school, around the house, or under ski jackets for when they hit the slopes.