"Barbie is one of our favorite Guests."
— Maxine Clarke, Build-A-Bear Workshop
Barbie may be sold mostly at big-box stores, such as Toys R Us, but she buys in specialty shops. How do we know? Because she's just gone to the Build-A-Bear Workshop® and has taken home a cute little custom teddy dressed in a tulle skirt. The new set will be available in January 2006.
"We are excited to see the most popular doll of all time shopping at Build-A-Bear Workshop," commented Maxine Clarke, founder and chief executive of Bear of Build-A-Bear Workshop. "Barbie is one of our favorite guests, and we hope she stuffed her bear with a lot of extra love."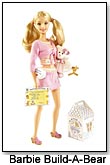 "We have been developing the Build-A-Bear [Workshop] doll for nearly a year," added Katie McDonald of Collector Marketing. "The strongest customers should be toy stores and specialty doll stores. We will also be selling this doll on Barbiecollector.com and through our direct mail catalog."
Though Barbie appears to be a faithful Build-A-Bear Workshop customer, with no plans to adopt any other toys, Mattel is busy at work forming allegiances of their own.
"We are working with some great brands including Minnie Mouse, Invisible Woman and Mary Jane (from Spider-Man)," said McDonald.
Over at the Alexander Doll Co., 8" Wendy has made new friends on Sesame Street for fall 2005 — though it's hard to say if they know they're toys or not. She's palled up with Cookie Monster, Elmo and Zoë — who also happens to be dressed in a frothy pink tutu.
Could this be a trend? Stay tutuned to TDmonthly to find out!

Writer's Bio:
ALISON MAREK is an award-winning writer, director and cartoonist whose work has been published by Fairchild Publications and DC Comics (Piranha Press), broadcast on Showtime and other cable networks, and viewed worldwide in film festivals. See her short films and print work on www.alisonmarek.com. Watch her nefarious villains in the web series www.MuggsMovers.com. Get inspired by her cartoons "Daily ARFFirmations to Unleash Your Inner Fido" at www.ARFFirmations.com. Phew! And then ...
Read more articles by this author