In the first year of selling his phonetic-teaching devices, Wood made, and then lost, $3 million.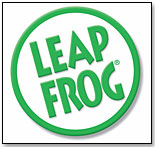 Mike Wood, a San Francisco Bay area attorney, conceived the idea for LeapFrog when his son was learning how to read at the age of 3 and had difficulty distinguishing between letter names and sounds. In 1994, Wood left his successful law practice to invent the prototype for what has become a multimillion dollar product.

In the first year of selling his phonetic-teaching devices, Wood made, and then lost, $3 million. Though he turned a profit the second year, he knew he would soon run out of money. So, in 1996, he approached Tom Kalinske, the former CEO of Sega, who had formed Knowledge Universe, a self-improvement company that offered learning toys for children and adults.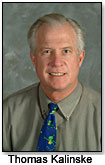 Kalinske invested in Wood´s company, helping to create the modern day LeapFrog Enterprises. In the beginning, the pair relied only on small, specialty retailers. Later they expanded to broad distribution that includes department store chains such as Wal-Mart and Target as well as bookstores such as Barnes & Noble and Borders. Today, LeapFrog is the leading brand for technology-based education products.
Having sold more than 20 million LeapPad Learning Systems, Kalinske explained, "We made paper interactive. We made paper come to life and have a voice."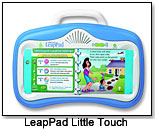 Targeting the public school system, LeapFrog launched its Schoolhouse division in 1999. It includes LeapPads with content that adheres to state requirements and provides supplemental education. Today, it is in more than 80,000 classrooms nationwide.

"We have never considered ourselves a typical toy company," Kalinske explained. "We´ve considered ourselves an education company from day one."
Global distribution started in 2000 with sales of $4 million. In 2004, this figure escalated to $153 million. Today, LeapFrog sells to 30 countries in six languages. Western Europe is the fastest growing area, and in Britain, devices use the Queen´s English. In addition, "They teach first grade math here. It´s kindergarten math there," Kalinske remarked.
LeapFrog has met with success in foreign nations because of the high demand overseas to learn English as a second language. "Around the world, that is a hot interest area," Kalinske said.
The design and development process involves the opinions of 150 educators with masters or doctorate degrees. LeapFrog also has a large engineering staff.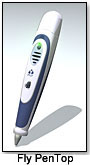 "Anytime we develop a chip it´s approximately a two-year process," Kalinske stated. "People sometimes say, ´You guys are nuts! This must cost you a fortune.´" But it's making their fortune, too.
One of their newest products is the FLY PenTop Computer, released on October 16, 2005. It is the first consumer electronics device to give users real-time audio feedback as it is used to write and draw on special FLY paper, making what the user writes come to life. It can play games like an interactive baseball card game by Upper Deck … and even play musical instruments drawn by the user.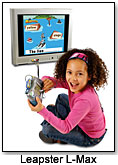 This year, the company will also introduce the Leapster L-Max Learning Game System, a versatile portable handheld that plugs into a television. The handheld interacts with the information on the screen. Tutoring is built into the software so that when a child presses the "help" button, a professor appears.
Although the company sells the most to the 4- to 8-year-old group, the infant effort comprises a 17 percent share, and the high school product line is growing. LeapFrog always pushes itself to the next level. As Kalinske summed up, "We are very much an innovative toy company."