"The mark of a great song is it can be translated and done in various styles and by different artists and it still remains great." —Dennis Scott, Grammy Award-winning children's producer/composer

Who knew that Fred Rogers,
Mr.
Rogers to a zillion kids, was such an accomplished musician? Despite a degree in music, a love of jazz and a musical director who was none other than the legendary Johnny Costa, he was just known as that guy who sang those pleasant songs and had one of the greatest kids' shows of all time. Dennis Scott, Grammy Award-winning children's producer/composer realized the depth of the songs, and his appreciation led to an amazing album by a group of amazing performers: "Songs From the Neighborhood."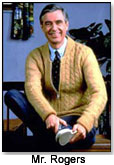 Scott, who has worked with everyone from the Muppets to Mr. Ray Charles himself, had the TV on in the background one day when Fred Rogers came on, singing a song. Dennis realized that beneath the simple approach lay an excellent, and somewhat sophisticated, song. He wondered who wrote the songs, and it turned out to be Fred Rogers. He wrote all the songs.
The idea took seed: "Wouldn't it be wonderful to do new arrangements, tailored for some top performers? To do something truly unique?" Scott contacted the Rogers family, who were hesitant, as this was Fred Rogers' musical legacy, but eventually relented. Then it was two years tracking down artists and managers, getting them to agree not only to the project, but to the songs, arrangements — and, no doubt, what color M&M's, too.
"Everyone was great," Scott explained, "But we did have some last-minute chaos."

It seems former disco-diva Donna Summers had but one day of the year open for recording. She keeps a tight rein on what material she performs (she wanted to do this differently from her past hits), and it wasn't until the night before the session that she approved of the arrangement … part of one version, a section from another.
"Then we had to put it all together and still get her approval," Scott told TDmonthly Magazine. "But she really wanted to do it and sang great."
Amy Grant gave Scott a scare, too — on another night before, they still didn't know what key she was to sing in. Fortunately, they had guessed right. BJ Thomas was especially nice and down-to-earth, and CeCe Winans got the dates mixed up and came a week early, surprising Dennis' wife, who was dressed for cleaning. She was mortified, but Winans took it in stride: "Honey, I didn't see anything."
What Scott ended up with was a group of songs by a set of artists who "really got what it was about. We didn't go out to create something juvenile. We wanted to make the songs contemporary and pop. The mark of a great song is it can be translated and done in various styles and by different artists and it still remains great."
But kids like it, too. Scott's own 5-year-old (a big Barry Manilow fan, much to his father's head-scratching) was an unbiased enthusiast, singing and bopping to the cuts. "Kids can appreciate songs that are more sophisticated, especially when, as in Fred Rogers' work, the lyrics are child appropriate, and the music is so assessable. His songs are timeless."