Several companies have begun making specially designed cell phones for the tween (or "kidult") market. Focusing on connecting children with parents, rather than with friends, the phones include special features that are both kid- and parent-friendly.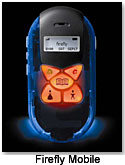 Firefly Mobile launched the first-ever cell phone designed to meet the needs of kids and their parents in March 2005. The phone has only five buttons on the face; one each for Mom and Dad, one for the phone book, and one each to answer and hang up. There's no way to surf the 'Net, download a new ring tone every day or take pictures. With no keypad for numbers, there's no opportunity for text-messaging.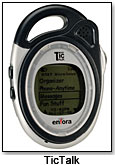 The
TicTalk
from
enfora
is similar to the Firefly Mobile: no keypad and a few simple buttons. TicTalk, unlike Firefly Mobile, has learning games from
LeapFrog
, suitable for children from first through the sixth grades. Children earn reward minutes for playing the educational games. It made the Toys "R" Us 2005 Joy list.
Both TicTalk and Firefly Mobile are heavy on the parental control. Parents program in the numbers that children can call or can receive and activate the phone. The TicTalk 87-page user guide should answer any questions about how to do anything with the phone.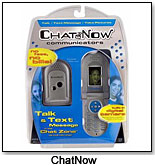 Meanwhile,
ChatNow
from
Hasbro
is a walkie-talkie with extras. The ChatNow has a two-mile radius, a built-in digital camera and text messaging. Since it is a two-way radio, not a phone, the talk and text is only between ChatNow phones. On the other hand, there's no roaming charge.
Check back in an upcoming issue of TDmonthly Magazine to read more on this emerging trend.