"[C]hildren are exposed to technology practically from the time they arrive home from the hospital." —Laurie Oravec, Fisher-Price

Rattles are still a big hit and stuffed bears still make beloved furry friends, but there is no denying that electronics have become a bigger force in baby toys over the past several years. Many top-selling baby toys now feature electronic components that add light, sound, movement and interactive play.

"Baby and preschool toys, in general, are extremely popular right now," reported Maggie Henjum, production coordinator for Manhattan Toy (ToyDirectory). "Within the baby toy segment, we are seeing increased popularity in developmental toys, especially those utilizing new technologies."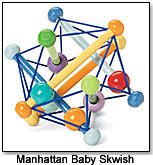 Indicative of new technologies, Henjum reported that the company has recently introduced a unique sound mechanism in its Manhattan Toy Baby line. As an example from the new "fill-and-pour" toy Big Top Sounds, baby drops a soft lion toy in the circus tent and hears a gentle "roar," then pulls the lion back out again to hear the word "lion." The same sound technology is being used for Whoozit Silly Sounds, the latest introduction from the company's award-winning Whoozit brand.
Reyne Rice, toy trends specialist for the Toy Industry Association, reported that electronic components are present in many baby toys today because of falling technology costs. This has led to the introduction of several plush toys that provide interaction with baby. Examples include Fisher-Price's Knows Your Name Pooh and Knows Your Name Elmo, available this fall, which can be programmed to speak the child's name, birthday, favorite foods and other personal information. "Those toys are magic to babies, because it's as if they are really taking to them," Rice reported.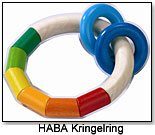 Rice does caution that electronics used indiscriminately can be over-stimulating for baby. However, she noted, "Toy manufacturers are very conscious of finding a balance between using electronics where it makes sense and using basic play patterns where they make sense."
At Magic Beans in Brookline , Mass., co-owner Sheri Gurock has observed more baby toys featuring electronic integration. "There are a lot of toys that feature sound, light and movement. Babies like sound and light, and it's a great way to show cause and effect."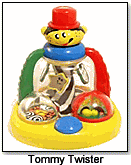 However, Gurock also has observed interest in simpler, more traditional toys, such as the wooden toys from HABA (ToyShow), which include teethers, blocks and clutching toys. Other strong sellers come from WOW Toys, which provide sound and movement without the need for batteries. An example is the Tommy Twister, a top that spins stars and teddies, then stops them abruptly with the touch of a button.

Rice pointed out that there are many traditional toys—shape sorters, blocks, animals puzzles, hard-covered books, cloth books, etc.—that don't feature electronics. "Most parents mix it up. Each type of toy provides a different type of play experience and another way for the baby to learn."

The following is a selection of new and top-selling electronic baby toys.


This new baby-activated kick toy is one of five new products in Tiny Love's new line of car toys designed for safety and baby's amusement. Designed for rear-facing travel only, the Aqua Seal Kicker creates an aquarium effect for baby's delight. The toy features two operating modes: Play, a battery-operated cause-and-effect kick pad with four different sounds, light, bubbles and swimming sea animals, and Auto for continuous music followed by lights and bubbling. It´s perfect for ages 3 to 12 months.

.

AD

Manhattan Baby introduces the newest sound mechanism of its kind with its new "fill-and-pour" toy Big Top Sounds. When baby drops the soft lion toy in the circus tent, she hears "roar," and when the lion comes back out, she hears "lion." Such classic fill-and-pour play encourages development of motor skills and cause-and-effect understanding. It rewards baby's activity with immediate feelings of success. Big Top Sounds causes eight unique sound reactions.

.

AD

Utilizing a simple USB cable and a CD-ROM, parents can download key information into the plush characters. Each has an internal clock so the content of what each character says will change depending on the time of day (morning, noon and night). Each character sings several songs and tells stories that incorporate the personalized information downloaded into the plush. Parents can download the information while the product is still in its packaging, so as soon as the child opens the box, they can begin to play with their new friend. Parents can update the toys as often as they want so every day can be a new way to play.

.

AD

The LeapStages Infant Learning System transforms throughout baby's first year based on the learning parents choose to match to their baby's abilities and interests. There are four LeapStages Learning Screens: LeapStage 1, The Classical Connections screen (lying-down mode), uses music, lights, and black/white patterns to provide a variety of stimulation; LeapStage 2, The Baby Senses screen (lying down mode), shows real baby faces and plays music with real baby coos and giggles to encourage language development; LeapStage 3, With the Word Play screen (sitting up mode), rewards baby's touches with colorful images and lights; LeapStage 4, The Learning Songs screen (standing mode), has lively melodies that promote language and memory development.

.

AD

.

AD