"Toy designs … reflect the attitudes that kids have toward their world at that time - or that adults think they have or should have."— Karl Geurs, writer/producer

Barbie did it. So did G.I. Joe and Groovy Girls. TDmonthly Magazine talked with industry experts to find out why a toy captures the public's fancy and how manipulating face and body shapes keeps it on top.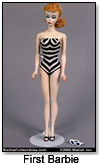 Raggedy Ann first grabbed the public's heart in 1918 with a series of books and dolls by John Barton Gruelle and the P.F. Volland Company. The books recounted the adventures of sweet-natured Raggedy Ann and her little toy friends, who sprang to life as soon as they were left alone.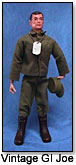 The storybooks helped Raggedy become a sensation, explained doll expert Denise Van Patten, author of "The Official Price Guide to Dolls" (House of Collectibles, 2005). The books always showed Raggedy Ann being kind and good — just as a little girl was expected to be.
"Toy designs are really an expression of the time and the culture," Karl Geurs, an independent writer-producer formerly with The Walt Disney Company told TDmonthly. "They reflect the attitudes that kids have toward their world at that time — or that adults think they have or should have."
Richard Dawkins' theory of "memes" — the building blocks of culture — helps explain why a toy like Raggedy Ann is suddenly hot or icy, Geurs continued. Memes also account for why individuals in a culture simultaneously agree to wear pastel polyester leisure suits or pierce their tongues with metal studs.
Raggedy Ann has remained a classic, with minor modifications, but by the 1960s, she'd long been supplanted as the #1 doll by Barbie. Raggedy Ann may have been sweet, but she was old-fashioned and Barbie had better clothes. The memes were signaling "in" kids that rag dolls were definitely "out."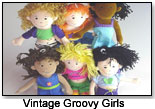 Then, in 1998, the Manhattan Toy Company (ToyDirectory) launched Groovy Girls. They weren't just cuddly and cute, they had a kicking wardrobe to boot. Like Raggedy Ann, they were relatively "big headed" — approximately 4.5 heads tall — and thus "read" as rather babylike and vulnerable, but their leaner bodies made them fashionable.
"People were really excited by this fresh take on rag dolls," Sonjia Erickson, vice president, creative, for Manhattan Toy Company, told TDmonthly. "We didn´t know what a craze it was going to be."
The first Groovy Girl face was "very primitive and simple," continued Erickson. In January 2000 the company created a new look and modified it the following year.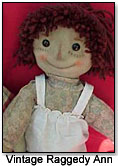 "There was a lot of thinking about where the seams go. For instance, the seam in the chin was made less visible," said Erickson. "The new feet were more elongated and not as ball-like."

The mouth moved up toward the nose, there were more variations in expression, the eyes got bigger and sparkly glints and a touch of blush were added. "Bigger eyes are a more innocent and vulnerable archetype," noted Geurs. "Little eyes give a "beady-eyed" look, such as that of Mr. Burns [from The Simpsons]."

Groovy Girls combined the cuddliness of a ragdoll with a fashion doll's slim physique and cool clothes to come up with a whole new toy. Mattel's trying something similar with their Teen Trends. While retaining the wholesome stylishness of Barbie, they've incorporated the larger head and eye size that were popularized by BRATZ and added something new: super articulation.

If little girls love the combo of fashion-ragdoll, does that mean they'll go for this new combo, fashion-action figure?

"At the end of the day, it´s how plugged in to himself or herself the toy designer is — and how plugged in to the time and culture — that helps makes a toy sizzle or not," concluded Geurs.

In other words … only the memes know.

Here are some toys that continue to change to stay on top:

This favored toy dates back to 1915 when Johnny Gruelle invented pictures and stories to entertain his daughter during a childhood illness. Raggedy Ann, along with her counterpart Raggedy Andy, has been the subject of numerous stories in the generations since. This particular plush toy, part of the Applause Dakin Signature Collection, stands roughly 12" high, has button eyes, a blue dress and a white apron bearing the doll's name embroidered in red. Raggedy Ann is a lovable, huggable addition to any plush toy collection.

.

AD

The GI JOE team has seen big, bad-to-the-bone COBRA troopers stumble to a halt when they spot Major Barrage steaming toward them on the battlefield. Intelligent and thoughtful off the battlefield, Major Barrage lets his two tech-enhanced shotguns do all the talking in a combat situation. The team is relieved he´s on their side, since his fast temper and faster fists are legendary. This 3-3/4" figure is fully poseable.

.

AD

The Crimson Guard troopers are elite shock troops of the COBRA legions. Each must hold a degree in either law or accounting as well as being in top physical condition. After rigorous training in COBRA combat and tactics, the "Siegies" undergo plastic surgery so that each trooper will look similar. At least two, and perhaps more, prominent members of congress (and dozens of lobbyists) are rumored to be "Siegies" in deep undercover. This full poseable action figure stands 3-3/4" high.

.

AD

Barbie doll looks fab, feminine, and totally trendy. She pairs a soft, pink-trimmed sweater with a white miniskirt, sparkly butterfly choker and chic purse. Lots of styles are available separately. So are all of Barbie's fashionable friends.

.

AD

From the movie "Barbie and the Magic of Pegasus" comes a new line of Barbie toys. This doll sets Barbie as a princess in a world of winged horses and cloud castles, and along with her sparkling purple gown comes a tiara and light-up wand. A bonus activity DVD with three games is also included.

.

AD

Launched in summer 2005, the new Teen Trend dolls take fashion dolls to a whole new level: 17 inches high, to be precise. Kiana is one of four posable fashion dolls that come with trendy clothes that reflect each girl's personality. Each doll has long, stylable hair that can be streaked with gel, waved or curled. The dolls also come with their own personalized Look Books.

.

AD