His first attempt to sell on QVC failed. It was when he began doing trade shows that he received the hoped-for response.

For parents and educators tired of seeing kids injured by plastic balls while squabbling over a referee's calls, the Xtra Fielder Backyard Net System by Xtra Fielder LLC (ToyShow) brings fun back to outdoor play. In addition, it only requires a few players to begin a game.

The relatively simple system comes in different sets. The Strike Zones set includes one net, a plastic Wiffle brand bat and ball, while the Complete Set includes four nets, a plastic Wiffle brand ball and bat and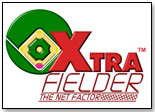 a carrying bag. The School Package includes four nets, four stands, a Wiffle brand ball and bat and a carrying bag. Bases are optional. Players set one net on each base, and throw a runner "out" by sending the ball into the appropriate net before the runner gets there.
This is owner and designer Mark Gibson's first foray into the toy market, having started the company in May of last year. Gibson, a manufacturer of medical and aerospace products, came up with the idea for Xtra Fielder in June 2003, when playing with three of his six children.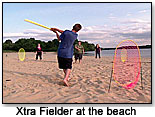 "It is always those three against me, and to get all the runners out you are forced to hit them with the ball, and then there are not enough fielders to cover all the bases," he told TDmonthly Magazine. "I got tired of missing them with the ball, and then they would get a home run and laugh all the way to home plate. Plus, they would argue over the pitches if they weren't ones they liked, saying they were balls and not strikes."
On one occasion he stopped playing in frustration, and he thought of creating a target at each base. "I went out and bought some Hula Hoops and some fishing net and tied the net to the hoop. I put it on a shepherd's garden hook and put it in the ground. It was ugly, but it worked."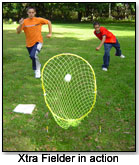 He didn't think the concept could be made in production. A year later, his wife suggested putting a rod on each side. They figured out a way to hide the framework in assembly, so no sharp points would protrude. In the future, they may offer shorter rods for the Strike Zone.
Marketing was difficult. His first attempt to sell on QVC failed. It was when he began doing trade shows that he received the hoped-for response. Catalogs have been another successful avenue. He anticipates higher sales to educational markets and sells direct online as well as through an eBay store.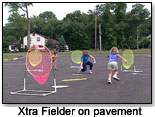 "One of the new markets is special needs and young children that can't catch yet," Gibson explained. He added that along with teaching kids the notion of forced outs, it instructs them "to throw to the right base. A ball pitched into the net is a strike. Three strikes, and you're out. The only difference from baseball is we allow five balls, not four."
Xtra Fielder targets 8- to 12-year-olds, pre-kindergarten, and colleges that have Wiffle ball intramural games.