"We believe there are many potential customers that have just never heard of us or the instruments we sell."— Bill Taylor, Lark in the Morning

It's hard to run a successful business unless you believe in the community you serve. Lark in the Morning, a successful West Coast music store chain, has survived in a peculiar niche because its owners care about musicians and the instruments they play.
Mickie Zekley started the business in his Mendocino, Calif., home in 1974. He provided a service to help people locate hard-to-find instruments — everything from the old to the ethnic — and traveled around the country to sell them at music festivals. In 2003, Bill and Deb Taylor purchased the thriving business: three retail shops in Mendocino, San Francisco and Seattle, along with a 148-page catalog and a Web site with more than 8,000 items.
"We´re not really a bestseller business," Bill Taylor told TDmonthly Magazine. "We intentionally are in the business of selling more unusual items, with small sales for thousands of different items."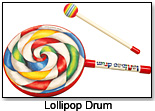 For parents and instructors, Lark in the Morning is an excellent source for the talented child longing for an instrument out of the ordinary. The Musicmaker is one of their most popular instruments, along with the Lollipop Drum and Whistle. Hand percussion attracts children, Taylor said.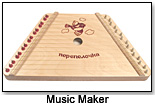 Forty percent of sales are from their shops. The other 60 percent of direct sales orders, including wholesale, are placed through their Web site. Taylor believes that many of their phone orders are made after people have visited the site.
"Most of our retail shop business is 'drop in,' but we do have many customers that travel across the country and across the world to visit a shop," Taylor remarked. "We know we have the most diverse selection of world musical instruments of any shop anywhere, and it´s a great experience to visit in person."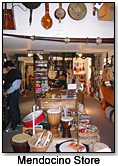 Promotion has been the key to achieving this kind of notoriety. Taylor focuses on improving their Web site and expanding their presence on distribution avenues, such as Amazon, Shop.com and eBay.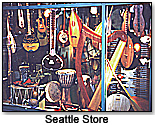 "Our marketing plan is to find ways to let people know what we have," he explained. "We believe there are many potential customers that have just never heard of us or the instruments we sell."
Mickie Zekley, the founder, still owns and operates Lark Camp. Lark in the Morning Music Celebration began in 1980, attracting beginners and professionals. Every year several hundred students get together with more than 75 instructors from around the globe. Many are young people.
"Like most interesting businesses, Lark in the Morning was started because of a personal passion, not a business idea," Taylor said. "Those of us here today still have that passion. We have a goal of providing a market for the most diverse collection of instruments."