"[Boys] want humor more than anything else in the world." —Jay Gissen, Riot Media Inc.

Jay Gissen, former director of editorial development and editor in chief of TV Guide, has one goal: to become the preeminent thought leader for tween boys. His method? A new tween boy brand called Riot Media Inc.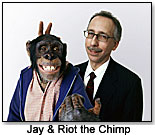 Robert Thorne, the former manager of the Olsen Twins empire, which has reaped billions of dollars internationally over an 11-year period, joined as a Riot partner last May. The flasghip Web site, Riotweb.com, includes games/ activities/ pranks and a back story about Riot the chimp, the brand's mascot.
Riot will soon make its debut in the form of a creepy online video game, Riot Realm, and a collectible card game. In addition, the brand includes a comic book and magazine, available to Riot Squad Members for $14.95 a year, along with special online benefits.
Though Gissen began formulating his plan in January 2002, it wasn't until last year that "for the first time ever, tween boys spent more time playing video games and on the computer than watching TV," he said. The transition from TV Guide to the tween market was a no-brainer, because, as Gissen noted, "When you're in entertainment journalism, you're in youth journalism."
What Boys Want
It has been well documented that tweens influence family spending more so now than ever. According to Gissen's account, the 15 million tween boys in the United States currently spend $20 billion a year.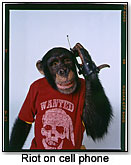 "It used to be that boys didn't get into fashion until five years after girls. Not true anymore," Gissen said. "They know brands, labels, hair gel, underarm deodorant — the grooming category brings in hundreds of millions of dollars a year!"
But beyond grooming products, what do boys look for?
"They want humor more than anything else in the world," Gissen reported. He surveyed tween boys to find out what they look for in entertainment and discovered that humor is number one, followed by action/adventure, scariness and gross/scatological stuff, in that order. Gissen pointed out that the topics have to be displayed in such a way as to be "graphically rich and dazzling."
To draw in his audience and encourage active participation, the Riot website includes silly caption writing contests, digital prank downloads and topics on which users can vote. The message? While it's okay to be a class clown, "Don't do any permanent damage — but get creative," Gissen said.
Marketing Riot to Tween Boys
To get the word out, Gissen's crew hired street teams and will use advertising (TV, print, online, direct mail) through 2006. He said "people don't take enough advantage of advertising at the local level. Carvel, Blockbuster, barber shops — these are places trafficked by tweens that people don't think about."
He plans 20 circus-themed viral mall tours in 2006, which will have tents in which boys can learn how to play the forthcoming Riot collectible card game. "Boys like getting stuff from other boys rather than parents or from teachers," Gissen noted, which is why the street team he hired to work the malls comprises boys age 14 and older.
What kind of image does he have them promote? That Riot is sexy? Daring? Socially conscious? Maybe, but according to Gissen, "we're more like a pie in the face."