Companies sometimes issue a "wish list" to inventors, soliciting designs in a specific category or based on a character.

Succeeding as a toy designer takes more skill than climbing a cliff without equipment. Red Racer Studio reached the pinnacle using careful maneuvers and relies on the manufacturers waiting at the summit.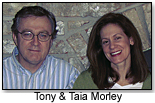 Tony and Taia Morley began 26 years ago with degrees in illustration and design, working for various games companies. For the past 20, they've been independent.
Tony started at Lakeside Games, a now-defunct company in Minneapolis, followed by one year at Kenner and two at Milton-Bradley, where he met Taia. Prior to the couple forming Red Racer Studio, Tony did freelance work in Minnesota with his former boss from Lakeside while Taia worked for Tonka.
Taia illustrates books, magazines, packaging and games but, like Tony, she was trained in toy development. Most of their work is done on assignment.
"Toy invention is highly speculative," Tony told TDmonthly. "Unless you have a staff of people and are very good at it, it's hard to have a predictable income. It's only a little piece of what I do now."
When they sell to a manufacturer, the process may run two years from conception to marketing, instead of the three to eight months it takes to complete an assignment. If the proposal is "raw," the procedure is more involved than a project with engineering worked out by the inventor.
The Morleys stay within areas they understand rather than going with remote ideas. They want to set the pace or start a trend, but they cannot always do so. Companies sometimes issue a "wish list" to inventors, soliciting designs in a specific category or based on a character.
"We have lots of ideas that we think are wonderful that will never see the light of day because for whatever reason some manufacturer is not willing to take the risk," Tony explained.
A company must think the speculative project is viable, and it may remain in a pending state during feasibility studies and cost analysis, before engineering, marketing and testing get involved. From concept to cash register, there are 20 or 30 selling points. Failure at any stage means the process is over.
"If Target and Wal-Mart don't like it, then it's dead," he remarked. "They'll sometimes tell people what to make. Especially Wal-Mart — they're the current bully of the industry."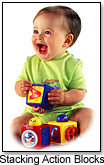 Ten percent of Red Racer's concepts are sold and licensed to the manufacturer. The studio receives a percentage of net sales at wholesale price.
Among their most successful designs are the Nerf Fencing Game, the Fisher-Price Stacking Action Blocks and illustrations for Manhattan Toy's (ToyDirectory) Groovy Girl brand. Taia is also working on a picture book for Scholastic that is scheduled for release in 2007.
"When someone comes to me, they're looking for that style that I've developed," Taia said. "They've seen something I've done, and they want something in a similar vein rather than me trying to adapt to what they've got in mind."
How does the studio get assignments? By keeping abreast of current trends and knowing what has not changed.
Manhattan Toy has allowed the Groovy Girl line to evolve, growing with the creation rather than keeping it static. "Kids are more sophisticated these days, and they see so much as far as media goes that they just want to feel like they're on the cutting edge. Little girls don't want to be playing with stuff they think their younger sister would be playing with," she remarked.
Taia sees trends veering toward older designs — an illustration for a 5-year-old may depict a 10-year-old. Toys for infants and preschoolers are exceptions. This age range has narrowed from the under 5 group, now including only 2- and 3-year-olds.
Tony has noticed a harder edge to products, along with integration of electronics, but noted no significant change from year to year unless there's a "hot" item.
A word to the wise inventor — be conservative and communicate with the manufacturer before proceeding.