"The projects that the girls make are trendy. The stuff isn't dumb." — Goldi Miller, Fashion Angels Enterprises

From $75 fashion T-shirts to bead kits for tween girls, Goldi Miller turns plain materials into fabulous creations. Goldi's company, previously known as The Bead Shop, has changed its name to Fashion Angels Enterprises (ToyShow) to attract a tween audience. Her design-oriented products are all do-it-yourself and encourage young girls to be creative. If the finished product isn't something that Goldi would wear, "it just won't happen."

Goldi has tapped into a market filled with endless opportunities for expansion. She saw the bead kits out there and was disappointed with what they had to offer girls.

"Most of the craft kits involved the nasty plastic beads and stupid lacing, which made finished products totally unwearable" Goldi told TDmonthly Magazine. "Mom would give you a 'that's pretty', but it was just stuff that she wouldn't even wear."

Goldi wanted to take her passion for fashion and translate it into something cool that tween girls would be proud to show off. So in Goldi's bead kits, there are real glass beads instead of cheesy looking fake ones and there's nice sturdy wire instead of lacing that falls apart.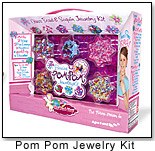 "The projects that the girls make are trendy. The stuff isn't dumb," said Goldi. She added that the products look like they could be sold at Claire's, Bloomingdales or any specialty boutique store.
Sometimes bead kits tend to skew a little younger or a little older, but Goldi has made them so that they really hit the tween market. Most important, the difficulty level is doable and the kits are packed with enough stuff so the girls can make jewelry for lots of people. The kits help to give these girls the basic skill of jewelry making so that as they get older, they can move up to making harder things.
By reading all of the teen magazines, going to fashion shows, and having a staff of people right out of college, Goldi is able to keep her company up-to-date with the latest trends. The packaging is cool and appropriately designed so that girls can relate to it and actually want to buy it. It's clear that her products won't give off that "mom-ish" vibe.
Although Goldi looks to the high-end designers for ideas, she also says that she sees a "whole turnaround in how trends are started. Trends used to start from high-end designers, but today they are starting from the street and then going back up. Designers such as Donna Karan and Ralph Lauren look at the tween market for inspiration. Kids make a lot of the trend."
This goes to show how much influence and buying power the tween market has when it comes to the bigger picture. It's a huge gap that is beginning to be filled.
Fashion Angels Enterprises is branching into more than just beads. Her company is all over the place with huge growth in do-it-yourself costume jewelry, magnetic jewelry, a whole pet division, Fashion Angel dolls and a new line that focuses on grooming your room, which will come out in 2007.
Her Fashion Angels dolls have really exploded and differ from many of the dolls that are currently out there. "They aren't baby dolls and aren't dolls to be played with by 6-year-old girls. They're fashion dolls with real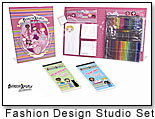 fashion wardrobes. The clothes are even sold as separates."
Goldi even wants to make the clothing line for the dolls resemble a real collection, making a new collection come out twice a year. Her products are definitely more attractive to older girls.
Goldi's thoughts on her business success are simple. "Anything you put your heart and soul into will be a success. In our company, everyone's involved and their opinions are valued and their ideas are celebrated. That kind of atmosphere only creates success."
Instead of reheating yesterday's stuff, she's always looking for the next great thing. During Goldi's most recent trip to a China trade show, she passed by a booth where a man had a "tight spiral rubbery stuff that was used for key rings." It was just so cool that Goldi thought it would be great to bead with, so now there will be a new bead kit with this rubbery material.

"You've got to check out the hidden corners and look at the world and see what it actually has to offer. Sometimes you can find the greatest things if you look at it with different eyes."