"We're going to have a Stikfas swap meet before back-to-school." — Neysa Lamon, Dolls by Jerree
With reporting by regional correspondents Pennie Hoover and Marie Rossiter.

At Dolls by Jerree in Kingsport, Tenn., the customer demographic has suddenly shifted in the last three months to include boys and men ages 10 to 40 who've been lured by mini customizable Stikfas action figures by Saizon (ToyShow) (view article). Owners Jerree Childs and daughter Neysa Lamon are accommodating the change by bringing in movie-based action figures from Sideshow Collectibles (ToyShow) as well as events catering to this new clientele. If inventors and manufacturers have their way, the anomaly may grow.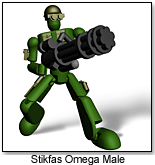 Herobuilders, a custom action figure company, recently added an "Urban Crew" feature to their Web site. Customers can design their own figures by choosing head shapes, eye and hair colors, outfits and headgear.
"It took nine months to write the software," Emil Vicale, president, told TDmonthly. "Figures can cost anywhere from $12.95 to $42."
Although the Urban Crew orders are now being handled exclusively online, Vicale said, "We have worked with specialty retailers … Most of the retailers who contacted us, we would give them a code for the on-demand thing."
Retailers typically receive a 40 percent discount off the Web site pricing when customers order from a computer in their store.
"Our original intention was to have stores involved," he continued. "My local hobby shop in the Bronx was the hangout when I was growing up. The owner loved it because the place looked busy."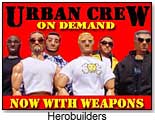 Nowadays, Vicale said, retailers seem to be concerned with a lack of space. That might not be a problem, however, if designer/inventors like Scott Klinker have their way. He's designed a prototype for a 3-D scanner/printer "photo booth" that quickly takes measurements of a person's body and then produces a plaster-type 3-D figurine.
"All of the technologies are there already and it's really just a matter of putting these two machines together," said Klinker, who is the head of the 3-D graduate program at Cranbrook University and runs his own design studio.
Klinker worked with Human Solutions, GmbH, which makes a 3D scanner that can take up to 100 measurements of the body in seconds and a 3-D printer by Z Corporation. His 3-D replicator isn't in production, but Lamon doesn't have to wait. She's planning two events around her new and growing clientele.
"We're going to have a Stikfas swap meet before back-to-school," she told TDmonthly. "We're ordering in a lot of Stikfas and putting them in a huge bin. Everyone pays $10 or $15 to build their figure. They can also bring in their own custom Stikfas to trade or show."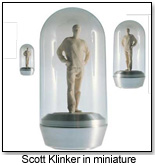 None of the five other doll shops contacted by TDmonthly had even heard of Stikfas. Only one of four toy stores interviewed carried the product, which an employee said did "okay." But Mike Olaffson, owner of thecollectorsdepot.com, said he's seen a steady upward trend in the toy since he began carrying it four years ago.


"I almost think it's becoming an educational toy," he told TDmonthly. "I've got a lot of customers who are teachers and they basically use Stikfas to teach things like stop-action photography."


And Lamon said "they're eating them up." She has the boys and men in her store, and she aims to keep them there. Since she's a sculptor, she plans to offer classes where customers learn to sculpt movie- or hero-based figurines with polymer clays.

She's also aiming for her next new set of customers.

"We've got to touch more on things for smaller boys, like ages 8 and under," she said. "We still specialize in dolls and always will, but we're trying to expand more into the specialty toys."

What follows is more information on products relevant to this article.

The Premium Format 1:4 Scale Luke & Yoda figure set captures the pair in the midst of training in the boggy wilderness of Dagobah. The Luke figure is constructed of hand-cast polystone, each hand-painted to exacting standards, and meticulously finished, including details such as hair strands cast in flexible metal designed to add realism to his sweaty hair while simultaneously preventing breakage. Luke is outfitted for his trek through the swamp with a real fabric, 1:4 scale reproduction of his sweat-stained clothing. Yoda is comfortably seated in Luke's backpack, which is finished with real metal buckles and details. The underside of the detailed, environmental sculpted base is hand-numbered with the specific edition number. The limited edition of 1150, sculpted by Mat Falls, is estimated to ship in the third quarter of 2006.

.

AD

"The Thing" from 20th Century FOX and Marvel Comics "Fantastic Four" film stands huge 16" tall. This detailed and lifelike solid polystone Maquette was used as the control design model for the fabrication and sculpture for the full sized suit seen in the film. Spectral Motion and Sideshow are proud to offer an authentic sculpture from the pre-production design phase of the Fantastic Four film to the collector, sculpted by Moto Hata.

.

AD

This Stegosaurus measures a whopping 9" in length and is 4.5" high when assembled. This guy may be big, but with 17 super-poseable points of articulation, he's pretty flexible, too. He comes with 43 interchangeable parts and accessories in a Ziploc bag so kids won't be likely to lose all the pieces during assembly.

.

AD

Delta Boy Extreme has been wishing for a friend to play with and here he is, complete with his own bike. Start practicing those tricks. Kit contains 42 interchangeable parts and accessories and STIKer sheet. It's new for 2006.

.

AD