Click here to read last month's 10-year anniversary story.

"The ToyDirectory staff's varied histories combine to create a unique product."

This month, as part of our ongoing coverage of ToyDirectory's 10-year anniversary, we thought it would be nice to let you get to know us a little better. Though

TD

monthly Magazine

, which is published by ToyDirectory.com, exists entirely in cyberspace, it is the people behind our digital products and services that make our company special … and growing!

An average of 3,000 more specialty retailers register with us each year, bringing the current total to 26,500. (Click here to read retailer testimonials.) Between 2004 and 2005, ToyDirectory also experienced a 30 percent increase in sales. Based on current projections for 2006, we expect to grow by an additional 45 percent over last year. Why are so many more manufacturers working with us? Take a look back at what some of the best in the biz have to say about us to find out. (Click here to read manufacturer testimonials).

But growth wouldn't be possible without a great product and a dedicated staff of quality writers, researchers and Web developers, helmed by a veteran of the toy industry, Bob Naimi. Our staff includes graduates of UCLA, UC Berkeley, UC San Diego and NYU, with decades of experience in print journalism, television, film, visual media and computer and cognitive sciences. Our editorial staff includes a two-time Emmy award winner, a multiple business journalism award winner, and a published graphic novelist.

The ToyDirectory staff's varied histories combine to create a unique product and afford us an analytical perspective that fuels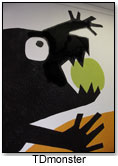 unparalleled trend reporting based on extensive research. Through the years, we have received consultations from toy industry gurus as well as experts in patent and trademark law and child development.
We here at ToyDirectory and TDmonthly are all dedicated to providing an informational and useful service to our magazine readers and directory members. Just recently, we even took a Sunday off from our free time to put a little elbow grease into creating a more inspirational work environment under the guidance of an award-winning production designer. Watch out for the new TDmonster!
Now, would we do all that if we didn't believe in the growth potential of ToyDirectory and TDmonthly? We didn't think so.
We're here to serve your toy business needs, and have some fun in the process. Because if it's not fun, then we're in the wrong business. Thanks for supporting TDmonthly Magazine and ToyDirectory this far, and we hope you have as much fun as we do as we stay the course and help the specialty toy industry grow stronger.