---
Plush and Puppets Play and Go
Hands-on Displays Encourage Take-home
"We're developing an in-store play-program complete with discounts, extra terms and custom support." — Elaine Kollias, Folkmanis Puppets

Even kidults need cuddly friends, manufacturers of plush and puppets told

TD

monthly Magazine

. Toys that are low on tech but high on imagination capture kids' attention and encourage them to develop their own creativity.

"We try to promote toys that utilize a child's imagination," explained Paul Roche, senior vice president of sales at Aurora World Inc. (ToyDirectory), makers of Fancy Pals and other plush toys.

"Some shy children respond to puppets more than to a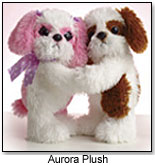 dults, so they can be used to put a child at ease, to teach values or to teach learning skills such as math and reading," Fanny Wong of Fanny's Playhouse (ToyShow) told TDmonthly. Her Fantanimals encourage kids to change a puppet's body parts and features to create original characters.
"Experts have agreed that puppetry offers a tremendous opportunity for creative and imaginative play, family interaction and role playing," seconded Aaron Hill of Bright Path Enterprises LLC (ToyDirectory), which makes the Grand Little Theatre of Puppets for kids.

"Plush toys are probably the first gift received by a baby," pointed out Suzanne Hammond of Fiesta Toy. "They're appropriate for both boys and girls."
Puppets and plush can be easy sells, said manufacturers, because kids can't resist picking them up, especially when they're on display.
"Folkmanis encourages that puppets be handled and played with in the store, resulting in immediate sales," said Elaine Kollias of Folkmanis Puppets (Toy Show). "We're developing an in-store play-program complete with discounts, extra terms and custom support."
Fanny's Playhouse also supports in-store play.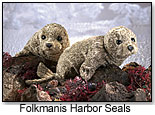 "A retailer can open the two styles of our kits on a low table, ask the children to mix and match the parts, take photos of the finished Fantanimals, and ask the children to give fantastic names to their creations," suggested Wong.

Bright Path's brand new Grand Little Theater of Puppets can be used to give in-store puppet shows.

"The Grand Little Theater of Puppets has all that's needed for a full presentation puppet show: Theater, cast of puppets and scenery for multiple sets," said Hill. "It's great fun, draws customers into the store, and really sells the product."

Lisa LeLeu, of Lisa LeLeu Studios (ToyShow), agreed. "We organized some very successful Puppet Show Pajama Parties. The kids came dressed in jammies and fun snacks were served."

LeLeu is confident her puppet books will be a big hit for the holidays because, "all five characters will be featured on HGTV on August 19th. They were also chosen to be featured in the upcoming film 'Mr. Magorium's Wonder Emporium' starring Dustin Hoffman."

Pair 'O Pals, mini plush reversible friends that come in 3" and 6" sizes, also sell best when on display, explained Pamme Boutselis of Elaine & Wallace. "They're so soft and cuddly, and you can turn them inside out for another animal!"

Plush toys by Merrymakers (ToyShow) have built-in interaction, since they're usually licensed from popular kids' books. Clair Frederick, president, was particularly excited about this year's Babymouse toy, inspired by Jennifer Holm's graphic novel.

"It's a big breakthrough book — a graphic novel for tween girls," continued Frederick. "Babymouse tackles challenges like Wild West shoot outs and jail breaks! We're really excited about the toy."

Lorene Shiraiwa, public relations director for North American Bear, expects that collectors will be excited by the Muffy Poinsettia Holiday Couture bear.

"She's dressed in very lavish green-and-red outfit and comes with a petite poinsettia doll as part of the boxed limited edition," described Shiraiwa. "Most collectors put the boxed set on shelf for decorative holiday display."

Martha Bishop, president of The Puppet Factory Inc. (ToyDirectory), couldn't divulge specifics, but said there would be three new characters in the Sparkle family ready for the Holidays 2006, plus a chicken, rooster and Roman soldier.

"The soldier will do really well with Easter and Christmas," she projected. They'll be available September 1.

Another brand new plush toy is Eye-Man by the Eye-Deal Company (ToyShow). Oenita L. Blair, designer, told TDmonthly, "He's a plush toy but he thinks outside the box. We'll have learning tools and songs on an included CD." She anticipates that shipments will be ready by the end of July.

Following are the puppets and plush that manufacturers say will be cuddling with kids this holiday season:









Dressed with a flashy red, white and gold trimmed Santa cap and coat, Santa Baby Bear's hands and arms sway side to side and his lips move when he sings "Santa Baby."

.

AD
---






The Grand Little Theater of Puppets is a tabletop puppet theater inspired by the European toy theaters that were popular in the 19th century. The Grand Little Theater has the charm of the toy theaters of the past, but it adds a new magic of functionality and playfulness that is sure to delight children and adults alike. The charming rod marionette puppets are simple to operate, yet offer plenty of animation for dramatic performances. After the show, the theater folds flat for easy transport and storage. The Grand Little Theater of Puppets is sure to delight children and adults alike. It comes with Hansel and Gretel puppets and scenery book. Additional story sets and Shadow Puppet Accessory Pack is sold separately.

.

AD
---






Leading the way is sassy and spectacular Babymouse! She lets her imagination go wild as she dreams of glamour, excitement and being queen of the world. This fabulous mouse will delight young minds as they create their own adventures for Babymouse. Straight from the pages of the graphic novel for tween girls written by Jennifer Holm and illustrated by brother Matthew Holm, this teeny rodent has huge tasks to accomplish. Babymouse's amazing fantasy life takes girls on a series of exciting adventures. "They've got two Babymouse titles out now, and two more are coming every six months," said Merrymaker's president, Clair Frederick. "They're published by Random House and carried by Barnes & Nobles, so they're supported in big way. The dolls are going to be fabulous!"

.

AD
---






These silly little piggies play all day until bedtime when they skip down your tummy, dance on your toes and give kisses goodnight. These Piggies Finger Puppets are based on the prize-winning books by Don and Audrey Wood, published by Harcourt.

.

AD
---






The life of a worm is not so different from that of any other boy or girl, except a worm spends a lot of time underground. Worms worry a little more during fishing season and they never have to take baths. This Finger Puppet Playset features best friends Spider, Worm and Fly based on the books "Diary or a Worm, "Diary of a Spider" and the forthcoming "Diary of a Fly," by Doreen Cronin and Harry Bliss. It's perfect for young fans of these books, and they come in a set of three.

.

AD
---






This plush toy has four different personas, including the Inquisitore, who constantly asks questions and seeks knowledge. The Eye-Man series of plush toys is designed to teach kids values. Each one comes with a CD filled with songs and games relevant to that aspect of Eye-Man's personality. Other personas include Cosmosis, Starstrucker and Heartthrob. "Eye man is inherently good and we're happy to share him with the world and help society in the 2000s," designer Oenita L. Blair told TDmonthly.

.

AD
---






Muffy is all poinsettia perfection in her velvet and tulle confection. Satin pantaloons and jeweled felt slippers complete her floral fantasy. With her poinsettia petals, leaves, ribbons and petite poinsettia doll, there's no denying Muffy is blooming beautiful. The annual Muffy couture holiday edition is always a popular favorite and the most sought after Muffy design among avid Muffy collectors and bear fans, according to Lorene Shiraiwa North American Bear. All Muffy couture designs are boxed limited editions featuring a 7" fully-jointed Muffy in a lavish outfit complete with accessories.

.

AD
---






.

AD
---






In this bear, Muffy is a painting come to life. The 7" fully-jointed Muffy make-believes she is Infanta Margarita, the precocious little daughter of King Phillip the Fourth of Spain. Infanta Maragarita is the radiant focus of Diego Velazquez's 1656 masterpiece, Las Meninas ("The Maids of Honor"). Mohair fabric and numbered, Velazquez Infanta is from North American Bear Co.'s Muffy Haute Couture limited boxed editions line.

.

AD
---






Now kids can explore the deepest reaches of the scariest jungle with a cuddly guide. These little bears come complete with helmets and uniforms, ready to fend off fierce tigers. "Plush bring any animal animals to a level small children and children can relate," said Suzanne Hammond, marketing consultant for Fiesta Toy.

.

AD
---






Babies can play peek-a-boo with this plush pastel teddy. "For the baby and preschooler plush fulfills basic play needs such as nurturing, developing friendships, relating to nature," commented uzanne Hammond, marketing consultant for Fiesta Toy.

.

AD
---






A luxurious soft and sweet cat in butter yellow and melon stripes. Impeccably handcrafted Moncalin deviates from the classics by combining contemporary color combinations, softness and gentle features. Suitable for all ages. Machine washable. Do not contain any plastic parts. Size: 11".

.

AD
---
THIS BANNER IS AN AD:
---
---