---
Games Grow in Sophistication … and Sales
Manufacturers See No Slowing in Years-Long Trend
"A growing class of professional game designers has emerged whose lifetime dedication to game design has brought about many undeniable improvements." — Dominic Crapuchettes, North Star Games
Stress relief, strategy building, strengthening the family. That's a lot to expect from a game, but manufacturers told
TD
monthly Magazine
that these attributes accounted for the growing popularity of game playing across the United States.
"Our research shows that there is a mini revolution in progress by parents to limit the 'screen time' of their children," said Alex Zelikovsky of Sevinpold Castles Inc. (ToyShow), makers of Darkness Falls on Sevinpold. "Parents are desperately trying to connect with kids and the only way to do it is to engage kids in a conversation. Board games are a perfect tool to do that."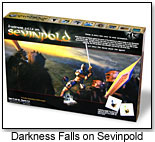 "People are getting burned out on computer games and are rediscovering the fun of direct social contact with live opponents," agreed Donald Benge of Conquest Games (ToyShow).

"The online world, and specifically online gaming, has created a new type of social connection, but it's a virtual relationship, not one with our family and friends," pointed out Mark Kaufmann of Days of Wonder (ToyShow).

"After spending so much time in cyberspace, it's kind of fun to go back to the neighborhood!" added Abe Nathanson, president of Bananagrams, makers of a portable word game by the same name.

"We're social animals; we need the gratification that can only come about by socializing with each other. What better way to satisfy this need then through play?" commented Steve Hart of Front Porch Classics (ToyShow), whose new Bookshelf Edition Valley of the Pharaohs is due out in September. "I think people are recognizing the value that gaming can bring into their lives and thus embracing the game experience as a way to unplug from the stress and boredom of life."
"I really believe that you can pick out a family that plays games together just by watching them walk down the aisle in a shopping mall," added Ev Johnson of We R FUN Games (ToyShow), whose Life on the Farm game just won a 2006 Teacher's Choice For the Family award. "They look at each other when they communicate and have in general a happier attitude about life."
"Families want to be together and games bring them together," seconded John Scott of J. Roundtable Enterprises (ToyDirectory), makers of the new Total Play Football card game.
"Games truly offer people a break from the pressures of the modern world," summed up Will Niebling, CEO of Mayfair Games, which makes Hey! That's My Fish.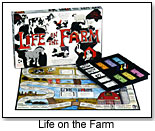 But Dominic Crapuchettes, founder of North Star Games (ToyShow), which makes Wits & Wagers, had a different explanation for games' growing popularity: "The biggest factor is an importing of innovative ideas from the European industry," he told TDmonthly. "This board game renaissance began with a German game design competition called the Spiel Des Jahres. The winner of this competition can expect to earn half a million dollars from sales of his game! Consequently, a growing class of professional game designers has emerged whose life-time dedication to game design has brought about many undeniable improvements."

"Games are becoming more sophisticated in terms of strategies, which makes them more entertaining for adults while teaching kids to think and be creative," agreed Laura Cipullo of KelMar Games Corp. (ToyDirectory), which publishes Tricky Town.

"Innovative and exciting new games are being published," seconded Russell Grieshop of R&R Games, makers of Sketchword.

"When it comes right down to it, it's more fun to play games with friends than it is to play alone. Video and computer games tend to isolate people, whereas multi-player games bring them together for social interaction as well as brain stimulation," pointed out Mark Gross of Matter Group (ToyDirectory), which publishes the environmentally conscious Xeko.

"Video game excitement has flattened a bit as the consumers get more used to the graphics, play ability, etc.," agreed Bill Walker of Deep Creek Enterprises (ToyShow), makers of TriQuest.

"On one hand, playing strategy games helps to develop and improve thinking skills. On the other hand it gives the children the opportunity to play with other children and help them develop their social skills," noted Zafir Kazula of Smart Zone (Toy), whose strategy game Hive could be described as "chess with insects."

"Games have become events," concluded Erik Smith of Pizza Box Football. "Hundreds of people around the world played Pizza Box Football to predict the winner of the Pittsburgh vs. Seattle Super Bowl — before it happened!"

Here are the games that manufacturers believe will help the growing trend of game playing stay strong for 2006:









.

AD
---






.

AD
---






.

AD
---






.

AD
---






Who can tell who's really an idiot and who's faking? Each round, everyone is dealt a card telling them whether they are an idiot or not. The current genius asks one trivia question from the cards they hold. Everyone writes down his or her answer, but if a player is an idiot, he must answer incorrectly. Once all the answers are revealed, the player must figure out who's definitely an idiot. But if someone is erroneously called an idiot, he can steal the accuser's points. Idiots who don't get caught get bonus points. So the question to be asked in this game is ... who's really the idiot and who's just fooling?

.

AD
---






aBRIDGEd is a refreshing new take on the game of Bridge — the card game that has been enjoyed around the world for decades. aBRIDGEd plays just like the classic game of Bridge, but without the complex bidding. With the newly designed cards and simple instructions, players will be immersed in a game in no time. It only takes 20 minutes to learn and 30 to 40 minutes to play. The game includes two 52-card aBRIDGEd decks, four quick reference cards, four score pads and pencils and full-color rules. "Millions of Bridge players have been looking for a way to introduce family members to the game of Bridge. But current Bridge rules are too complex," explained Matt Mariani, president of Out of the Box Games. "These Bridge players cannot wait for us to bring out this product. It makes playing Bridge easy … and brings a whole new generation into what many people consider to be "the greatest game" – Bridge." Launch date: July 2006.

.

AD
---






.

AD
---






Global warming has melted the great ice sheets. No polar caps remain. The oceans are free. Gone are the magnificent harbours that once dotted the shores of every land. The waters have risen more than 80 meters. Land is everything! Millions are starving. Fertile plains are no more. The great grain belts of the world have been tightened. Tension runs high yet there is hope. Four rallying hosts prepare in haste. One dominion can save but a few ... the race is on. Armies are raised with every man coming forth. Unite and fight ... conquer or be lost. Combine your forces, assemble your fleets and breach the storms. Clouds clear for one last stand. The prize is yours ... Antarctica.

.

AD
---






This card game is designed for non-stop action. Players compete to win more sets (one set is equal to one football quarter) than their opponents. It takes 10 or more points to win a set. Placing an Offensive card in play for "points scored" scores points. Points are also scored by the Defensive card play when matching the correct corresponding Defensive card play "number" to "number" and "word" to "word" to a played Offensive card. Any player can make a play for points or deny points at any time which adds even more fun and excitement to the game. No one will feel excluded from playing Total Play Football because the game terminology does not require football lingo.

.

AD
---






.

AD
---






The 4-player game is unique in that all players must get into the fray immediately. All conditions of victory require... demand active, aggressive play. Passive play is suicide. Any time you can attack and win more than you lose, it is to your advantage. Thus, every game is fast moving with action on every round. One winner per game. There is no second place. You may play the regular game (every man for himself) or partners. However, partners may not talk to each other so that the strongest player cannot dictate the moves of his partner. Players must look ahead to see how to coordinate their moves with each other to bring about victory. "You cannot help but have fun with the first game since you get to make 20 moves per turn, interrupted only when you make a capture," said Donald Benge of Conquest Games. "Conquest is a thinking game, but it is fun because you can do so many things, and yet the rules are very easy to learn."

.

AD
---






.

AD
---






.

AD
---






.

AD
---






.

AD
---






Hive is a board game with a difference: There is no board! The pieces are added to the playing area, thus creating the board. As more and more pieces are added, the game becomes a fight to see who can be the first to capture the opposing Queen Bee. The soldier ants battle to control the outside of the hive, while the Beetles climb up to dominate the top. Spiders move into holding positions as the Grasshoppers jump in for the kill. Each piece has its own particular way of moving, as in chess, but the moves mimic the way the insect itself moves. For instance, the Grasshopper is the only piece that can jump. Hive has been on the market since 2001 but recently underwent cosmetic revisions to make it more durable and marketable, said SmartZone co-owner Zeev Zahavi.

.

AD
---






.

AD
---






.

AD
---






Alphabet SQUIGGLE on-the-go is a portable game that helps children learn the alphabet, improve penmanship and strengthen vocabulary as it stimulates their creativity and builds confidence. With its compact size, it makes a great addition when taking the kids to daycare or while on vacation to keep them occupied and learning. Its educational component would also be beneficial to any home-schooling program or transition to kindergarten. "Our games are for children to adults and offer creative, basic fun without loud noise or the need for batteries," said John Kiely Chief SQUIGGLER and president of Randomline. "We believe that our games are more fun to play because they not only stimulate creativity, but also boost confidence and children gain a sense of accomplishment."

.

AD
---






.

AD
---






This board game combines the exhilaration of horse racing with the atmosphere and sounds of the racetrack. Players act as jockeys aboard their own thoroughbred horse, forced to decide whether to bolt for the early lead or to hold back and try to overtake tiring horses down the backstretch. The game incorporates modern technology with traditional board game play. "Today's game buyer is more sophisticated and thus much more hard to please than previous generations," pointed out Deep Creek Enterprises' president Bill Walker. "Since TriQuest is able to match superior technology with the tradition of board games, it is unique in its ability to attract players of varying generations."

.

AD
---






.

AD
---






Crackernomics is a highly original and innovative board game — the first of four — aimed at teaching kids the basics of investing and business in the global environment. It is being launched by KSA Interactive Games, a division of KSA International, one of the world's most acknowledged and experienced designers, developers and suppliers of business simulation games for the corporate and educational environments. Kids compete through buying, selling and trading Cracker Mills using different currencies.

.

AD
---






The Marklin Edition of Ticket to Ride is the third installment in the best-selling board game series that has won 14 international game awards, including the prestigious Spiel des Jahres and has sold over 500,000 copies worldwide. Like its predecessors, Ticket to Ride Marklin Edition is simple, fun and addictive. Players collect sets of train cards that enable them to claim railway routes and fulfill the all-important Destination Tickets connecting distant cities across a map of Germany. The Marklin Edition also introduces a new Ticket to Ride game play element: passengers that pick up valuable merchandise along the routes. Created in partnership with Marklin, the world leader in model railroading, this edition features 118 historical train photographs, each carefully selected from the Marklin archives. Launch Date: April 2006.

.

AD
---






.

AD
---






This game combines the creative challenge of a word game with the fast pace, excitement and variety of poker. The game challenges players to exchange cards with the goal of making a high-scoring word and winning poker hand with the added decision of whether to "Stay" to compete for big bonuses, or "Fold" for guaranteed points. Parlay also features "word-bluffing" as an added strategy and sure source of laughs. This product is a 2006 Games Magazine Game of the Year Award winner. Launch date: January 2006.

.

AD
---
THIS BANNER IS AN AD:
---
---