"I like this new shoe! Is it my turn, yet?" — Two preschoolers, ages 3 and 4

The "old-fashioned style" favorites of wooden stacking blocks and tying shoes really caught the interest of the New England-based preschoolers, teachers and parents participating in this month's roundtable. And, an imaginative idea for potty training didn't catch on with our panel's adults or kids, even though it got thumbs up from 1,000 other preschoolers, according to the manufacturer.


Evaluators were: J.P. Arp and Ryan (age 3), Colleen Scholer and Matthew (age 2), Lana Cassidy and Ben (age 4) and Will (age 2), Marie Rossiter and Erin (age 3) and Cailyn (age 8), and St. Joseph Preschool teachers and students (ages 3 to 5). Click here to see how the products rated on a scale of 1 to 10.


Lacing Shoe

by

BAJO TOYS USA (ToyShow)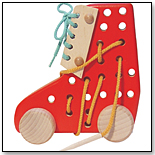 In an age where it seems most shoes are secured with Velcro, it was a nice change of pace to see a toy that encourages preschoolers to learn to lace and tie bows. Donna Bissonette, teacher of 3- to 4-year-olds at St. Joseph's Child Care said, "I really liked that it was an upright tying toy. Most tying toys we have purchased have been flat. The upright position allowed easier practice for lacing and tying. I also love that it's [made of] sturdy wood."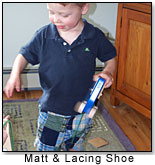 With a group of active 4-year-olds in her class, many are interested in learning to tie their own shoes and this toy made it a fun learning experience.
The children in Donna's classroom enjoyed it enough to fight over who played with it next. "I like this shoe," said Ryan Arp, one of Donna's students. "Is it my turn, yet?" As soon as he got his hands on it, he pulled it around the room excitedly.
My 8-year-old, Cailyn, really liked showing her younger sister, Erin, the lacing shoe and how to play with it. The two sat together for quite a while as Cailyn demonstrated how to lace the string through the holes. "I want to learn to tie my shoes!" Erin told her sister as she grabbed the top laces and tried to tie a bow. They are still working on this, but both think it is a fun way to teach Erin how to tie properly.
Bible Stacking Blocks by ALPHABET ALLEY (ToyShow)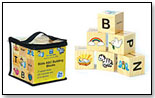 Combining the fun of wooden nesting/stacking blocks, colorful pictures of biblical characters (Noah's Ark, etc.) and the alphabet, the Bible Stacking Blocks were an across-the-board hit with the roundtable panel.
"Ryan and I thought the blocks were cute," said J.P. Arp. "I liked how they fit inside each other and seem very durable — with the exception of the zipper on the storage bag, which fell apart when we first opened the blocks. Ryan loved stacking the blocks and knocking them over!"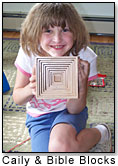 One parent had additional concerns regarding potential safety hazards. Colleen Scholer, a mom of two young children, liked the product overall, but felt that "because the blocks are hollow, they didn't have the rounded edges I expected. They seemed a bit sharp. Also, the zipper came off easily and can be a choking hazard. My oldest had a wonderful time with them, but I felt I really had to keep an eye on him, especially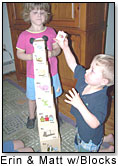 with his younger sister around."
These blocks are certainly durable. Both my 8-year-old and my 4-year-old build with them quite often. As soon as the package came, they ripped them open and still enjoy playing with them. "Oooh, the pictures are so pretty!" said Erin as she stacked the blocks one of top of the other. But, of course, that didn't stop her from quickly knocking the tower down, giggling the entire time.
Toilet Buddies by JECKIDA INC. (ToyShow)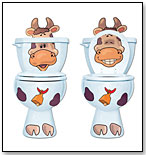 "The idea is cute and creative, but it just isn't something I would use with my own kids." This was the consistent theme of the Toilet Buddies kit from all the moms, though the kids enjoyed the whimsical product.

Each Toilet Buddies kit comes with stickers to place on the potty to transform it into a cartoon-like animal character. The hope is to make the serious business of toilet training a little more accessible and fun for the child. However, the moms and classrooms that tested the product were not receptive to making their toilets kid-friendly.

"I have some problems with the hygiene issues," commented Scholer. "First, if anything that is meant to get in the toilet doesn't quite make it, cleaning becomes a problem with the stickers all over it." (Editor's Note: The Toilet Buddies aren't stickers, but plastic decals that easily attach and detach with Velcro fasteners.)


Arp echoed Scholer's concerns and added, "The giraffe is cute, but I don't want that on my toilet all the time, and they weren't all easy to take off so that made cleaning more of a challenge." This, of course, is only a valid concern if one removes the decorations immediately. The product is intended to remain on the toilet as a semi-permanent fixture.

None of the teachers or parents were willing to consider that the product may make kids comfortable enough with their toilets to embrace potty training. "It's cute to look at," Bissonnette concluded, "but will it really help the kids we have here? I doubt it."

But, the kids had a slightly different view. The importance of how well Toilet Buddies helped with the training may have gone over their heads, but Jeckida's intent of getting the interest of kids seems to have hit the mark.

Ryan Arp enjoyed going into the bathroom and seeing the Toilet Buddy. "It's so funny!" he announced. "And it's cute."

My girls, who are admittedly past the toilet training phase, scratched their heads a little at the package.

"I'd use it, if I were still doing that kind of thing," my oldest, Cailyn, informed me. Erin laughed out loud at it, wanted to play with it but didn't want it on our toilet.

Here are the toys that taught the preschoolers this month, plus a few extra toys by the same companies:

This durable wooden pull-along toy is a great way to introduce youngsters to lacing and tying shoes. Its size is perfect for little hands and easy for them to use.

.

AD

Each set contains a complete set of the alphabet, numbers 1 through 9 and graphics depicting the Noah story. These stacking blocks introduce size and shape relationships, encourage imaginative play and can be used by one or more children. The blocks are designed so that if a child places the Noah pictures in order, the rest of the alphabet will be in the correct order on the other three sides.

.

AD

Puddles Puppy's cute face lets little kids befriend their toilet bowls. Toilet Buddies Toilet Bowl Attachments help create early awareness of the toilet bowl, reduce fear and anxiety, and make toilet training a fun and positive experience. Puddles' friends include Gatago Giraffe, Poo P. Bunny and Ca Ca Cow. Jeckida has a whole system of separately available toilet training items, including plush puppet versions of Puddles and his gang. He is ideal for ages 18 months to 5 years.

.

AD

These 60 wooden tiles comes with 2 complete sets of the alphabet, game instructions, engaging Bible ABC graphics and a reusable wooden box with acrylic lid for easy storage. The game may be played with fewer sets for younger children. No reading required.

.

AD

Little engineers can build their own trains and get them rolling down the tracks with these colorful train parts. Numerous sets are available, in different styles and colors. Each packaged set dimensions are 26" by 3 ½ " by 3 1/4".

.

AD

Little girls' dolls will travel in style in this wooden pram. Whether "little moms" will want to show off their babies by taking them for a walk down the street or just want to tuck dolly down for a nap, this carriage is the perfect size for small hands. Its dimensions are 22½" by 13½ " by 19 3/4".

.

AD