"What kid doesn't like to play with his or her food? Now they can play with their food and eat it too!" — Donald Platkin, Private Label Products Inc.
With reporting by regional correspondent Pennie Hoover
While America struggles to fight obesity, candy- and food-related products are getting the cold shoulder at toy stores across the country. Yet, those retailers that sell such items have found success. Manufacturers, for their part, are eager to discuss the obesity issue and say their products are not to blame.
Weight concerns aside, Where'd You Get T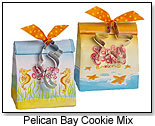 hat!?, co-owner Michele Geitz, in Williamstown, Mass., said she would not be persuaded to stock food kits in her store. "The average mother does not want to deal with those kits. Not for what you're paying for," she said. She felt a more economical and healthy option for families would be to "just follow recipes with kids."

Matthew MacDonald, owner of Wooden You Know in Maplewood, N.J., however, said some food kits sell well at certain times of the year. "For Chanukah and Christmas, [Pelican Bay's] Make Your Own Cookie Kit blew off the shelf," he said. "It was even made with wheat flour rather than white flour, which fits in with our philosophy that whatever you play with or eat should be good for you."

Donald Borho, co-owner of Wondrous Things in Hudson, N.Y., agreed that there is an appropriate time and place for such kits. "We don't carry anything right now, but we usually carry a cookie-making kit at holiday time."

At other times of the year, "you're creating work for other parents. I don't want to assume that another parent wants to do this," he said. This is the reason it doesn't make such a great gift idea. However, parents will buy them for their own kids during holidays, he reasoned.

Most retailers agreed that at least part of their hesitation in stocking the candy and food kits has to do with concerns that the sweet items are contributing to the nation's health problems. They strive to get kids off the couch but not into the kitchen.

Yet, manufacturers say their food kits sell well and don't create especially unhealthy children. Donald Platkin, director of sales and marketing at Private Label Products Inc., for the most part, is ignoring the hoopla.

"The 'fight obesity' trend has not hurt us and has not made us change our ways of marketing or selling our items," Platkin said.

The top selling food items for his company are the Color & Eat cookie coloring kits. "What kid doesn't like to play with his or her food? Now they can play with their food and eat it too!"

However, Ted McGuire, president of Thames & Kosmos (ToyShow), is well aware of the nation's health problems and strives to address the issue with his products. "Our Candy Factory kit has a section focusing on nutrition, natural foods, and a balanced diet. I hope that 'fighting obesity' is not a temporary trend, but rather a new direction in awareness about what we eat and what it does to our bodies," he said.

In addition, "Our kits do not contain food, so they do not have a limited shelf life. This way, parents and kids using the kits have total control over the freshness and quality of the ingredients they use. We would not feel good about selling a kit with unhealthy artificial ingredients and preservatives just so it could sit on the shelf for a long period of time," McGuire said.

He added that while The Brainy Freeze Ice Cream Maker sells well in the summertime, the Candy Factory, due out this month, has seen solid presales and is expected to be a top seller. Its experiment book is more comprehensive and its price point higher, more in line with what people expect from the company.

Steve Llorente, marketing director for Industrial Revolution Inc. (ToyDirectory), agreed with McGuire, and said his product puts the user in charge of his or her diet. "With the Play & Freeze Ice Cream Maker, you select the ingredients that go in your ice cream. You can make gourmet ice cream with cream, sugar and vanilla, or make a lower fat recipe using milk, sugar and vanilla," he said.

And, Char Pfaelzer, president of Pelican Bay, explained that American obesity concerns have not posed a problem for the company. "Our products are family activities and a lot of their appeal is traditional, back to old-fashioned family fun."

She added that "if eaten in moderation none of our products should be a problem. Our products are primarily bought as gifts — not for their calorie consideration."

And, for other companies, food- and candy-related products are taking the route of non-edible formats. "The game (EAT IT! Snacks & Sweets Trivia Game) is more about pop culture and nostalgia," said Eric Ash, CEO of C-ME LLC (ToyDirectory). "There is some educational element, but it's not about how many calories you consume."

If toy store retailers are hesitant to stock candy- and food-related products, that's okay with Ash. He's making a profit selling his game into other markets. In addition to toy stores, Ash moves his game in candy, ice cream, coffee and drug stores, and recently, it won the Retailer's Choice Award for the Snack/Confectionary/Candies/GM category at the 2006 FMI Show from the Food Marketing Institute. It's the major trade show for grocery store owners, in case you didn't know.

Check out the following candy and food kits that keep kids craving seconds.

The FooDoodler Color & Eat Cookie Pack is a cookie coloring kit that contains one large, printed, ready-to-eat cookie with three food coloring markers. It´s a fun food craft that's great for parties, school or as gifts! In addition to seasonal and everyday themes, new cookies include the following licensed designs: Build-A-Bear Workshop, Transformers and My Little Pony.

.

AD

New for summer 2006 is flavored Candy Paper. This is wafer thin paper printed with licensed designs from the Marvel Heroes featuring Spiderman and My Little Pony. It comes in a kit along with mini FooDoodler markers. These markers are filled with FDA approved food coloring for hours of coloring and eating pleasure.

.

AD

From Pelican Bay's "I Can Bake with Grandma" line, this cookie mix allows kids to make peanut butter cookies with the fork marks around the edges, the way they're supposed to be. This new mix makes the cookies easy to bake at home, with the addition of little peanut butter kisses to decorate. Peanutty good times are sure to ensue for the entire family. It comes packed in a colorful tote with a "pop-out" bowl label and is tied with a spoon. Retailers can purchase a whole case of 12 for $45.00.

.

AD

This yummy vanilla cookie mix comes in a colorful holiday tote with a snowflake shaped cookie cutter. It also includes sweet snowflake sprinkles that can be used for decorating. Retailers can purchase a whole case of 12 for $45.00.

.

AD

"It offers the same experience as the Play & Freeze, and what our customers asked for … TWICE THE ICE CREAM!!!" explained Steve Llorente, marketing director for the company. "In about 30 minutes of fun, you end up with a quart of ice cream." Kids and parents simply roll or gently kick this transparent-colored plastic ball around with their chosen ice cream ingredients inside. Soon, they'll have their very own ice cream party. Directions and recipes are included.

.

AD

This Christmas-themed cookie decorator kit comes with cookie mix and frosting mix. The kit also includes a tree, heart and snowflake shaped sprinkles, as well as a special snowflake shaped cookie cutter. It also contains easy to follow baking instructions. The top of the can has a detachable note for Santa that children can sign and leave by the plate of cookies.

.

AD

This is no average toy. Play the classic mind-bender tic-tac-toe using flavored food coloring as ink and sandwich creme cookies — that's right, cookies — as paper. Cookies were never so much fun! After the game — win, lose or draw — it´s the winner-eats-all game.

.

AD

Kids can make either soft-serve ice cream or sno-cones by affixing different parts in this cool, fun food maker. Kids plunk down hard ice cream into the machine and it is magically whipped into soft ice cream, while ice and flavoring are added to make a fun popsicle-like treat. The kit comes with colorful sprinkles, a Wyler's flavor packet, spoon, cups and an instruction sheet.

.

AD

.

AD

.

AD

Based on the Food Guide Pyramid and developed by a registered dietitian, this hands-on, high-fun nutrition game is packed with facts that parents and educators need to teach the basics of good nutrition and healthy meal planning. Children and adults love playing Food Pyramid Bingo. Players will increase personnel knowledge of 95 foods when playing this game. The universal appeal and familiarity of "bingo" make learning about food groups and portion sizes a treat for players of all ages.

.

AD