"The markets that we're in right now are the best markets for us to be in." — Hany Hamideh, PixelBlocks

When systems engineer Jay Simmons discovered that the television screen is like a tapestry with rows of colored dots, he found a creative outlet for a visual talent that had remained locked in his mind due to dyslexia. He licensed his idea for PixelBlocks

— multicolored translucent construction pegs that fit together to form 2- or 3-D designs to Robert McNally in 2002.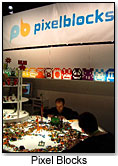 The finished product looks like stained glass when exposed to light. Available in 20 colors, these interlocking blocks are sold in kits for children and in bulk for adults working with the Digital Stained Glass Creator, free software available on the company's Web site that converts a photo or graphic design to a pixelated assembly pattern and tells the customer which blocks to order.
"It's a really cool tool. People find it fun to do," Hany Hamideh, a founding partner and president of PixelBlocks since 2004, told TDmonthly Magazine.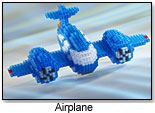 Although this procedure can be expensive if the picture isn't carefully cropped, the experience of seeing a favorite image in pixels may be enough to trigger a purchase. "It's kind of an adult LEGO. It's more sophisticated," he added.
Ten to 15 percent of sales are to artists, designers and architects, but their target market remains children 6 to 13. "Hopefully we can get them before they get into the video games," Hamideh remarked.
By August 2003, they were selling to specialty and independent retail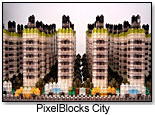 rs as well as museum and science shops. They've branched into arts, crafts and hobby stores. Within a few years, the company may start mass-market distribution through Target and Toys "R" Us, but this isn't yet possible.

"We don't have an advertising budget that would allow us to go into Wal-Mart," Hamideh explained. "The markets that we're in right now are the best markets for us to be in if we want to survive and to grow our business."
Their product is hot in the specialty realm. He believes specialty will remain strong for his company.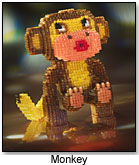 None of the founders — most are silent partners — had experience in wholesale toy manufacturing, but Hamideh brought with him a 10-year background in retail as owner of a souvenir shop as well as knowledge gained from trial and error in the first two to three years of the company. Their biggest mistake was using boutique-style packaging — a cubed box that looked good in a museum store, but fit awkwardly on a four-foot toy store shelf.

"Our packaging was beautiful, but it didn't do the trick," Hamideh disclosed. "You had to pick up the box. You had to look at the back and read all the fine print."

The consumer would walk by the product unless there was an elaborate in-store display supplied by the company. People that had never heard of PixelBlocks were "stumbling" on the item without being able to grasp what it was in one quick look.

Hamideh still classifies the company as small, but in 2007 they will add 10 new colors, increasing the total to 30. Light tables for nighttime display will be available in 2008.

PixelBlocks created a stable niche in the specialty market and has no plans to lose it.

What follows is information on the most popular PixelBlocks products.

This set contains 2000 interlocking 3/8" pieces. These multicolored translucent pegs give a stained glass look to 2- and 3-D designs. It includes a deluxe playbook.

.

AD

This set contains 1200 interlocking 3/8" pieces. These multicolored translucent pegs give a stained glass look to 2- and 3-D designs. It includes a deluxe playbook.

.

AD

This set contains 875 interlocking 3/8" pieces. These multicolored translucent pegs give a stained glass look to 2- and 3-D designs. It includes a deluxe playbook.
— "I think people like them because of the intricacy of putting the pieces together. It's very different. It's acrylic and you have to slide the pieces to keep them together," Patti Tepper–Rasmussen, owner of Learning Tree Toys, Games & Books Inc. in Oklahoma City, Okla., told TDmonthly.
— "Last-minute gifts tend to be Pixel Blocks....Every single piece is the same size. They're like same-size LEGOs. They also lock together sideways," Added Tristan Hewitt, manager at Dragon's Toy Box in Seattle, Wash.
— As described on Amazon.com, "Pixel Blocks can express any mood, from the vibrancy of children's toys to the subtle shading of a photograph. "

.

AD

Modeled on the pure light and color emitted by computer screens, PixelBlocks are 3/8" translucent colored cubes that feature a peg-and-hole interlocking device on the top and bottom as well as a tooth-and-groove device on all four sides. Starter boxes include 200 single-shape pieces.
— Pixel Blocks are available in PhotoGrays and Artist sets, for a wider variety of colors. Individual colors can also be bought separately.
— Jordan Walden, store manager of Finnegan's Toys & Gifts in Portland, Ore., says that PixelBlocks is his newest construction set that's doing well.
— This toy is appropriate for both kids and professional artists, according to the manufacturer.

.

AD