"Candy is a cash cow, and that's the truth." — Michele Gietz, Where'd You Get That!?
With reporting by regional correspondent Pennie Hoover
Toys, candy, kids. The three seem a natural fit. Yet, the majority of specialty toy storeowners
TD
monthly
recently spoke with said they steer clear of sweets altogether. Here's why they don't, followed by why they should and what they could put on store shelves to taste sweet success.
"That's something we've battled with," Dave Ekwall, owner of The Wooden Toy in Wethersfield, Conn., said of not carrying candy and food items at his store. "One reason is you hate to have it get unwrapped and stuck somewhere in the store. Also, as a parent, I remember when my kids were younger. It's just one more battle parents have to fight on their way out of the store."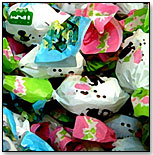 As an Internet retailer based in Ossining, N.Y., Adam Frost, owner of The Wooden Wagon, said that's a battle he never has to witness. And, without a physical checkout location, he doesn't see candy as benefiting him as a point-of-sale add-on.

Matthew MacDonald, owner of Wooden You Know in Maplewood, N.J., said stocking candy had never occurred to him or his wife. "If we did, we would do all organic — like organic lollipops or high-quality chocolate. Our store has a reputation for unique toys so the candy would have to be unique, too."

He pointed out that there's a dollar store down the street that already sells a lot of candy for cheap. Donald Borho, co-owner of Wondrous Things in Hudson, N.Y., echoed this sentiment. He said that there are a lot of neighboring food businesses so he focuses on toys.

Yet, Michele Gietz, co-owner of Where'd You Get That!? in Williamstown, Mass., said other specialty retailers are missing out. Her store has carried sweet treats since it opened 15 years ago.

"Candy is a cash cow, and that's the truth," Gietz beamed. "I've been telling that to ASTRA members for years. There's no reason why specialty toy stores, hungry for other products to sell, can't put in candy. Presentation is important and it does take some effort at first, but there are a lot of good distributors."

She buys candy in bulk and displays it in bins and a special built-in unit. She bags it herself so her "candy looks fun and upscale."

Popular products at her store include "gourmet gummy stuff" and "gross and funny" novelty candy, such as Toxic Waste Hazardously Sour Candy and Gummy Body Parts Candy. Pennsylvania Dutch Candies, a 100-year-old candy company, is another of her big suppliers. Attractive lollipops, such as Unicorn Pops by Candy Crate, also sell well.

Jordan Walden, manager of Finnegan's Toys and Gifts in Portland, Ore., said people ask for PEZ and Harry Potter Candy Bertie Botts Every Flavor Beans by Jelly Belly Candy Company. Candy necklaces and bracelets are as big as ever, and nostalgic items move, such as Boston Baked Beans and packs of Dubble Bubble. Unicorn Pops also do well.

In general, kids "buy as big of a thing they can get for the least amount of money," Walden said.


This sentiment was echoed by John Pola, vice president of sales for Jelly Belly. "Toy stores do well with candy at price points under $5. Candy is a natural in toy stores for instant consumption, for party favors, birthday gifts, package tie-ons. Bright colors, fun packaging, lots of variety really does well."


He added that when he used to run a toy store in Northern California, Jelly Belly beans "sold out every week." Customers even called in asking when the new shipment would arrive, he said.

Cindy Nelson, owner of J Skylark Co. in Duluth, Minn., told TDmonthly that Gummy Bacon by Accoutrements is a top seller at her store. "Kids, teens and adults all like the food-shaped gum," she said. "It's quirky and fun."


"People like choices, plain and simple," said Jeffrey Assisi, spokesperson for POP ROCKS Inc. He pointed out that "holidays are the perfect time to surprise family and friends with out-of-the-ordinary gifts," and novelty candy fits the bill.

Maybe it's time to sweeten your cash flow by incorporating a few tasty treats. To see what you've been missing, read on:

Each rainbow-colored pop is approximately 6" long, including the stick. Each box comes with 48 pops that resemble the horn of a unicorn. The pops are intended to be sold on an individual basis, making them an easy last minute add-on to any toy purchase.

.

AD

These are the original Boston Baked Beans candy coated peanuts. Every display box contains 24 packs, with a weight of 0.7 ounces each. Made by Ferrara Pan Candy Company, Boston Baked Beans are created using the cold-panned candy process. This involves building candy pieces from single units, such as peanuts, and tossing them into revolving pans while adding flavor, color and other candy ingredients. This process continues until the pieces become the desired size.

.

AD

Measuring 12" tall, there are eight different Star Wars characters available: C3-PO, Yoda, Darth Vader, R2-D2, General Grievous, Chewbacca, the Death Star and Emperor Palpatine. In addition, there are 20,000 limited edition designs featuring a metallic gold-plated C3-PO, a colored crystal version of Yoda and a sliver plated Darth Vader, each with eyes that light up. All Star Wars Giant Pez Dispensers feature authentic dialogue and the Star Wars theme song.

.

AD

Dubble Bubble Gum comes in a case of 24 boxes. Although the packaging has been updated, the flavor remains the same as it has been for years. Each box has 25 pieces and they still come with the comics.

.

AD

.

AD

This old fashioned candy comes with the original smooth Sassafras flavor that has kept the sweet around for years. It is Kosher certified. When ordering this item, retailers are asked to order three or more bags at a time.

.

AD

Yummy gummy thumbs, noses, ears, fangs and eyeballs are individually wrapped in this collection. The bag contains 45 parts, all tasty, all gummy and all decidedly gross in theory.

.

AD

Wherever you have an impulse buying point-of-purchase, you´ll do well to feature the Candy Concepts award-winning display filled with 1,800 pieces of individually wrapped candy. Display over 30 varieties from your choice of over 45 of the finest brand name candies. The display tower is 5' high with a footprint that´s only 22" wide. Add a profit center in any high-traffic, youth-oriented marketplace, such as gift shops, party stores, car washes, bookstores and retail outlets.

.

AD