Emilie Hill has taught kids of all ages everything from swimming to physics for more than 15 years. She has four children of her own, ranging in age from 17 months to 11 years. In addition, she writes for an online community of moms.
Name: The Books of The Holy Bible Learning Activity

Company: EDUCATIONAL MATERIALS DISTRIBUTORS
Gender: Boys And Girls
Category: Educational

Mom's Impressions

There are two puzzles in the set, one for the Old Testament and one for the New Testament. The books of the Bible are printed on the puzzle pieces in different colors according to the books description (i.e., red = history, blue = poetry, green = Pentateuch), which aids students in learning about the books instead of just memorizing their order. The puzzles are made of good-quality wood and should last through repeated use. Especially helpful for younger students are the hints under each puzzle piece. There is an instruction guide included with suggestions for Sunday school use and completion certificates that can be color-copied for distribution.
What the Kids Did
My 4 and 6 year olds love puzzles. While I think that they are too young to memorize the books of the Bible, matching the puzzle pieces to the letters on the puzzle board was fun for them. The instruction guide suggests starting with five books of the Bible, learning them, then adding another five, and so on, which is a great technique for memorization that I could use with my 11 year old.
What Mom Recommends
This is a good tool for memorizing the books of the Bible. Because the puzzles are sturdy and durable, I could see them used in Christian school classrooms and Sunday school.

---
Name: U GO GRL Activity Collectible Trading Cards


Company: LocaSmarts
Gender: Girls
Category: Trading Cards

Mom's Impressions
Finally, there are trading cards for girls! Sold in packages of 8 (plus a sticker or temporary tattoo card), there are a total 150 different collectible cards. Each card has a category (i.e. go active, go create, go primp) with corresponding advice on the back. There are 24 different girl characters represented on the cards, covering every ethnicity. There is even a website listed on the package for girls to visit for more games and card collector lists.
What the Kids Did
My daughter is only 6 years old, but she rather liked the cards. Her brothers have their own card sets (YuGi-Oh, Pokemon, baseball), so it was nice for her to feel included in the card-collecting trend.
What Mom Recommends
These cards are perfect for tween girls. The advice on the backs range from good hygiene habits to creative activities, which appeals to parents. The colors are bright and the girl characters are cute and easy to identify with, and the interactive website enhances the collecting fun.
---
Name: Inventive Thinking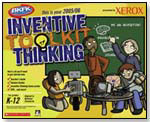 Company: SCHOLASTIC ENTERTAINMENT
Age: 5 to 17
Gender: Boys And Girls
Category: Science & Nature

Mom's Impressions
This kit is specifically designed for use in the classroom. It comes complete with 32 student workbooks, teacher's guide, classroom poster, and DVD. All of the activities are designed to get kids thinking creatively about problem solving, with the emphasis being that the most successful inventions are created to solve common problems. The student workbook is not based on the DVD and can be completed without it. The teacher's handbook offers great suggestions for classroom discussion and gives guidelines for setting up an "invention day" where students display their invention designs.
What Mom Recommends
As a former teacher, I was really impressed by the quality of this kit. The activities are clear in purpose and the teacher's guide offers supplemental information that will help to structure discussion. While not required for the workbooks, I would highly recommend showing students the DVD in class. It is both informational and inspirational, with emphasis on the powerful inventions designed by kids. The suggested age range covers Kindergarten to 12th grade, however, it is ideal for upper elementary to middle school ages. The DVD is fine for any age, but the workbook requires writing and reading skills that most students below the 4th grade wouldn't have developed yet, and activities that would bore a 10th grader. This kit is perfect for middle school science class and makes a great basis for the annual science project.
---
Name: Baby Clothes Quilt Kit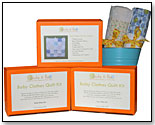 Company: TICCHE & BEA
Gender: Boys And Girls
Category: Infant & Toddler

Mom's Impressions
This quilt kit solves the problem of what to do with baby's old clothes. It comes with fabric squares to alternate with squares cut from baby's old clothes, fabric backing, and high quality cotton batting. The directions are clear. For non-sewers, the kit comes with a large vinyl preaddressed envelope to send the entire contents back with baby clothing squares, whichTichhe & Bea will sew for an additional fee.
What Mom Recommends
The instructions with this kit are the best I've seen so far. Even the novice sewer should have no problems completing the quilt. The guide has hints and suggestions to help along the way. It is definitely a high-quality product.
---
Name:
Now I'm Reading! Silly Story Laboratory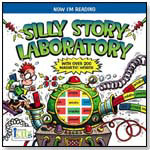 Company:
INNOVATIVEKIDS

Age:
6 and Up

Gender:
Boys And Girls
Category:
Educational

Mom's Impressions
This set is reminiscent of the ever-popular Mad Libs stories, only much more hands-on. There are over 200 magnetic words, color coded according to the different parts of speech (i.e., blue = verb, red = noun, green = adjective). The storybook is magnetic so that the words stick to the pages, and there are color-coded blanks, making it easier to match appropriate words to their respective places in the story. Some of the activities encourage creative story writing by the children themselves.
What the Kids Did
While my 6 year old isn't reading independently yet, she was able to match the magnetic words to the stories by color, creating some very silly stories. It also helped her to distinguish the difference between nouns and verbs, giving her a head start for first grade.
What Mom Recommends
Silly Story Laboratory is ideal for kids who have basic reading skills. It is still educational for the non-reader, with some adult guidance.
---
Name: Panzer Grenadier - Airborne, Introductory Edition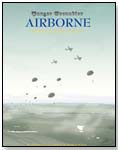 Company: Avalanche Press
Gender: Boys
Category: General Games


Mom's Impressions

This is an intense strategy war game. There are twenty included scenarios, all based on real WWII battles. A lot of time is needed initially for reading the instructions and learning the game-play rules, but then subsequent game play can begin immediately. The game pieces are colorful two-sided cardboard tiles that will last game after game.

What the Kids Did

My 11-year-old son is a big strategy game fan, and looked forward to playing this game. The directions are 16 pages long, however, and learning the rules proved tedious for both of us. We managed to play a few practice games, consulting the rulebook several times throughout play. He is determined to learn to play it successfully, though, and I imagine in time and with practice we may start to have fun with it.

What Mom Recommends

This game would be a good fit for the adolescent boy interested in the military or highly strategic games. It is not a good game for casual play, since the players have to learn an extensive set of rules. The target audience would most likely be tween to teenage boys through adult.

---
Name: Peer-X Binocular-Scope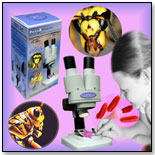 Company: PEER-X INT'L
Age: 7 and Up
Gender: Boys And Girls
Category: Science & Nature


Mom's Impressions

This sturdy and professional looking microscope has a binocular viewer and a working specimen lamp. It is designed to look at small (but not minuscule) things close up, such as bugs and flowers. I am impressed with the quality of design and materials, and its ease of use.

What the Kids Did

My 4-year-old son could not wait to collect several bug specimens to examine under the scope. From ants to roly-polies, he loved looking at them all magnified. The knobs were easy for his little hands to use, although he did need my guidance so he wouldn't damage the scope.

What Mom Recommends

This is a wonderful alternative to lesser quality scope playsets. While it costs a bit more, I'd be willing to purchase it for its durability and the fact that it works really well. It is especially fitting for children who are just starting to be interested in nature and insects.
---
Name: Verticon Air Battle Arena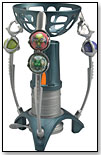 Company: WILD PLANET
Age: 6 and Up
Gender: Boys
Category: Pretend Play

Mom's Impressions

This toy is totally cool! Anyone who has been fascinated by hovering ping pong balls over an airstream will appreciate the simplicity and creativity of this toy. Warrior balls can be equipped with various attachments that swing wildly in the airstream. Players pick a warrior, attach the chosen weapons, and launch them into the airstream. The first warrior knocked out of the airstream loses. Thankfully, it comes with an adapter so batteries are not needed.

What the Kids Did

My 4-year-old son said, "Awesome!" when he saw the box. It is well packaged with pictures of the toy in action on front and back. My boys (ages 4 and 11) loved playing with it. They quickly learned which attachments had what effect (and consequently which they preferred). Whoops and hollers accompanied the airstream motor noise while they played.

What Mom Recommends

This is a good general toy for elementary school age boys. It has the wow-factor with the warriors hovering in mid-air and the competitive aspect by deciding a winner. I can see boys grabbing this toy off the shelves, begging to buy it.