"There are a lot of dragon collectors out there and the fantasy trend has not slowed down." — Elaine Kollias, Folkmanis Puppets

When it comes to being the master of puppets, these manufacturers aren't pulling your strings. Gearing up for the holiday season 2006,

TD

monthly Magazine

spoke with puppetmakers to discover the direction their design teams have taken with new items and why.

For starters, retailers were all pleased with Folkmanis Puppets (ToyShow). At Capitol Kids in Madison, Wis., owner Peg Scholtes said, "Plush puppets are steady sellers. They are one of our original lines since we opened six years ago."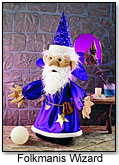 Diana Glasier, owner of Green Caboose in Stroudsburg, Pa., agreed. Folkmanis puppets are "very popular. They're kind of like plush, and they serve a dual purpose," she said.
At Ideas Etc. Toys in Westminister, Md., owner Sydney Shure said Folkmanis is one of his favorite products within the plush category.
Elaine Kollias, marketing director for Folkmanis, said that the company's new Dragon Duo Puppet, with a head at each end, is poised to be the company's bestseller this holiday season. The puppet will allow kids to either stick one hand in either end or to use the product with a buddy.
"There are a lot of dragon collectors out there," Kollias said, noting the success the company has had with past dragon characters, "and the fantasy trend has not slowed down."
While she admitted that celebrity purse dogs are hot right now, and "a lot of plush manufacturers are all over it, trends like that we try to stay away from." Why? "We strive to stay innovative and fresh," she said. "We challenge the traditional formula for success."
Kollias expects another popular product to be a puppet based on the popular black and white cats of yesteryear, Felix and Krazy Kat. Called Cartoon Cat, it will make use of the whimsical vintage trend.
Folkmanis is also bringing out the Glen Terrier, based on the unusual breed from the Glen of Imaal, Ireland. However, unlike with dragons, dog puppet purchasers tend to "identify with their own breeds" and so keep away from collecting a whole line.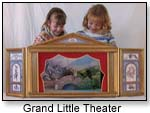 A newcomer to the market, Bright Path Enterprises (ToyDirectory) president Aaron Hill, said his Grand Little Theater of Puppets line won't begin shipping to stores until the end of August. The tabletop theater uses books of pop-up scenes from different tales and multiple small marionettes. However, Hill said retailers are already anticipating good sales. The real push will be for holiday season 2006, when the product line in its entirety will be ready for sale.
When he took the product to Toy Fair, Hill recalled receiving many compliments. He related one: "I've walked this entire show and I've only seen three things that are truly innovative. Your product is one of them." And another: "I've been in this business 20 years and what you've got is really special."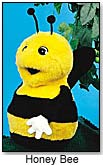 As far as Martha Bishop, president of The Puppet Factory Inc. (ToyDirectory), is concerned, half-body puppets are popular because it means puppeteers don't have to work with their legs. Because of that, and in order to meet a price the market is comfortable with, she's decided to sell her puppets with a simple T-shirt, with more fanciful clothing available separately.

"We're just now setting the market for it. The feedback so far has been real well-received," Bishop explained. Taking a cue from Mattel's Barbie, she's planning on designing the puppet clothes to uniquely fit only Puppet Factory puppets. They'll be packaged in clothing bags and sold with appropriately sized hangers.


What follows is more information on products mentioned in this article.

The Grand Little Theater of Puppets is a tabletop puppet theater inspired by the European toy theaters that were popular in the 19th century. The Grand Little Theater has the charm of the toy theaters of the past, but it adds a new magic of functionality and playfulness that is sure to delight children and adults alike. The charming rod marionette puppets are simple to operate, yet offer plenty of animation for dramatic performances. After the show, the theater folds flat for easy transport and storage. The Grand Little Theater of Puppets is sure to delight children and adults alike. It comes with Hansel and Gretel puppets and scenery book. Additional story sets and Shadow Puppet Accessory Pack is sold separately.

.

AD