Dream Green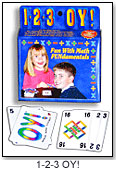 1-2-3 OY! is the family math game that will dramatically improve fast mental arithmetic, build confidence and encourage teamwork! Teachers, parents and students of all skill levels will love this fun math game as each game is presented with numerous variations that are adaptable to players' abilities. 1-2-3 OY! has been listed by the Eisenhower National Clearinghouse for curriculum use and has also been selected by the National Association for Gifted Children's Parenting for High Potential Magazine as a "2002 Holiday Toy List" pick. It has also been awarded the Dr. Toy Award and GAMES Magazine GAMES 100 award. 1-2-3 OY! adds up to quality fun! ($9.95)
Genealogy For Fun, Inc.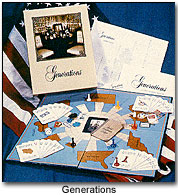 Generations is a board game which uses logic reasoning to solve a historical mystery. Players ages 8 and up search 7 regions of the United States for their fictitious ancestors, U.S. birthplaces, careers, and lifestyles. Several options ensure that play never becomes boring and that different levels of skill can be achieved. At the end of the game, the winner is encouraged to make up a story about the discovered ancestor´s life using "facts" found during play as an outline. ($24.95)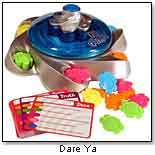 Girl Tech
The ultimate truth or dare game for girls ages 8 and up, Dare Ya! is easy and fun to play. Players spin to play and watch the cool lights display their next move, whether it is a Give, Take, Truth, Dare or Double Dare. Players can also now record their very own double dares - they can make them as silly, gross or daring as they want.
Golfee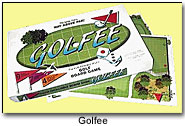 Amateur and pro golfers alike can test their skills at playing 9 holes of golf without ever leaving their home when they play Golfee, a new golf board game. Players can challenge friends at beating the pars of a course filled with roughs, water, and sand traps. No tee time reservations needed. Players can develop their strategy and score the most points to win the round.
Lunch Table Inc.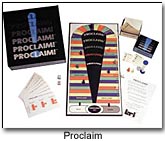 Proclaim! is the ambiguous word association game where clue givers try to construct clues that will lead others to guess the Proclaim! word. There are up to 3 rounds for each word, and the earlier the round, the more points that are awarded to the clue givers and correct guessers. The more people that guess the correct Proclaim! word, the fewer points that are awarded to each person. Clues must be clever enough to lead players to different possible answers to maximize their score. Proclaim your right to having fun!
Gladius International Inc.
Hunt and Seek Through History develops children's visual activity and reaction times while also providing an opportunity for the child to learn French! This action-packed game is fun to play and does not require reading. Different boards for Hunt and Seek Through History has different boards including: Prehistory, Middle Ages, Discovery of America, Grecian Antiquity, Ancient Egypt, Future, Far West and Pirates. The best thing about this game is that players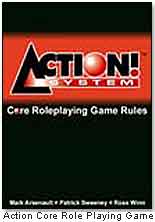 can play alone or with a friend!
Gold Rush Games
The Action! System Core Rules provides all of the necessary rules to create and play a role-playing game. Players can create adventures and characters based on their favorite movies, TV shows or books. Created by Mark Arsenault, Patrick Sweeney and Ross Winn, the Action! System is ready to play as it is, but becomes even more versatile with the addition of rules Extensions and Variants. ($14.95)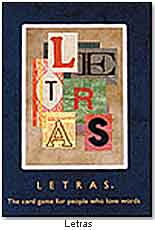 Grand Isle Games (ToyDirectory)
LETRAS is THE card game for people who love words! This addictive game has been recognized by the Parents' Choice Gold Award, Dr. Toy's Ten Best Games and GAMES Magazine 100. Each card is printed with a letter of the alphabet and the dealer decides how many cards (3-8) to deal. The object of the game is to be the first player to make a word using all of the cards in their hand. Add up the points printed under each letter. The first player to accrue 25 points wins the game! ($9.95)
Out of the Box Games (ToyDirectory)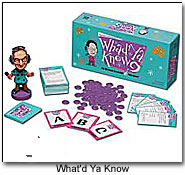 What'd Ya Know® is the hilarious party game based on Michael Feldman's public radio quiz show. The quiz show style party game, for ages 12 to adult, is based on common knowledge and opinion polls. The game requires one to guess well, or to attempt to persuade others with a fib. Points are earned by guessing the correct answer or by persuading others to see your point of view. In the end, the points won't really matter and the real fun is in the lively conversation. Play along with the help of an official Michael Feldman bobblehead! ($19.99)
Magellan Games LLC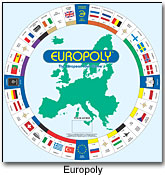 Whether players have been to Europe or not, playing Europoly will be just like taking a trip to the continent. Here, tourists "travel" around Europe purchasing countries and other travel related items trying to accumulate the most wealth as measured in the Euro, the new European currency. (Ages 8 and up; $29.95)
Perferred Games
Lord of the Rings fans: take heed! Middle-earth meets Trivial Pursuit classic board game in The Lord of the Rings Movie Trilogy Edition game, where Tolkien aficionados can test their knowledge of this now-classic film series. The game features classic Trivial Pursuit game play with 1,800 The Lord of the Rings questions based on the movie trilogy, including topics like the Battle of Helm´s Deep to Rivendell. The game includes 4 collectible pewter tokens and special advanced fan game play rules.
Reveal Entertainment Inc.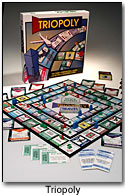 The ultimate game of finance and strategy, Trioploy is challenging enough for adults yet simple enough for children to play. To play, players travel to 15 cities and build skyscrapers, malls, and gas stations as they attempt to become the game´s ultimate tycoon. The tiered format allows for progressive play options and new wrinkles of strategy.
Infinite Chess
Infinite Chess is chess with a twist! This variant of the beloved game of chess is a fight for mastering the central grid. The Player who rules this has twice the striking power. Rooks can sweep around the long ranks and travel up to 22 squares at a time! Bishops can even leap from one loop to another or even move in a full circle!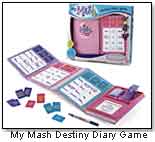 Fundex Games, Ltd. (ToyDirectory)
My MASH™ Destiny Diary Game is an iParenting Media Award winner for a reason! This classic girls game in which MASH stands for Mansion, Apartment, Shack, House, is the ultimate fantasy game in which girls in every grade school predicted their future with who they were going to marry, which car they were going to drive and what kind of shelter they would have- a mansion, an apartment, a shack or a house. The new My MASH™ Destiny Diary Game puts a new hip twist on the classic game. Questions to be answered now include: "How many shoes will you have," and "Who is your celebrity dream date?" This game is sure to keep any slumber party fun and exciting!
RoseKnows Inc.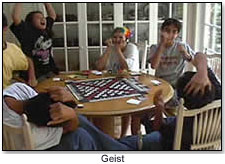 Geist is everything a board game should be! Making its debut at the Toy Fair this year, industry experts agree that Geist is giving the same old boardgames a facelift. The spooky Geist includes game play, plot and richly drawn characters. This game will definitely make family game nights more exciting and keep players coming back for more!
Jitterbug Games
Turnabout® is the exciting game of fun and luck! Each player starts with 6 cards. The object of the game is to be the first player to discard their entire hand and collect all the points for each round. Be the first player to collect 500 points and win the game! Turnabout® includes 122 special quality playing cards, a pair of dice and instructions. This game is easy to learn and extremely addictive! 2 or more players, ages 6 to adult. ($7.99)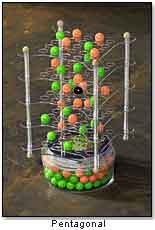 JRL Innovations
The first game to be played on computers and then made into a physical board game is Pentagonal. The object of this challenging 3-D game is to be the first player to get five (Penta) marbles in a straight line both vertically and diagonally. This addictive game will keep players coming back for more until they win! ($29.95)
LaForest Products Inc.
Own your very own professional baseball team! Baseball Tycoon™ is the exciting board game that combines business and baseball while taking a fresh approach to sports-based board games. The challenges of this comprehensive game include signing ballplayers, dealing with free agents, handle injuries and player suspensions, improving your stadium and of course-strikes! It is no wonder Baseball Tycoon™ has received rave reviews!
School Specialty Children's Publishing
Bingo: Telling Time is a new twist on an old favorite! This version of Bingo incorporates an essential life skill: telling time! The bright yellow game board and red hands make telling time easier for children. (Grades K-3; $9.99)