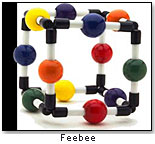 Design Science Toys
Feebee is a fun and fascinating toy for toddlers because it is big, lightweight and brightly colored. This educational and child development toy is great for learning about size, shape, color, texture and coordination. It is collapsible, washable, safe and is also great for travel. Feebee is great for children ages 0-3 and was a winner for Dr. Toy 100 best Children's Products. It was also one of the Early Childhood News 100 Best Product Picks. ($16)
Produced With Love Productions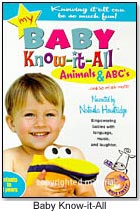 Part of the Baby Know-It-All line, Animals and ABCs is a perfect start to encourage little ones to use their voices. The Peek-A-Boots invite babies on a playful learning experience that introduces 25 animals and more. Active toddlers make animal sounds; recite the ABCs; illustrate the five senses and opposites; play musical instruments; and create art.
Sassy
The Bath Mobile from Sassy is a bath toy that grows with baby, encouraging development along the way. The bath mobile easily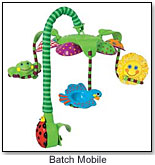 attaches to both infant and standard tubs. The mirrored flower, blue bird, frog, ladybug, soft sun, and three cute worms offer a variety of scooping, pouring, straining, and squirting water activities.