Jakks Pacific Inc.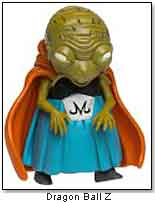 New Dragon Ball Z action figures and play sets feature intricate sculpts and paint details. Also available are energy blasting figures with sound effects and voice recordings from programming, double pack sets, collectible action figures based on Dragon Ball Z movies and play sets that bring home the action.
Grin and Bear It
Edwin is a 19" lovable bear made of beautiful "batik" mohair. This look means that the fabric Edwin is made with has different shades within each dye that gives him an older look. This also means that no two are ever alike. He is a very unpretentious, loving bear that would make an excellent addition to any bear collection. He is poly and pellet filled with glass eyes and wool felt paw pads. ($230).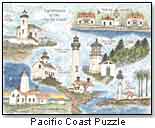 Heritage Puzzle, Inc.
The 500 piece Pacific Coast Puzzle by Bev Schreiber is a wonderful showcase of her artistic talents. Her lighthouse artwork with detailed pen and ink with watercolor wash are nationally recognized and sought after by many collectors. She gets inspiration from her on-site photos and prides herself on her beautiful accuracy.

Herrington's Teddy Bear Club
Herrington's Teddy Bear Club has created a unique and exciting relationship with the U.S. Golf Association. Herrington's Teddy Bear Club has become the exclusive manufacturer of USGA plush memorabilia. All bears in this collection are extremely limited edition pieces and are sequentially numbered. Prices for these collectible bears range from $10 to $250. Any of these USGA bears would make a great addition to any collection!

Hotaling Imports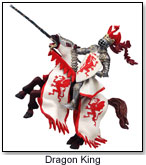 Hotaling Imports (ToyDirectory) is the U.S. distributor of Papo toys, a French company that creates remarkable hand-painted figures. Among the new entries for 2004 in Papo´s Knights collection is the exciting Dragon King poised for battle holding a joisting lance and shield. For extra play value, all Papo knights are designed to stand alone or ride a horse. Also, the new Dragon King Horse is draped and armored in authentic style and can be positioned in a running or reared up stance.