Wild Republic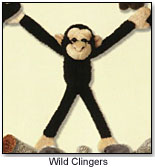 Wild Clingers™ are inspired by Wild Republic's best selling line of hanging plush monkeys. The new Wild Clingers™ combine the fun of magnets and plush! These 7" animals include very strong magnets in their hands and feet which can be used to stick to most metal surfaces including school lockers, ceilings, on refrigerators and doorknobs. They can also be fashionably used as bracelets. ($5.99)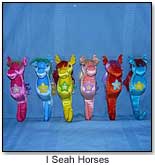 Wild Heart Ranch Inc. (ToyDirectory)
"I Sea Horses!" is the new plush toys and collectable line based on the new children's book! The story starts with a herd of wild horses who follow the path of their destiny to live under the sea as sea horses. Written by Dawn Van Zant and illustrated by Callan Van Zant, the herd is led by a white stallion who leads his herd to freedom in the sea. The plush toys are six loveable seahorses that will make a splash with everyone! The brightly colored Sea Horses each have long hair and bendable tails that wrap around anything. They also have squeezable bellies that feature a magical starfish that will surely light up your heart!
Fun Friends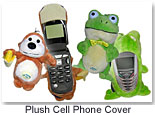 The Fun Friends Class of 2004 is now available! Fun Friends is the first company to incorporate cutting-edge plush technology to items such as: cell phone, TV remotes and staplers. With cute characters including, "Funky" the monkey, "Oinky the pig, "Tadpole" the frog, "Beary Brown" the bear (and more!), everyone is sure to want at least one!
Purr-fection by MJC
Bouncy Buddies™ is the new line of fun, interactive bouncing plush toys from Purr-fection by MJC. This line includes 7 Bouncy Buddies. Each character is fun, durable, interactive and affordable. Bouncy Buddies have a hard rubber ball inside their tummy allowing for unlimited soft-to-the-touch bounce and play! Collect all 7!