Googolplex Games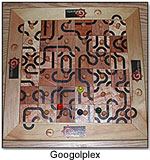 Googolplex is an innovative board game by Googolplex Games (ToyDirectory) that has over a trillion game variations. Googolplex is a maze board game constructed out of 36 movable tiles. The different placement of the tiles creates a new and different game each time. The objective is for each player to move his marker from one corner to the opposite corner of the board following the pathways created by turning the individual tiles. Each player gets to rotate one tile and then move his marker during each turn. The first player to cross the maze and reach the opposite corner wins. Googolplex Games won the 2004 Parents' Choice Gold Award and the2004 New Hampshire Magazine's award for "Best of NH" Best Game Idea. Players will definitely never outplay this game. 1 to 4 players, for ages 6 and up. $55.95
Enlighten Games Inc.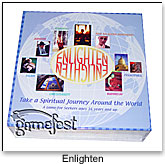 Become enlightened about world religion while adventuring the world's faiths in Enlighten™ "Take A Spiritual Journey Around the World" by Enlighten Games Inc. Two or more players advance on the game board by answering questions about different religions and performing spiritual customs. The six major world religions and several historical and regional categories are explored. This entertaining game increases understanding about different cultures and traditions during a time when more knowledge and tolerance is truly needed. Includes 550 well-researched trivia cards for hours of interactive and instructive fun. For ages 12 and up.
Rio Grande Games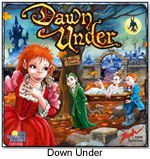 Award-winning game producer Rio Grande Games (ToyShow, Home Page) is at it again with their new game, Dawn Under. Several Rio Grande Games won an iParenting Media Award for 2004 and named Best Games for 2004 by Games Magazine. Scheduled to be released in September to October, Dawn Under is a funky vampire game that makes a great addition to Halloween parties. Just before sunrise, vampires have to search for a dark place to rest. But some may be occupied or filled with garlic. Each player must search for a suitable resting place for his/her vampire before sunrise. The game enhances memory ability as players must rely on thought and memory to find the perfect spot. It is a simply, yet fun game for children. For 2-6 players, ages 8 and up. $44.95
Frank Martin Associates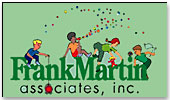 Frank Martin Associates introduces a modified form of the award-winning "The Farming Game" in the new and different "The Construction Game." Instead of farming in field, players try to make it big in the construction industry with bulldozers and heavy-duty trucks. Players learn to calculate and take risks that may pay big at the end or leave them bankrupted. Players buy bulldozers and excavators, bid for jobs and operation contracts, and decide whether they should go slow or borrow money for the fast track. This game teaches children financial responsibility and calculation. For up to 6 players, ages 10 and up.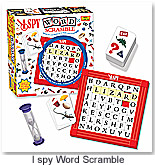 Briarpatch
The I Spy "Word Scramble" game by Briarpatch is the winner of the Dr. Toy's Best Smart Play/Smart Toy award. Released in May 2004, I Spy is an interactive game that tests a child's ability to unscramble letters to form words by sliding letter tiles around. Receive points for every word formed before the sand timer runs out. "I SPY Word Scramble is a fun family game because players of varying skill levels may create different words from the same picture," says Martine Redman, President of Briarpatch. The game has two levels, for beginners and advanced players. For ages 7 and up. $19.99.
Fundex Games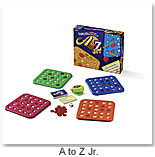 Named one of the "Hottest Product for 2004" by iParenting Media, A to Z Jr. by Fundex Games (ToyDirectory) is vocabulary game where the player must quickly say words beginning with different letters of the alphabet while being timed. Pick from the 52 categories like "ice cream flavors" and "green things," then try to name words in that category from A to Z. With every word said, the player can put a chip in that letter slot. The first player to complete their letter board wins! The catch is that players can roll to take chips away from another player's board, which prevents a player from winning too quickly. Also available as A to Z, for adults. A to Z Jr. is for ages 5 and up.