"Increasingly, our society is looking for the lowest price possible, but that doesn´t always bring you the satisfaction you want." — Kim Walter, The Miniature Scene
Dollhouses and furniture are coming back, insisted Kim Walter, assistant chairman for the Showcase of Miniatures, an annual convention in San Jose, Calif. Though the hobby had hit a slump, the surge of interest in crafts has revived grand passions for little things, retailers and manufacturers told TDmonthly Magazine. The difference between then and now is that people want their dollhouses ready-to-go and their furniture high-end.
Dan Harrell, sales manager for Town Square Miniatures, a division of Aztec Imports, told TDmonthly, "Sales have been up the last few months — usually the weakest months of the year. We've had to hire more shippers to pull orders." At his Aztec Miniature Show, he now has 120 vendors.

"Interest and enthusiasm are up!" he said.
"Customers are going for the more expensive, signed and dated, one-of-a-kind pieces," noted Shellie Kazan, owner for 30 years of Shellie´s Miniature Mania in San Carlos, Calif. She added, "at Christmas, people are looking for the least expensive stuff they can find. The middle priced items aren't really doing anything."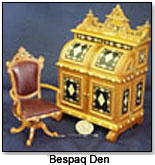 At Walter's store, The Miniature Scene, which she opened two years ago in Campbell, Calif., her clientele is divided evenly between collectors and children. Dayle Dodds, author of children's books such as "Henry and the Amazing Machine," and owner of the new Carmel Dollhouse & Miniatures in Carmel, Calif., said that she has an even mixture between moms and kids, grandparents and collectors. No matter what the demographic, once they're in the door, they come back for more.
Although some doll furniture can be bought in room sets, such as those offered by R. B. Foltz and Town Square Miniatures by Aztec Imports, others, such as Bespaq, sell their items separately. Kids and collectors return over months or years, furnishing their houses one piece at a time. Walter's local paper covered two little sisters who saved their $2-per-week allowance for almost 9 months so that they could buy a house from her.
"Every month they come back in to buy another piece of furniture," she told TDmonthly.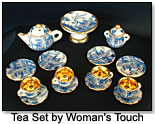 Choosing just the right piece means seeing it and getting the advice of the shop owner. "I really enjoy working with customers and helping them choose, in a casual way, the different pieces of furniture and accessories," said Dodd.
A new trend that Walter has noticed is that kids like to populate their dollhouses with animals on the 1/12 scale. These aren't family characters, such as the Calico Critters, but pets for the dollhouse inhabitants, including a tiny goldfish in a bowl by Dijon.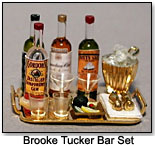 Handcrafted accessories are popular with older collectors. Bone-china tea sets and dishes by Rachel Munday's A Woman's Touch do well for Dodds, as do mirrors by Jim Coates. Miniatures by Brooke Tucker are among Walter's favorites.

Walter also teaches miniature-making classes in her store, as does Kazan. It's the personal touch and each storeowner's love for their products that keep their businesses going, they said.

Walter advises retailers who want to make space for dollhouse items to find the best products possible. Many customers have expressed frustration with cheaply made kits they'd found in other stores.

"Start small with one line of dollhouses and make sure you buy high quality," advised Walter. "Increasingly, our society is looking for the lowest price possible, but that doesn´t always bring you the satisfaction you want."

Here are some mini furnishings that dollhouse collectors will find irresistible:

A tiny goldfish on the 1/12 scale swims among shells and water plants in his own private bowl. He never needs feeding.

.

AD

This elegant art-deco-styled vanity is crafted in cherry wood, chosen for its tight, fine grain, and finished with a walnut stain. All of Bespaq's pieces are designed by owner Pitney Ginsburg and manufactured in his factory in China. Bespaq pieces are always of limited release. Only 50 of these vanities have been manufactured. Ginsburg told TDmonthly that he often designs pieces by request. 3-3/8"W x 6-1/8"H x 1½"D.

.

AD

.

AD

Designed and handcrafted by Jim Coates, this mirror is finished in antique gold. According to Coates, he uses a "unique casting method which gives all of my products very sharp and crisp detail, which is not seen in most other cast items." He agrees with miniature retailers that the hobby is doing well. "The trend is very steady," he told TDmonthly. "I always have more work to do than time to do it." Unlike most mass-produced dollhouse mirrors, this one is made of real glass. It measures approximately 2-1/4" x 3-3/4".

.

AD

This pattern is based on the gold leaf that surrounded dishes on the White Star Line. It comes in three colors: blue, green or brown.

.

AD

.

AD

.

AD

.

AD

Just like the one great-granddad used to sleep in, only a lot smaller, this metal bed includes a headboard, footboard and mattress.

.

AD

The Lydia Pickett Cottage Collection is an eclectic yet contemporary grouping of furniture and accessory kits, which include pre-cut wood and art embellishments. Inspiration for this series of furniture design is based on a fictional fantasy move to Winter Harbor (that's down-east Maine for people from "away"). Each kit contains a little story about a small dog named Lydia and her adopted family. Kits are available in 1", 1/2" and 1/4" scale. The price given is for 1" scale.

.

AD