Kids furniture in 2003 offers adult-size choices. The days when bunk beds and NFL sheets were the mainstays of kids' décor are long gone. Today, companies like Fun Furnishings (ToyDirectory) (see Brass Ring) are reinventing kids´ room staples such as bean bag chairs by giving them an interactive twist. With all the cool options for kids' space, the old admonishment, "Go to your room!" might be lost to the ages.
Anatomical Adaptations for Academic Aspirations


Buddy Desk

Last year, Wild Zoo Children´s Furniture impressed Business Week with its ergonomically correct masterpieces. The Buddy Desk, available in surface colors of varnished maple or white, with eight vivid trim colors ($199), proves that the best solution is often the obvious one. By providing a bench seat wide enough for two kids ages 4 to 10 to share time on the computer, Wild Zoo has let kids' need to bond through play carry over to the high-tech realm.


Harley-Davidson licensed furniture
A Rumble in the Nursery
Purists will be pleased that KidKraft (Toydirectory) hasn´t abandoned its children's wood-slat rocking chairs, though the company has entered the licensed product market. Following the reemergence of Harley-Davidson Motorcycles, KidKraft has introduced a line of Harley-Davidson licensed furniture, including Storage Bins ($99.90). With Strawberry Shortcake and John Deere also in the catalog, KidKraft offers something sturdy for both boys and girls.


Hello Kitty Computer Chair
A Lovable Chair
Kidgronomics, a division of Comfortage Industries, has been basking in adulation since it wheeled out its Hello Kitty Heart-Shaped Computer Chair ($99). Made with easy-to-clean vinyl and a husky nylon base, this chair combines durability with a five-year limited warranty and such modern office innovations as a back-depth adjustment mechanism, gas elevation control and twin wheel casters.


Mission Design Table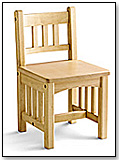 Mission Design Chair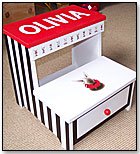 Olivia Step Stool


Scooby-Doo Table and Chairs Set
Mission Remarkable
Recognizing that the juvenile wood furniture market has grown ten times larger than juvenile plastic furniture, Little Tikes has given the molds a rest and now pays homage to the Mission-style wood furniture displayed in leading galleries. Their Mission Design Table ($79.99) and Chairs ($29.99 each) provide ample surface space for arts and crafts lovers from 2 to 6 years of age.
Days of Swine and Roses
Fans of that energetic piglet, Olivia, will surely demand an encore following the October release of the book Olivia... and the Missing Toy, and Wink Inc. (Toydirectory) delivers. Parents will notice a rise in their preschooler´s excitement on the platform of the Olivia Step Stool ($50). Wink also offers Bookends ($25), showing Olivia in two action poses; and an Olivia Lamp ($50), with a ribbon on the lampshade and a funny Olivia Picture Frame ($12).
Putting on the Dog
With animated pals a part of kids' daily lives, Hedstrom has added Scooby-Doo as well as the Cat in the Hat, Pooh and Friends and other licensed characters to its Lifestyle Collection. This all-wood Table and Chairs Set ($69.99) will amuse as well as endure 2-to-5-year-olds.
A Home Playground
Playhut's Megaland, for kids ages 3-7 ($99.99), provides a world of tunnels and hiding dens that surpass couch cushions for fort-building fun. With 50 colorful balls included, kids can pile them into a cube and create a scaled-down ball-room like those at Chuck E. Cheese's, or use them to shoot hoops into a built-in basket. The collapsing nylon material allows for easy assembly, but getting it back into the carrying case requires a little more patience. Megaland connects with other PlayHut structures and includes a large hut with basket, a medium hut, a small block, two tunnels and two carrying bags, plus the aforementioned 50 balls.