Click here to read TDmonthly´s_Top_Ten_Most_Wanted_Plug_and_Play_Games
Many 30-year olds have a fond memory of their eighties childhood, when Tang was the beverage of choice, leg warmers were the height of fashion, and Atari was arguably the hottest system on the market. "Old school" or retro games are popular with this demographic and now, Gen-X parents have begun introducing their children to the classics. "There is a nostalgia factor for mom, but they are new for kids today," says Genna Goldberg, vice president of Corporate Communications for JAKKS Pacific. The company was one of the first to identify the emerging market for simple-to-use, recognizable retro games, and they´ve reaped rewards for their fearly entry.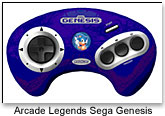 There´s no question that retro toys are popular. "Gamers are expected to spend an estimated $250 million to $300 million on retro games this year," according to Newhouse News Service.
JAKKS Pacific has dominated the market since they reinvented the trend with licenses for Activision and Atari game content. Meanwhile, other companies have put their own marketing twist on these products. Radica's Play TV targets consumers who want to interact with their game. Keith Robinson, president of Intellivision, says he purposely developed a modern looking controller for his plug-and-play products. He knows that people remember the games, but his company is not relying on that factor alone. "We are not trying to live in the past with this…this is for kids today," he says.