In addition to raising two girls, ages 7 and 2, Maryam Seyedhosseini has a degree in child and adolescent development from the California State University, Northridge. She currently teaches the arts to pre-kindergarten children and has previously counseled at-risk youth. Her background as a mother and as a childcare professional give her a unique insight into toys. Here she shares her impressions of new toys with TDmonthly Magazine.
Toss N' Talk Clever Catch Shapes by SCOTT RESOURCES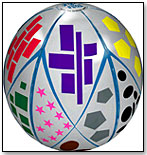 Age: 3 and up
Gender: Girls and Boys
Price: $14.95

First Impressions
This talking product has a very nice silver color to it, which preschool children consider cool. Both boys and girls can play with it. The different shapes drawn on the ball add to the child's interest.
Developmental Stage
Toss 'N Talk is great for children's physical and cognitive development. This product shows that you can play outside with your child and at the same time teach her something, too. Kids are supposed to catch the ball, then tell what shape they see.
Skills Reinforcement
It teaches coordination, since children must throw and catch the ball. It also teaches them about shapes. The questions asked by the ball are about shapes, colors and quantities.
Playability
All kids love balls! So right away, you know they'll want to play. The questions are very easy and fun for children to answer. There are six panels on the ball and each panel has four sections to it. The ball is just one color. Every time a child throws the ball in the air, it lands on at least three panels. Children sometimes become confused about which side of the ball, which panel or even which section contains the question they should answer.
Recommendation
This toy needs a lot of grown-up involvement so kids can enjoy it, otherwise they will argue about which shape should be addressed. The ball would be improved if each panel had a different color. Also, sectioning the panels makes them confusing for children.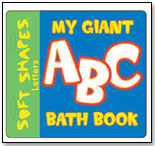 My Giant ABC Bath Book by INNOVATIVEKIDS (ToyShow)
Age: 3 and up
Gender: Girls and Boys
Price: $14.99

First Impressions
This lightweight book is a nice size, shape and weight for little kids. The large foam alphabet and number tokens are colorful and are placed in a foam plate of a single, contrasting color, so it's easy for children to put the letter or number back in place. This is a great toy for preschool children.
Developmental Stage
This toy will help children develop self-confidence and play independently. Since they must manipulate the letters in and out of the book, they will improve their eye-hand coordination while learning colors, new words and the differences between upper- and lower-case letters. They will also learn to count.
Playability
I love this toy from innovativeKids! Velcro straps let the toy be folded and secured like a binder, rather than a regular book. This makes the child feel like a grown-up kid, carrying around a real school binder. My daughter used them in the water just once. In fact, it was hard for her to keep up with all floating letters in the water. Though the tokens stick on the wall, the binder is heavy and my daughter preferred using the book outside the tub.

Recommendation
My Giant ABC Bath Book is recommended to help children learn basic concepts of letters and numbers. I would suggest that an adult play the first round with the child because the letter and number tokens are difficult to manipulate at first. Over time, however, they come in and out of the book more easily.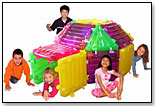 Aerobloks Starter Kit by AEROBLOKS
Age: 3 and up
Gender: Girls and Boys
Price: $52.99
First Impressions
This five-piece set of inflatable squares is brightly colored and kid-friendly. The differently colored panels make it very appealing. They are easy to blow with the use of a pump. Once adults set them up, children can easily move the pieces around.
Developmental Stage
Playing with this toy will aid in children's physical development because they must manipulate the pieces to get them to interlock and form walls or other structures. They can build the walls into a little castle, or make a tent or many other constructions.
Playability
Children can use these inflatable pieces to make a variety of play structures. Its flexibility is one of its best qualities. And since kids are sure to play rough, the durability of the pieces is also appreciated. My children had so much fun with it that they want the toy to stay out and assembled all the time.
Recommendation
This is a wonderful toy that allows children to be active while using their imaginations. Now all my pillows stay in my room because my kids have their own blocks to make their castles!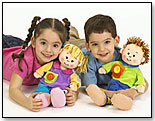 Teach-a-Tot by LANGUAGE LITTLES (ToyShow)
Age: 1 and up
Gender: Girls and Boys
Price: $34.99

First Impressions
This interactive talking doll is soft, cuddly and adorable. My 2-year-old daughter could not wait for me to open up the box for her. It's a pretty and well-groomed doll. I love it. So does my daughter; she takes it everywhere she goes!
Developmental Stage
This is a great learning toy for kids ages 18 months and up. Because the doll talks, the child is encouraged to use the same words herself. Manipulating the buttons and zippers helps the child develop fine-motor skills. Playing with the doll teaches kids to become independent and to dress and care for themselves. In fact, since my 2-year-old started playing with this doll, she will not let me put her shoes and jacket on for her!
Recommendation
This toy is definitely recommended for little children who are learning to become independent. Dressing the doll makes a small child feel good and also makes her aware of the steps that need to be taken when dressing and caring for herself. My little girl even goes "potty" more often just so she can pull up her own pants.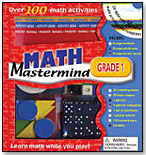 Math Mastermind: Grade 1 by SILVER DOLPHIN PUBLISHING
Age: 5 to 7
Gender: Boys And Girls
Price: $14.99
First Impressions
The package has a window so children can look through the box and see what is inside. The first things they see are the colorful shapes, blocks and dominos — all of which are so very tempting! The package is very well organized. The kit is a wonderful tool for both parents and educators.
Developmental Stage
Math Mastermind is great for kindergartners and 1st graders. The various games and puzzles stimulate their minds. Various studies have demonstrated that children who play with puzzles and blocks at an early age do better with mathematics later. This toy helps kids count, match and make shapes, learn to follow directions, and learn more about colors.
Playability
The activities in this kit are so well designed that the child doesn't notice that the games are also lessons! For example, if the child is trying to build the house in the kit, she is concentrating on how to make it, but she is also learning about shapes simultaneously — without any pressure.
Recommendation
This toy is a wonderful play and learning activity. Nevertheless, parents should limit the time spent with this addictive toy, so the child will be able to run around and be active, too! I would especially recommend Math Mastermind for any child who is struggling with math.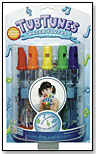 Tub Tunes Water Flutes by RIGHT BRAIN (BIG BOING) (ToyShow)
Age: 3 to 8
Gender: Boys And Girls
Price: $9.99
And
Tub Tunes Water Xylophone by RIGHT BRAIN (BIG BOING) (ToyShow)
Age: 4 to 8
Gender: Boys and Girls
Price: $11.99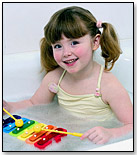 First Impressions
These interesting musical toys are soft, colorful and lightweight, which make them perfect for the tub and for small children. Kids love music, so right away these toys have something going for them. The toys are also durable, so they can withstand a bit of enthusiastic banging.
Developmental Stage
These toys help children become aware that music is composed of different notes. They learn to make different sounds using different objects. They also learn how water can change the sound of a note. The toys come with color-coded music sheets so that children can learn how to play simple songs.
Playability
The child needs to keep one hand on the xylophone to make sure it doesn't float away and therefore can only use one hand to play. Though the music sheets are supposed to be able to stick on the wall, they would not do so. The xylophone can also be played outside of the tub. My children actually preferred to play this way, since they didn't have to hold it down to keep it from floating away.
Recommendations
Though the children liked playing with these in the tub, I would not recommend using the water flute in the bathwater with a small child, since the tubes can be filled with water to change the tones of the notes. Little children sometimes have a hard time preventing themselves from urinating in the tub (I leave the rest to your imagination). My recommendation for the flutes would be to play with them near the sink only.
To read more reviews by TDmonthly's Expert Mom, please click here.
To read toy reviews by TDmonthly's editorial staff, please click here.