What follows are more products found on Dr. Toy´s The Best Products of 2005 list that are from TDmonthly Magazine members.
Click here to see more products from TDmonthly members that made the prestigious list.

To view all of the products included on Dr. Toy's 100 Best Products 2005 list, visit www.drtoy.com.

Zany World Game by ZANY WORLD GAMES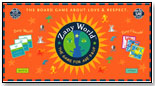 This is actually six games in one; the package comes with one board game and five separate card games, all enjoyable for the whole family. The games themselves promote self-confidence in youngsters, as well as respect for others. 9/26/2005 (Price: $29.99; Age: 7 and Up) [Add to my Inquiry Basket]



A Mother´s Voice by SMALL NOT STUPID RECORDS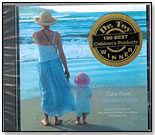 Diane Offenberg Rose uses the songs on this album to expound on some of the lessons learned through motherhood, and teaches them to the young listeners. The gentle folk style sets the tone for this laid-back, easygoing collection. 9/23/2005 (Price: $12.00; Age: 0 to 8) [Add to my Inquiry Basket]



Anna Botsford Comstock Biography by GIRLS EXPLORE LLC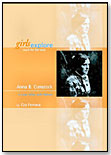 A biography detailing the life of one of the first women to recognize the importance of teaching nature to children, "A Love Affair with Nature" runs 180 pages and features photos and artwork from Comstock herself. The book also contains lessons that can be completed by children with a burgeoning interest in the outdoors. 9/22/2005 (Price: $20.00; Age: 8 to 12) [Add to my Inquiry Basket]



Mommy´s Magic Cell Phone by GOLDBERGER DOLL MFG. CO. INC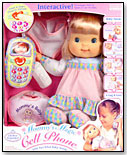 This doll alerts its mother when it´s in need of care via a "magic" cell phone that the caregiver carries with her. When the light on the phone flashes, the child answers and finds out what her doll needs, then administers care. Mommy´s Magic Cell Phone is a useful doll for teaching children responsibility and communication. 9/22/2005 (Price: $19.99; Age: 2 to 6) [Add to my Inquiry Basket]



My Daddy is Scratchy by GOOD MOOD RECORDS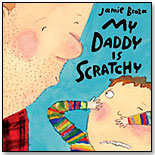 Jamie Broza uses several eclectic styles of music to teach kids about their relationship with Dad. The 17 tracks on the album are written in good fun, and kids should appreciate the sense of humor. 9/23/2005 (Price: $14.98; Age: 2 to 8)



Crayola Glitter Bugs by GREAT AMERICAN PUZZLE FACTORY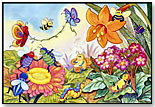 All that glitters is not fun, but in the case of Crayola Glitter Bugs it most certainly is. Kids put together the 35-piece puzzle, then customize it by adding colorized glitter, touching up the caterpillars, bees, spiders and other cute critters that live in the forest. 9/23/2005 (Price: $10.00; Age: 5 to 12) [Add to my Inquiry Basket]