---
How to Get Boys Buying
Action Captures Guys' Attention
"For a number of years now that's been a very strong category." — Pam Sommer, Montana Book & Toy Company

With additional reporting by regional correspondents Virginia Davis, Dennis Furlan, Bonnie Priever and Donna Sacks

Action is as action does.

TD

monthly Magazine's regional correspondents talked to 45 retailers across the nation, trying to find out what makes boy tweens tick, and guess what it was? (no surprise here): Active toys, said 95 percent. But which ones are selling, and why?

What's Selling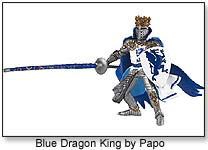 "Boys like anything with a knight on it [for tweens and younger]," reported Rose Hickman, owner of The Little Cottage Toy Shop in Franklin, Tenn.

Both Papo (ToyShow) and Schleich (Gift Guide) lead the pack.

"For a number of years now that's been a very strong category," iterated Pam Sommer, owner of Montana Book & Toy Company, Helena, Mont.

But boys will use anything in the pursuit of more action:

"We've also got the Pig Catapult from Accoutrements," North Arlee, Mont.'s Hummingbird Toys & Treats' co-owner Tony Hoyt explained. "It's a catapult that shoots pigs across the room — about 20 feet." And boys use them to knock over the knights they're playing with.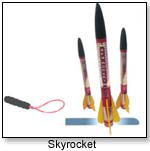 Another projectile the boys are using is Monkey Business' SkyRocket. Connie Hallinan, owner of Golden Aspen Toys in Flagstaff, Ariz., pointed this out, and

TD

monthly got corroboration from other retailers as well.

As far as hands-on, digging for dinosaurs is tops of the pops. Boys just want to get their hands dirty. "That sells around here, definitely — especially for the boys. Gross starts at around the age of 4 with dinosaurs, scary things," commented David Campbell, owner of Amazing Toys in Great Falls, Mont.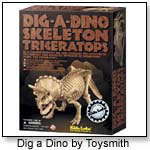 John Schuering, owner of Discovery Pond in nearby St. Miles City, Mont., found the Toysmith brand their top seller: "Probably the Dig a Dino."

What to Make of It

"It's all about being involved," said Ralph Dolenz, manager of the Toys R Us in Billings, Mont. "Tween boys aren't old enough for niceties. They want to get down and dirty."

With the toys below, they can get downest and dirtiest.





MSRP: $4.99

Age Range: 3 and upLaunch Date: January 2006Gender: Boys And Girls





Dressed in white and emblazoned with a cross, this knight is ready to defend his faith. His horse is also dramatically draped. Each is available separately. Launch date: 2006.
— "Papo... across the line. Our Knight Papo figures are our best-selling stand-alone figures," said Alex Witten of Sparks Toy & Hobby Shoppe in Smithfield, R.I. Eighteen of 34 retailers TDmonthly spoke with in spring 2007 cited Papo as best-selling action figures in their stores.
— Retailers reported sales of Papo Knights averaging 50 to 100 units a month.
— "Papo's design, quality and play value continue to inspire children and even adults with the imaginary world of Papo," said Larry J. Hotaling of distributor Hotaling Imports.

ToyDirectory Product ID#: 7767

(added 5/2/2006)

.

AD
---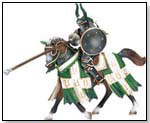 New as of May 2006, this green steed is adorned with a detailed green coat bearing a bull's golden horns. The knight riding atop the grey beast is dressed in armor and wears a bull's horns atop his helmet.

— Debbie Scholl, owner of Fundamentally Toys in Houston, said that Schleich makes animal figures that fly off the shelves at her store.

— "Let's see, we sell a lot of the German company Schleich Knights — horses and medieval times-like stuff. They're just very real looking and very detailed," said Char Mcaulay, manager of Toy Town in Casper, Wyo.

— Retailers consistently tell

TD

monthly

that knights are one of the few non-licensed character-driven product lines that sell well at their stores.

ToyDirectory Product ID#: 8581

(added 7/18/2006)

.

AD
---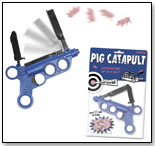 The first catapults were built around 200 B.C. to hurl flaming 6-pound javelins at the enemy. Now the same basic mechanism is used to launch tiny plastic pigs through the air at friends and family with the Pig Catapult. Illogical it may seem, but fun it definitely is. After 'pulting a few pigs across the room, it's hard to go back to javelins. Each 5-3/4" long plastic shooting device comes with ample pig ammo for a full-fledged pig-flinging party. "Incoming oinks."

ToyDirectory Product ID#: 9072

(added 8/21/2006)

.

AD
---






The Cretaceous Era came to an end 65 million years ago, and so did the dinosaurs. Nothing's left but fossils. Now kids can excavate parts of a T-rex, Triceratops or Stegosaurus skeleton from a mound of clay "earth," and then assemble it. It's like being a real paleontologist. Dig out the bones, assemble them, put them on display. Each kit includes a Kidz Quiz, instructions and excavator's tools.

ToyDirectory Product ID#: 9073

(added 8/21/2006)

.

AD
---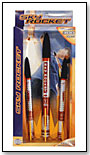 3... 2... 1... Blastoff. Zoom into "space" with this awesome Sky Rocket that can fly over 300' high. Simply pull back the sling shot launcher and watch it go. Made of lightweight foam, these sport rockets are the highest performance hand-launched rockets available today. A set of three sports rockets includes two long-range rockets, one mid-range rocket and the hand launcher.

ToyDirectory Product ID#: 9074

(added 8/21/2006)

.

AD
---
Writer's Bio:
Mark Zaslove is an entertainment industry veteran in developing content (writing, directing and producing television and feature films) for the major studios, including Disney, Universal and Warner Bros. A two-time Emmy Award winner for writing and recipient of the Humanitas Prize (for writing uplifting human values in television and movies), Mark is also Head of Content Development for Nice Entertainment.
Read more articles by this author
THIS BANNER IS AN AD:
---
---