---
The Good Old Days
American Retro Brings Back Classics From the 30s, 40s and 50s
"I had an idea and went for it. I feel our society is changing so rapidly that is only natural to want things that remind us of our past." — David R. Johnston, American-Retro, LLC
Just as
Hollywood
has discovered with the success of numerous sit-coms set in the past, the good old days is a lucrative investment for a manufacturer. Specializing in classic pedal cars for little kids, American Retro LLC offers a unique selection of ride-ons. Designs from the 40s and 50s are showcased along with unusual collector pieces, such as Coke machines, coolers, bubble clocks and steering wheels.
"I had an idea and went for it," CEO David R. Johnston remarked. "I feel our society is changing so rapidly that is only natural to want things that remind us of our past. You can even see this in our automotive industry with the new retro desi

gns."
Johnston has a master's degree in fine art. A fruit and poultry producer in central California, this entrepreneur collects memorabilia from the era and restores old cars and motorcycles. He founded the company in 1998.
Starting with a Classic Picnic Cooler like the ones made in the 50s, he later produced children's pedal vehicles and proceeded to a full-size Coca-Cola Machine. His goal was to make new products identical to the old, while adhering to today's safety standards, an endeavor that met with success.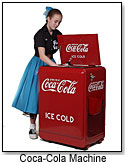 He described the plastic pedal cars from the 60s as "throw-away" toys. "With the metal pedal cars, the classic designs, a parent or grandparent could give a child something that wouldn't be thrown out in six months. I felt most parents would keep these toys, and perhaps later, pass them down to the next generation."
These vehicles are metal, so tooling is expensive. "It fits more in 'Mom and Pop' specialty stores than the big chain operations. For these reasons, I feel competition has been low."
Storeowners need space to stock these items. "Since we supply so many small stores, and since our products are large, we carry a tremendous inventory and drop ship," Johnston explained. "We encourage our retailers to advertise the fact that we can ship anywhere, directly to the end user's door."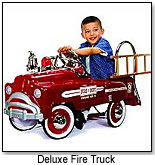 Their bestseller is the Deluxe Fire Truck, an authentic chrome design with a flashing red light, giving the customer the most value for its $237 price tag. The Pedal Car Sedan replicas, featuring a Taxi and a design called Pretty in Pink, bring back memories of a treasured past.

He said they never have a show where fewer than a dozen people come up and tell them they had one of their vehicles as a child. "Most say it was their favorite toy. Kids want to dream about being adults. Having their own car is a natural attraction."

Johnston told friends in Korea that although that country has a longer history than the United States, out of its 5,000 years, 4,850 were passed in relatively the same way. "But the last 100 plus years everything has changed and changed so fast. It seems that every 10 years we are in a different world. We want to relive the years. They went by too fast."

His future plans are to diversify and find products like their Coke Machine. He wants to offer more than children's toys.

What follows is information on several American Retro products.









This insulated 1940s/1950s-style classic cooler is made of steel and aluminum, featuring chrome corners, handle and locking bar, along with a built-in bottle opener. Available in red, white, black, blue and yellow, it can be left plain or embossed. The Junior model stands 11.5" by 9".

ToyDirectory Product ID#: 6554

(added 1/16/2006)

.

AD
---






This 1930s and 1940s classic replica of the Westinghouse Junior Coke Machine is a self-serve refrigerated floor chest made of pressed steel and aluminum. Embossed with the Coca-Cola logo on all sides and under the lid, the Ice Model holds 80 cans of soda. It stands 35.25" by 25.25" by 17.75" and weighs 80 lbs.

ToyDirectory Product ID#: 6555

(added 1/16/2006)

.

AD
---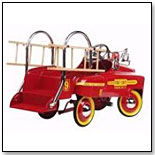 MSRP: $311.00

Age Range: 2 to 6SKU or Item #: AR-2003Gender: Boys And Girls





This 1940s classic replica is made of heavy gauge steel with wooden ladders. Its authentic red and white design features chrome windshield, steering wheel, ringing bell and hubcaps, along with a chrome-trimmed flashing light and chrome-plated, high-hoop grab bars in the rear. The truck is 45.5" x 15.5" with adjustable pedals.
— Owner Jeff Gurley of the Lollipop Shop in Jonesborough, Tenn., and Kiawah Island, S.C., listed this vehicle as one of his top-10 best sellers in May 2008.

ToyDirectory Product ID#: 6556

(added 1/16/2006)

.

AD
---






This 1940s classic replica is made of heavy gauge steel. The authentic pink and white design features a chrome steering wheel, a hood ornament and hubcaps, along with a chrome-trimmed windshield. The car is 36" by 15.5" with adjustable pedals.

ToyDirectory Product ID#: 6557

(added 1/16/2006)

.

AD
---






This 1940s classic replica is made of heavy gauge steel. Its authentic yellow design features checkered detailing, chrome steering wheel, hood ornament and hubcaps, along with a chrome-trimmed windshield. The car is 36" by 15.5" with adjustable pedals.

ToyDirectory Product ID#: 6558

(added 1/16/2006)

.

AD
---






Have your child live out his or her dreams of being a pilot with American Retro's Sky Knight Plane. This beautiful white plane has a place for your child to sit and imagine flying through the clouds and blue skies. With a steering wheel and a spinning propeller, this plane will fly into the imaginations of anyone who desires to soar! $327.00.

ToyDirectory Product ID#: 1837

(added 12/10/2004)

.

AD
---
THIS BANNER IS AN AD:
---
---