"Omigosh! Did that thing sell!" — Steven Levy, Toy City, in reference to Hape's Quadrilla

What's new in construction for 2006? Not much, according to the 25 retailers who spoke with TDmonthly Magazine in late March. The items that did catch their eyes were construction sets with an unexpected element, such as Marban Industries' (ToyShow) building-block game, Instructures, or Mindstorms, the new RC robots from LEGO.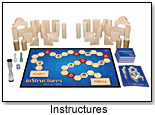 "[My husband] Rick, was on your Web site this morning and was really enthusiastic about Instructures," Trish Garlock, owner of Treasured Child in La Grange, Ky., told TDmonthly, when trying to think of new construction toys she'd ordered. "It sounded really good."
The game requires players to build structures using miniature wooden blocks while following directions from an "architect" who won't let them see the design.
Patricia Masing, owner of Brain Station in Ann Arbor, Mich., was fired up about the Mindstorms robotic vehicles and creatures. "That's probably the most deluxe building set you can get," she said.
Retailers were still excited by relative newcomers, such as Guidecraft's Magneatos, Hape's (ToyShow) Quadrilla and River Dolphin's Zoomorphs, which were hits last year in the specialty market. They're also relying on classic sets by K'NEX, Lego and Erector to do well.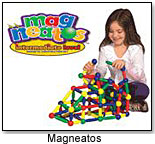 Several owners who'd missed the boat last year by not ordering Magneatos, the magnetic building game for tiny tots, were pulling it in for 2006. Guidecraft is offering two new sets: one with curved pieces and another in a smaller size for older kids.

"Magneatos is a proven thing, and we finally got behind it," said Debbie Scholl, owner of Fundamentally Toys in Houston. Five other retailers told TDmonthly they'd ordered Magneatos, too.

Scholl commented that it's hard to find new items in the construction category. "We just brought in Zoomorphs [because] we'd gotten good feedback from other retailers."

Magnamorphs by Wild Republic and Zoobs by Infinitoy were mentioned by three retailers as other construction/critter-building kits that they hoped would do well again in 2006.

There's still a run on the wooden marble run Quadrilla, two retailers reported. "Ever since we've set up a display of it in the store, it's been really strong," said Kevin Hart, buyer for Toy Store in Atlanta. "It's not a low-priced item, but we've been selling all of them!"

"Omigosh! Did that thing sell!" exclaimed Steven Levy, owner of Toy City in Surry, N.H. "We couldn't get enough for Christmas. We were 2 1/2 weeks into the season and basically sold out."

Michelle Deutschmann regretted not having brought in

Superstructs

by

Waba Fun

(

ToyDirectory

) last year. She was ordering them for 2006.

Two retailers had ordered LEGOS for the first time, even though, "We've been reluctant, because everyone has it," said Kevin Pohle, owner of The Wizard's Chest in Denver.

"We're looking forward to Batman from Lego," Rich Gordon, owner of Learning Express of Exton, Pa., told TDmonthly. "We already have customers signing up for wait lists. And of course, LEGO's Star Wars continues to sell and sell and sell."

Gordon also hoped that the new mini K'NEX pieces for 2006 would "revitalize that line."

For fourth quarter, Steven Levy was ordering the giant wooden building set, Arkitecky by Arkitecky Toys (ToyShow). "I think that'll make a statement," he said.

Kate Tanner, owner of Kidstop Toy and Book Store in Scottsdale, Ariz., hopes she has another holiday hit with Hexabits (ToyShow). "Last Thanksgiving, a grandmother had brought it out for her six grandchildren, ages 6 to 18. She said she'd never seen them all play with the same toy at the same time. She came back to get more."

Here are some of the construction toys that retailers have or will order for 2006, in addition to a few that TDmonthly's camera crew picked up on their trade show travels:

When Two-Face tries to get away with an armored car full of stolen money, it's time to send the Batmobile into action! Kids can dodge the two-sided truck's hidden weapons, then fire the Batmobile's rocket at the secret panel to send Two-Face flying. The building kit includes black-suited Batman, Two-Face and evil henchman minifigures, Batmobile, bank truck and city roadblock. The 9.5" Batmobile has a blunt shooter rocker. A secret panel on bank truck sends Two-Face flying. The kit also includes a collection of Batman gadgets.

.

AD

Future architects, engineers, and even rocket scientists will love using this versatile construction system that utilizes principles of physics and mathematics to build, float, and fly their wildest projects. The highly flexible, yet sturdy links, crossbeams and connecting panels interlock to form rigid structures that soar. This 450-piece set has plans for a tower, boat, bridge, ray-gun and UFO. Complete instructions are included.

.

AD

.

AD

.

AD

.

AD

.

AD

.

AD

The 126-piece Superstructs BIG Builder set gives you everything you need to build detailed, hard-working construction vehicles. Build a working forklift, dump truck, crane or utility truck with the enclosed step-by-step plans. And once you have mastered these, you can take them apart and use your imagination to build other great creations.

.

AD