"[Teaching Physics With Toys] doesn't just direct experiments but explains how to approach physics." — Susan Ledford, Homeschooler Mom

This month, TDmonthly Magazine's homeschooled tweens and their parents had strong and different opinions on the toys evaluated, depending on the kids' inherent interest in the subject. Three families rated the Corps of Rediscovery's weaving loom as the best they'd ever seen. Two families are ready for space travel, based on their excitement over DK Publishing's Ultimate Rocket Kit. And Teaching Physics With Toys earned raves from moms who felt it was a great way to teach children science … and to teach parents how to teach.

Participating were former art teacher Lynn Costine with Sarah (12 years), Anna (10), Emily (9) and Will (7); former business owner Julie Petoia with Cabot Lee (11), Talia (10) and Malynne (8); Susan Ledford, editor of the Homeschoolers Resources Directory, with Victoria (10) and Joe (6); former corporate workshop manager Shawna Hughes with Alexa (10); and Allison Seagle with Sara (11). (Click here to view the full results of the survey.)

Teaching Physics With Toys by TERRIFIC SCIENCE PRESS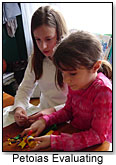 More than half of the homeschooling moms and kids loved this book, which uses common toys to teach the basic principles of physics.
"Families with children of various ages would be able to use the same experiments taught at different levels for all of their children," said Seagle, who rated the book with straight "10s." "Even though we do not own any K'NEX toys, we were able to do a lot of the experiments with everyday items found around the house."
"As a busy parent, I appreciated the step-by-step instructions," Ledford told TDmonthly Magazine. "This allowed my daughter to do the experiments independently."
"I thought that the basketball would bounce the highest," said Victoria.
"I thought that the bouncy ball would bounce highest," countered her brother Joe.
"Using toys to teach certainly makes the learning more fun and ensures that you have the children's attention," added their mom. "The activity model of the scientific inquiry process and the experiment planning guides were very useful. Having the forms available on a CD ROM made printing copies a breeze."
"My biggest problem … is that [Teaching Physics] uses specific toys for the experiments, so if you don't have those toys or something similar, you can't do the experiments," said Petoia. Hughes suggested that the samples of the required toys be included with the book.
"I don't think this is really a 'toy,'" she added. "I think of this more as something to supplement what kids are learning in school."
Sara Seagle disagreed: "This is a lot of fun!"
But Costine concurred, "I loved it. It's great for a homeschool science program, but it doesn't have a lot of play value. The kids got excited, though, when they realized they could do science with K'NEX."
She plans to scan the book more thoroughly over the summer and pull out lessons for her 7- and 10-year-olds to use next year in class.
"This book doesn't just direct experiments, but explains how to approach physics," concluded Ledford. "This approach can be applied to other areas of science as well as to other subjects, since it reinforces logical thinking. … This book made physics very doable for the children."
"I would recommend [Teaching Physics With Toys] to anyone who homeschools or would like to add extra curricula at home," agreed Seagle. "The experiments make learning physics fun."
The Ultimate Rocket Kit by DK PUBLISHING
"Anything that blasts into space grabs the attention of kids! I liked that it contained all pieces needed," Ledford said of the build-your-own rocket kit.
"Rockets rock!" seconded Joe.
"Look! The probe went all the way to Mars!" exclaimed sister Victoria.
"The directions were easy enough for Alexa to follow herself," commented Hughes. "She liked that the rocket went high and fast when she launched it."
"Wow!" exclaimed Alexa.
"I can't believe it actually works!" said Cabot Lee. Her mom appreciated that the kit encouraged her kids to work and solve problems together.
"Sara and Anna commandeered this kit," said Costine, whose younger kids were left watching as the two oldest counted down alone. She added that, "This isn't the sort of toy I'd normally buy for my kids, but I guess I should, since they thought it was really cool. They played with it again that night, and showed their father how it worked."
Hughes said that her daughter was surprised it worked so well. "Alexa stated that the rocket had to be put together very precisely in order for it to work properly," she noted.
"It had lots of spare parts that came in handy," continued Ledford, who also commented that the double-sided tape was difficult to handle. Her kids suggested that the kit include a book about real rockets and their history, refer them to Web-based resources and include games to play with the rockets.
The Ledfords were "very likely" to request a similar product, concluded their mom. "This kit sparked an interest in rockets in my children."
"Rockets are cool!" Victoria and Joe agreed.
Weaving Loom Kit and Book by CORPS OF RE-DISCOVERY
"Even though Sara owns two other weaving kits, she and I especially liked this one because of the accompanying instruction book," said Seagle. "It is by far the easiest instruction book to follow compared to any of the other books Sara owns. I also liked the natural wooden frame."

"This is the best loom that I've seen," enthused Sara. She especially liked the loom's large, wide frame.

The two oldest Petoia girls had no interest in the loom, but Malynne took to it, said their mom.

"The only problem … is that it is hard for an 8-year-old to keep it as tense as it needs to be to turn out well," continued Petoia. "But it is something that I can see her doing periodically for a while, so as she gets older, she may have more success."

Costine's two oldest also weren't interested, because they'd done similar projects so many times. But 7-year-old Emily was enthralled.

"She just loved it," commented her mom. "I've purchased this product in different forms in the past, but never saw one as well put together as this one. It has a booklet with projects and also provides historical perspective. It made me really interested in their other products."

"I liked the learning aspects of this toy," commented Hughes. She suggested that the kit might have more yarn and include a large needle to sew together panels for various projects.

Although Alexa ran out of patience before she finished her project, Victoria and Sara Seagle carried through to the end and are eager for more.

"Look how much I've done already!" said Victoria.

"Victoria appreciated the quality of the supplies and loom," concluded Ledford. "She liked that there are several different kinds of things to make with your woven cloth. She thought this was the best loom kit she had ever seen and would be very likely to request another item from the company based on the quality of the loom."

"I think all girls own a weaving kit at one time or another. I would definitely suggest this one to anyone wanting to purchase one," agreed Seagle.

What follows are more detailed descriptions of the toys the homeschooling families evaluated, as well as other products by the same manufacturers:

Children will delight as they create their own handiwork with this laptop weaving loom. This loom (approximately 12" by 12") is ideal for beginners and is based on an early pioneer design. The kit comes with complete easy-to-follow directions, a pick-up stick, two shuttles, a beater and more than enough cotton yarn to make to make an 8" by 8" project. The accompanying Beginning Weaving Projects Book details advanced designs and patterns and shows how to make blankets, scarves, purses, and wall hangings. The kit is ideal for read-aloud time and car trips. "While both girls and boys will create projects on the loom," said Corps of Re-Discovery owner John Newton, "the girls show more creativity. The loom is very popular among 6- to 14-year-old girls." The Weaving Loom Kit and Beginning Weaving Projects Book are also available separately.
— Annette Garcia of the Dana Point, Calif., toy store, The Wee Loft, told TDmonthly that the "weaving looms are always picking up around the holiday season."

.

AD

For all those kids who have a burning desire to launch a rocket, this is another creation from the man who created the Ultimate Robot Kit and the Robot Challenge Kit, David Eckold. The Ultimate Rocket Kit contains four different rockets, each with its own mission. Read up on rockets in the enclosed book, build one and get it ready to soar into space.

.

AD

This kit from K'NEX Education will help kids get started building the models in "Teaching Physics With TOYS EASYGuide Edition." The benefits of using K'NEX Education Kits are that they're a fun and economical alternative to single-use equipment. The kit includes a plastic storage case with moveable dividers and transparent locking lid. Additional pieces used in the EASYGuide Edition (as noted on the companion CD-ROM) can come from any K'NEX set or can be ordered as an add-on pack.

.

AD

Everybody knows that spies wear white dinner jackets, drive sports cars, like their drinks shaken not stirred and carry electric saws disguised as watches. Or do they? Certainly, some real spies are sophisticated members of the diplomatic service, but most are ordinary people from all walks of life. Written by Richard Platt, author of the best-selling "Cross-sections! Man-of-War" and "Eyewitness Pirate," Spy is a unique introduction to the dangerous lives of those who exist in the shadowy world of espionage. It's 64 pages, hardcover.

.

AD

Children and adults alike will be proud to capture blooms at their best and show off their collection of leaves and flowers pressed with this Wooden Leaf Press Kit. The leaf press is ideal for the nature enthusiast as well as the backyard gardener. The kit includes parts to make the wooden frame, enough blotter paper for a season of collecting, and detailed assembly and use instructions plus other materials needed for a 6" by 6" leaf press. "This kit helped make our botany lesson really come to life," says Sheila Stern, homeschooling mother of four. "The kids took great pride in growing their plants and choosing the best ones to press. The quality of the Corps of Re-Discovery's Leaf Press will ensure it is still around — and in use — when my younger children reach middle school."

.

AD

Your customers will enjoy making their own 9-patch doll quilt using the same techniques colonists and pioneers did. Early American women used their quilting time to socialize with friends and share stories with their daughters. This kit, from Corps of Re-Discovery, includes coordinating cotton fabric, backing, batting, needles, thread, yarn, plus complete instructions to make one 18"x27" quilt. Fabric selections vary.

.

AD