While April showers bring May flowers, stay dry inside watching Mr. TOYDIRECTORY's latest batch of toy videos. He's been busy filming new products throughout the winter, so sit back and enjoy the fruits of his labor. Each 10- to 20-second video reveals product size relation, dimensions and playability.

Videos are listed by toy categories below. Just click on the links to find toys on the move:
Manufacturers: Find out how a TDmonthly Video attracts buyers.Videography by Alison Marek. Edited by Mark Zaslove and Alison Marek.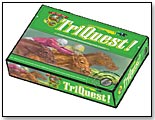 TriQuest! by DEEP CREEK ENTERPRISES
This board game combines the exhilaration of horse racing with the atmosphere and sounds of the racetrack. Players act as jockeys aboard their own thoroughbred horse, forced to decide whether to bolt for the early lead or to hold back and try to overtake tiring horses down the backstretch. The game incorporates modern technology with traditional board game play.(Watch Video)