---
Games Shrink and Smarten Up
Retailers Bet on Quick Strategy for 2006
"If it compares to chess at all, it's usually a big hit." — Kevin Hart, Toy Store

It's chess … with lasers. Or marbles. Or bees. Quick-playing strategy games such as Educational Insights'(ToyDirectory) Blokus Trigons, Deflexion by Deflexion, Mindtwist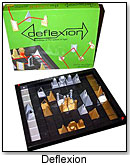 er USA's (ToyDirectory) Pentago and Blue Orange's Ringgz were mentioned 20 times by 25 retailers when asked what new games would be hot in 2006. Being small didn't hurt either, as classic games by companies such as Front Porch Classics folded up their boards and downsized their boxes to better fit retailers' shelves.

"I like games that have lots of strategy but not a lot of rules," Debbie Scholl, owner of Fundamentally Toys in Houston, told TDmonthly Magazine. She and two other retailers were excited about Pentago: "It's a really cool game and doesn't take up much space … I'd buy it for myself, actually."

"Anything strategy sells. And if it compares to chess at all, it's usually a big hit," Kevin Hart, co-owner of Toy Store in Atlanta, summed up. He'd brought in the new, improved-quality edition of Smartzone's Hive, which replaces pawns and knights with wasps and scorpions. Unlike the real thing, Hive can be carried around by hand in a small, included pouch.

"This is just the beginning of the season for new games," Idanna Smith, owner of Juggles in Wakefield, R.I., told TDmonthly. "We've been testing games this week … The new Blokus Trigon is really fun to play." Eight other retailers enthusiastically agreed.

Five retailers were fired up about Deflexion — an Egyptian-themed, chesslike game that fires laser beams at opponents, "knocking" them off the board.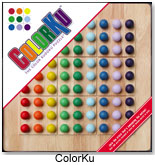 "It was pretty different and unique," said Greg Larson, owner of Larson's Toys & Games in Columbus, Ohio. "I think people will find it interesting to play because of the laser beam reflection."

Trish Garlock, owner of Treasured Child in La Grange, Ky., was looking forward to receiving Blue Orange's new game, Ringgz. "I ordered enough to get the great big demo," she said. "I really like the hands-on; I think that's going to be wonderful."

She'd also jumped on (or off) the Sudoku craze by bringing in Colorku by MadCave Bird Games. Instead of numbers, it uses glossy colored wooden balls, set into a wooden playing board. "It's a classy looking game," she said.

For brains that just wanna have fun, Cranium's Whoonu has kicked its Starbuck's-only habit and is hitting toy retailers' shelves. "We just started playing and laughing," Smith said about the game.

Another great-looking wooden game that's all fun was Out of the Box Publishing's (ToyDirectory) Wallamoppi. Three retailers were buying it and Powell Phillips, owner of Phillips Toy Mart in Nashville, can be seen in a TDmonthly video trying it out at Toy Fair.

Retailers are also counting on kids to go coo-coo for Blue Orange's Coocoo the Rocking Clown, Fundex's Monster Under My Bed, and Double Star's (ToyDirectory) Codebreaker — all brand new.

Here are the games that retailers said they hoped would trounce the competition in 2006, plus a few the TDmonthly camera crew found at Toy Fair and the Western States Toy and Hobby show:









.

AD
---






.

AD
---






Killer Bunnies is a fast-paced, action-filled card game, in which players must try to keep as many Bunnies alive as possible, while eliminating opponents' Bunnies. The problem: Opponents are armed with weapons and will stop at nothing to keep players from winning the game, which can get dreadfully vengeful, horribly nasty, hilariously messy and just plain fun. Killer Bunnies are back again and sporting new Specialty Bunnies, which make taking double turns a snap. The Violet Booster Deck adds another 55 cards to an existing set, plus a clear 20-sided die.

.

AD
---






Coocoo the Rocking Clown just loves to juggle, but his big curved green shoes make him wobble and keep throwing him off balance. The kid who can help him juggle the most balls without making any of them fall, wins. For 1 to 6 players, this all-wooden game takes approximately 10 minutes to play. It includes one wooden rocking clown, 24 wooden balls and instructions. The game was launched in February 2006.

.

AD
---






.

AD
---






.

AD
---






Hive is a board game with a difference: There is no board! The pieces are added to the playing area, thus creating the board. As more and more pieces are added, the game becomes a fight to see who can be the first to capture the opposing Queen Bee. The soldier ants battle to control the outside of the hive, while the Beetles climb up to dominate the top. Spiders move into holding positions as the Grasshoppers jump in for the kill. Each piece has its own particular way of moving, as in chess, but the moves mimic the way the insect itself moves. For instance, the Grasshopper is the only piece that can jump. Hive has been on the market since 2001 but recently underwent cosmetic revisions to make it more durable and marketable, said SmartZone co-owner Zeev Zahavi.

.

AD
---






.

AD
---






.

AD
---






.

AD
---






.

AD
---






.

AD
---






This game gets players guessing — and celebrating — each other's favorite things. Players must choose between very different experiences and items while other players must guess their selection. It recently won an Oppenheim Toy Award.

.

AD
---






"I Spy" a snake, a wiggly worm ... so what´s "In Common?" Things that squirm! Turn over the timer; you have 3 minutes to find the tiles that have something "In Common" and place them in rows on the game board. In Common is the recipient of three awards: Creative Child Magazine Preferred Choice, Dr. Toy´s Best, Smart Play/Smart Toy and Parent´s Choice Gold Seal of Excellence.

.

AD
---






.

AD
---






.

AD
---






The fast, funny and easy-to-play creative writing game will appeal to classroom teachers who are looking for a fun way to supplement the language arts curriculum as well as families who like to have fun while challenging their creative writing abilities. To play, each player uses five Gabby words to write a story in less than one minute. A Spanish version of the game is also be available. This product is a winner of numerous awards, including a 2005, 2006 and 2007 Creative Child Magazine Game of the Year Award, 2005, 2006 and 2007 Parent to Parent Foundation Adding Wisdom Award, a 2006 Earlychildhood NEWS Director's Choice Award and a 2005 iParenting Media Best New Products Hot Award.

.

AD
---






This beautiful wooden game set includes Mancala, one of the most ancient and widely played games in the world and, on the reverse side of the board, the modern straight ahead gammon game of Uthini? with its 19 traditional symbols from Africa. The frame is carved with detailed African animals that form a link between an Egyptian scene on one end and Cape Town, South Africa on the other. The carved base is molded from recycled plastic and can also be used as a small storage container for the colorful glass marbles and dice.

.

AD
---






.

AD
---






.

AD
---
THIS BANNER IS AN AD:
---
---