In addition to raising two girls, ages 8 and 2, Maryam Seyedhosseini has a degree in child and adolescent development from the California State University, Northridge. She currently teaches the arts to pre-kindergarten children and has previously counseled at-risk youth. Her background as a mother and as a childcare professional gives her a unique insight into toys. Here she shares her impressions of new toys with TDmonthly Magazine.
Little Storyteller by Thinkativity Inc.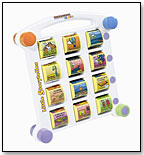 Age: 0 to 3
Gender: Boys and Girls
Price: $19.99

First Impressions
This is a great educational toy that inspires creativity in children. Twelve rolls present four story options each. When a button is pressed on the side of a row, the Storyteller reads the selection. As kids grow older and learn to read, they can choose how their story develops. Little ones can also pick the characters and activities simply by looking at the pictures on each story option. The stories are supported by music, voices, sounds and more.
Developmental Stage
This is a great way for young children to be able to tell stories themselves. Simply by moving the rolls around they can come up with new stories over and over again. It's a great tool for building vocabulary and listening comprehension. The children follow the story closely, because they created it, and they can answer all the questions regarding it.
Skills Reinforcement
This toy helps build skills in listening, imagination and creation.
Playability
This toy is very easy for children to learn to use. They can listen to the story line by line or hear the whole story at the same time. It's easy to carry from room to room. Children love to play with it in groups.

Recommendation
I took the Storyteller to two different classes to measure the different reactions. Surprisingly, both the 3- and 4-year-olds enjoyed playing with it. This toy is very durable and children can come up with numerous stories. The older children can read the lines and the young children can follow the pictures while listening to their own creations.
ZipBin — Mansion by Neat-Oh! International (ToyDirectory)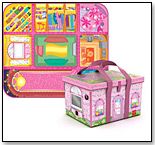 Age: 3 and up
Gender: Girls
Price: $24.99

First Impressions
My 2-year-old saw the ZipBin Mansion and started screaming, "Imagination, imagination!" She played with it for at least an hour. It's a very nicely designed playmat that zips up into a storage bin so that children can keep all of their dolls and furniture in a pretty container that looks like a dollhouse.
Skills Reinforcement
This toy helps children with sorting and organizing. The small side panel "closets" on the mat with related pictures encourage the child to put everything in the right place.
Playability
The toy can be used as a storage unit for dolls and can be opened up very easily to a flat mat that children can play on. My 2-year-old loves to sit in the box and pretend that she is a doll.


Recommendation
This is a very nicely designed product that allows for great play and easy clean up. Children play with the dolls and, when they are done, clean up after themselves by putting the sides up and lid on.
Reversible Princess Costume by Bday Parties LLC (ToyDirectory)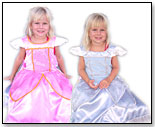 Age: 3 to 7
Gender: Girls
Price: $15.00

First Impressions
This tunic-style reversible dress is open on both sides. A tie closure allows for easy on and off, and creates a pretty bow accent at the waist. Made of soft satin and velour fabric with shiny trim, the costume features a pink Sleeping Beauty Princess dress on one side and a light-blue Cinderella Princess dress on the other.

Developmental Stage
This is a great product for girls of any age who love to play dress-up.

Skills Reinforcement
The dress develops fine motor skills because the sides can be tied up to fit the size of the child. It is also great for pretend play and for encouraging imagination.

Playability
The dress is easy to put on and to reverse, too. Children can play a story and change from one character to another very quickly. One child can put on a whole show by herself.

Recommendation
I love this dress. It's very easy to put on and fits any child. Both my 2-year-old and 8-year-old can use it and enjoy it. My 2-year-old puts it on and calls herself "Princess."

Cuddle'ums Elephant by Bestever Inc. (ToyDirectory)

Age: All ages
Gender: Boys and Girls
Price: $20.00
First Impressions
This adorable plush momma and baby elephant fit snugly together through the use of magnets. The magnets help momma to keep track of baby.
Recommendation
It is cute for playing. It also can be hung and used as a decoration for a baby's room.
Meet the Letters Lift the Flap Book by Preschool Prep Company (ToyShow)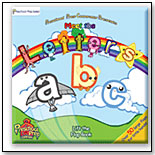 Age: 1 to 5
Gender: Boys and Girls
Price: $12.95

First Impressions
These little board books are educational and colorful. Children "meet" the numbers 1 to 10 in one book and the 26 letters of the alphabet in another by lifting the flaps on each page.
Developmental Stage
These books are great for preschoolers. They can learn and play at the same time.
Skills Reinforcement
Children can learn the alphabet and their numbers while reading these books. They recognize the letters and numbers while playing with the flaps. Children's fine-motor skills are enhanced while uncovering the letters and numbers.
Playability
My 2-year-old loves these books. Young children love to uncover the pictures. There is not much text in these books and that's just what little ones love: less writing and more pictures.
Recommendation
This is a great book for preschoolers. I like it a lot, and so does my daughter.
Kids Cook! by Ideals Publications (ToyShow)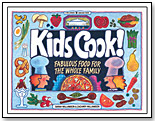 Age: 8 to 12
Gender: Boys and Girls
Price: $12.95

First Impressions
These easy recipes for children were actually invented by kids themselves: The authors have working parents and so they began to cook for themselves and for Mom and Dad, too.
Developmental Stage
The recipes are written in a way that it makes it easy for a child to understand and follow. However, adult supervision is still recommended!
Skills Reinforcement
"Kids Cook!" helps kids learn to measure. It also helps them to develop fine-motor skills and encourages reading and comprehension. By understanding the steps involved in cooking, they gain respect for the process. They also learn about nutrition. Finally, this book allows them to spend quality time with an adult.
Playability
Children will love this book. The recipes are easy, and children are very proud of the food they've made.
Recommendation
My 8-year-old wondered why the book was rendered in black and white. According to her, children's books should be colorful. But she loves it anyway!