Tools:








TDmonthly's Top-10 Most Wanted Marble Toys
Marbles Still Rock Despite Their Age
Lost your marbles? Stock up on the following, recommended by more than 15 retailers across the country that spoke with TDmonthly Magazine. Alluring on their own or within a construction set or game, marbles captivate old and young alike.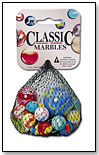 This netted bag filled with 10 ounces of brightly colored, differently swirled marbles includes both large and small marbles.
— With sales picking up because of Easter, these inexpensive, bright, "wild" colored marbles have been attracting attention on their display rack from numerous customers, according to Phil Wrzesinski, president of Toy House and Baby Too in Jackson, Mich.
— Grayce McLaughlin, owner of Touch of Grayce in Geneseo, N.Y., said these are solid sellers.
— "The floor display with marble nets is our most popular," said Donna Senn, director of sales and marketing at Fabricas Selectas USA, Mega Marbles' parent company. She pointed out that even though the Bengal Tiger netted marbles are two years old, they still sell the best.

ToyDirectory Product ID#: 7361

(added 3/28/2006)

.

AD
---




MSRP: $16.50

Age Range: 6 to 12Launch Date: January 1999Gender: Boys And Girls





Block N Roll is an imaginative marble maze construction system for kids. With wide and sturdy pieces, Block N Roll can be built into spectacular structures that allow marbles to roar through ramps and tunnels. Block N Roll is also compatible with other major construction blocks such as LEGO and DUPLO. It has won numerous awards, including the Parent´s Choice Award.
— Bill Raymont, husband and lunch companion of the store owner of Toy Crossing in Harbor Beach, Mich., said this product was quite popular at the store.
— Phil Wrzesinski, president of Toy House and Baby Too in Jackson, Mich., said his store has done especially well with marble products in general recently and that Block N Roll was one of the best selling products of this kind.
— Sallie Kashiwa, owner of Timbuk Toys Inc. in Denver, said this marble run is unique in that it is more horizontal than vertical.

ToyDirectory Product ID#: 1420

.

AD
---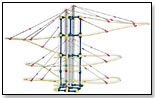 Parents pondering how to mix physics with fun will like the 310-piece Skyrail Suspension set by Torino, Italy-based Quercetti Intelligent Toys. Built to suit the imaginations of kids ages 8 and up, this crowd-pleaser sends marbles down winding curves and friction-free slopes, inching up inclines and over suspenseful plateaus. The glow-in-the-dark marble rails measure 36 feet end to end, which makes the Skyrail Suspension the longest such toy on Earth.
— This outsells other marble runs at Timeless Toys Ltd. in Chicago, according to floor manager Lance Sundermeyer, because it's "more involved" than the rest and looks like a rollercoaster. He thinks it glows in the dark as well.
— The medium-sized, medium-priced $45.00 version of this product sells the best for Tom Levin, owner of Tom's Toys Inc. in Great Barrington, Mass., because it's not too expensive but has more features than the smaller version.
— "Quercetti makes phenomenal marble runs … they're beautiful to look at," according to Sallie Kashiwa, owner of Timbuk Toys Inc. in Denver.

ToyDirectory Product ID#: 1501

(added 12/3/2004)

.

AD
---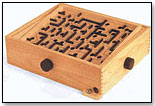 Players try to manipulate a silver ball through a maze by turning circular handles on the sides of the wooden box that supports the maze.
— These sell well mostly at Christmas, because they run about $50.00 per unit, according to Tom Levin, owner of Tom's Toys Inc. in Great Barrington, Mass. He said that although knockoffs sell for a lot less, this original version is of superior quality.
— This version is "the granddaddy of them all," according to Jane Naisbitt, vice president and buyer at Thinker Things in Del Mar, Calif.
— This product has stood the test of time, with BRIO still manufacturing the same model it pumped out more than 50 years ago.

ToyDirectory Product ID#: 7365

(added 3/28/2006)

.

AD
---






This handheld pinball game encases a small baseball field in clear plastic and a tin back. There are small indentations on each base and in the outfield that players try to launch the white marbles into.
— Pinball games with marbles sell well for Grayce McLaughlin, owner of Touch of Grayce in Geneseo, N.Y. This baseball one sells the best, she said.
— Tom Levin, owner of Tom's Toys Inc. in Great Barrington, Mass., said the Space Pinball from the company sells the best of these games because it comes in at a low price point.
— Ron Malinowski, owner of online retailer ArsaToys, said this "simple and inexpensive game" is an "average seller" that appeals to baseball fans.

ToyDirectory Product ID#: 7366

(added 3/28/2006)

.

AD
---






This set of hardwood blocks with grooves and holes can be arranged in such a way as to provide a track for colorful glass marbles to run through.
— At Timeless Toys Ltd. in Chicago, floor manager Lance Sundermeyer said these sell the best at his store and that customers often buy one set and then another to add on to the initial set.
— Sallie Kashiwa, owner of Timbuk Toys Inc. in Denver, said this attractive product is most popular with people interested in the product's aesthetic value, such as grandparents and people who choose the toy for display in a mountain vacation home.
— The beautiful set, with a cloth bag for storage, includes 21 blocks made of beech, ash, walnut and maple designed stand the test of time.

ToyDirectory Product ID#: 6929

(added 2/20/2006)

.

AD
---
Catalog Request Form
THIS BANNER IS AN AD:
---
---