---
Specialty Puzzles: A Unique Fit
More Than Fitting Together the Pieces
"Puzzles are really ideas." — Larry Balsamo, TDC Games

The framework for jigsaw puzzles hasn't changed since the 1700s: Interlocking pieces are used to create an image. But many of today's puzzle makers are adding an extra twist. Puzzles that offer everything from a third dimension to a murder mystery to two-sided puzzles have long been favorites with puzzle fanatics shopping in specialty stores. Casual puzzlers are now being introduced to these mind-boggling puzzles as they become increasingly available at mainstream retail locations.

The puzzle industry, like its cousin, the board game industry, has always experienced ebbs and flows. "People get in and out of the habit of doing puzzles [and] playing board games," Sandy Bergeson, executive vice-president of TDC Games, told TDmonthly Magazine.

Kevin Renaud, marketing communications manager for Buffalo Games, sees a combination of factors leading to the upswing in puzzle popularity: Everything from the 9-11 backlash that spotlighted the importance of together time for many families to decreased travel to economic necessity have sparked the interest. "Any of our games or puzzles costs less than what it takes for two people to go out to the movies," pointed out Bergeson.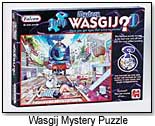 In the search for inexpensive home entertainment, people are discovering specialty puzzles. It's the natural progression for those who already enjoy making traditional flat puzzles. "If it has traditional puzzle pieces, they interlock and there's a challenge. Puzzlers will gravitate toward it," reasoned Renaud. Sometimes the challenge is found in the individual pieces of a flat puzzle such as The Edge, wherein every piece has at least one straight edge.
Other times the image on the box offers the challenge. In the Wasgij Series (jigsaw spelled backwards) by Falcon Puzzles, the box graphics aren't the traditional replica of the puzzle's image. Instead, the box depicts a background scene with a character in the foreground. Puzzle makers have to make the puzzle from the character's perspective after determining what the character sees.
Similarly tricky is Art Fraud by Buffalo Games. Once completed, the masterpiece on the puzzle is compared to the fraudulent copy that lies on the box image. Puzzlers try to find the forger's errors.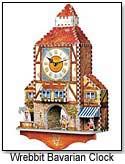 For other puzzlers, the next frontier is the third dimension. Despite being introduced a decade ago, one of Buffalo Games' most popular series is its 3-D Spherical Jigsaw Puzzles made up of traditionally cut, self-supporting puzzle pieces. Wrebbit, acquired by Hasbro, features three dimensional puzzles that form everything from cityscapes to classic cars to working cuckoo clocks.
Although Bob Wickett, customer relations representative for The Puzzle House, names traditional puzzles as the store's most popular products, Wrebbit is at the top of the list for their specialty puzzles. "Also, wooden jigsaw puzzles are becoming much more popular ... we have a great selection of Wentworth puzzles from the UK that have really neat whimsy pieces [pieces shaped like animals or objects]."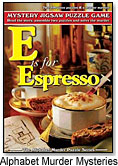 Specialty puzzles are an easy jump for board game enthusiasts, also. TDC Games' puzzle line was added as a branch of its board game line.

"We started with puzzles that are more games, like the Alphabet Murder Mystery Series," said president Larry Balsamo. After reading details of a murder mystery, puzzle makers attempt to solve the crime by completing two 500-piece puzzles that come mixed in the same bag. The resulting images provide clues that players use to reveal the murderer.

Jigsaw puzzles have continued to evolve, in part because of improved technology, but mainly because of something more intangible. "Puzzles are really ideas," Balsamo told TDmonthly. As long as people are able to conceive unique ideas, the puzzle industry will continue to introduce new kinds of puzzles to challenge both the casual family puzzler and the puzzle fanatic.

The following is more information on innovative puzzles.









This 1026-piece jigsaw puzzle features an image of the Mona Lisa. The box graphics are a forgery and contain 15 errors that the puzzler can discover after completing the puzzle.

.

AD
---






This 545 piece jigsaw puzzle features a maze. The puzzle can only be constructed one way if the puzzler hopes to escape the maze after completion of the puzzle.

.

AD
---






This jigsaw puzzle has 1026 pieces. The box graphics are the puzzle image broken up into sections and "scrambled." The puzzler must unscramble the sections to complete the puzzle.

.

AD
---






This heirloom-quality wooden jigsaw puzzle is made of real 1/4" maple-veneer plywood. It shows the painting, "A Girl With a Watering Can" by Pierre-Auguste Renoir. It contains 20 percent whimsy (figural) pieces. It is 12.75" by 17" and has 462 pieces. It was launched in October of 2005.

.

AD
---






The Inversion Puzzle has over 351 trillion different combinations. It turns puzzle makers upside down before they can turn it inside out. Each cube of Inversion consists of blue and red faces. By sliding one cube at a time, the player attempts to conceal the red faces while revealing the hidden blue face, ultimately changing Inversion from one color to the other.

.

AD
---






.

AD
---






.

AD
---






Players remove the brass-colored ring from this metal "E" to achieve a sense of satisfaction and superiority … or else they don't, and hope to try again. This metal puzzle is rated "8" on a scale of 1 to 10 for difficulty. Small and compact, it can easily be stowed in a pocket, and then whipped out to test the mental and spatial acuity of random passersby. This toy was launched in March 2006.

.

AD
---






Put these pirates in their place! Fit the nine pieces together in a square so that the images all match up -- there is only one right way to make them fit. With its new "Pirates" Scramble Squares puzzle, b. dazzle, inc. reminds us that piracy is as prevalent today as it was in those swashbuckling days of sea exploration. As a means of providing leadership in advancing ethical business practices, b. dazzle, inc. is an official member of the "Character Counts!" Coalition of the Josephson Institute of Ethics in Los Angeles. The purpose of the "Character Counts!" Coalition is to fortify the lives of America's young people with consensus ethical values called the "Six Pillars of Character." These six key character values, which transcend divisions of race, creed, politics, gender and wealth, are trustworthiness, respect, responsibility, fairness, caring and citizenship. "Pirates" is among four new Scramble Squares® puzzles receiving Dr. Toy's Smart Play/Smart Toys Award for 2006 from the Institute for Childhood Resources in San Francisco.

.

AD
---






Wrestle with these Alligators! b. dazzle's new ALLIGATORS SCRAMBLE SQUARES® puzzle is a brain teaser that's among four Scramble Squares® puzzles to receive Dr. Toy's Smart Play/Smart Toys Award for 2006 from the Institute for Childhood Scramble Squares® puzzles are exercise for the brain and are Easy To Play, But Hard To Solve!® for children, teenagers, college students, adults and senior citizens from age 4 to 104. Scramble Squares® puzzles teach patience, perseverance and critical thinking skills, while providing stimulating entertainment. Over 120 hundred exquisite styles of original art are available on nature, sports, history, culture, occupations, fantasy, science, technology hobbies and activities. Scramble Squares® is a Learning magazine Best Educational Game award winner and a winner of the Dr. Toy "10 Best Educational Products" Award.

.

AD
---






Packaged in an impressive Pressboard Gift Box, this three-dimensional puzzle box is crafted in high quality wood material (Katsura). It has a beautiful finish and is stamped by the craftsman on the inside of the lid. There is only one unique way to open it, so it makes a super secret holder.

.

AD
---
THIS BANNER IS AN AD:
---
---