"Sudoku has brought many new people, of all ages, into puzzles," — Sadie Perkins, Waldenbooks

Look around. They can be seen everywhere: Puzzle and activity books are incredibly popular right now. What has taken these standard-bearers of the toy market out of the shadows and into the spotlight? One word: Sudoku.

This logic puzzle (read article) has caused a sensation, spreading demand like wildfire through the puzzle/activity book market. Many other types of puzzles are enjoying the consumer enthusiasm by riding on Sudoku's coattails.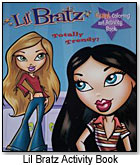 "Sudoku has brought many new people, of all ages, into puzzles," said Sadie Perkins, bookseller at Waldenbooks of South Portland, Maine. "We've always had a strong customer base with other types of puzzles: crosswords, word searches and other similar things …. So, the interest has always been there but not on this scale."

With Sudoku bringing in new generations of puzzle aficionados, every level of the market — from designers to manufacturers to retailers — are trying to determine how to keep up the level of enthusiasm. One thing's for certain: If a product can strike a chord with the consumer, it will be successful, even if it doesn't come with batteries.

"While those type of toys [video and electronic] are still quite popular with children, there has become a sense of 'been there, done that," suggested Moore Porsaid, president of Bead Bazaar Inc. (ToyShow)

To catch consumers' attention, Bead Bazaar introduced a line of coordinating books and puzzles that tap into young peoples' interests. Books attract both genders, featuring such characters as horses, mermaids, wizards, butterflies and unicorns. Most successful, Porsaid noted, is Bead Bazaar's rainforest book and puzzle.

"We test out all of our products with children, and the combination of the 18- to 20-page booklet and the puzzle works very well, especially for the 5-to-14 age bracket," Porsaid said. "It's combining reading and hands-on, and that is proving to be successful for us."

Highly visible product names such as Bratz and Batman help extend the customer base by attracting different types of kids. Still, other companies are looking at how to merge technology with traditional creativity to make a new breed of puzzles and activities.

Dover Publications Inc., for example, is including computer CD-ROMS with its activity books. But, Diane Teitel Rubins, juvenile/educational market specialist for Dover, explained, a lot rides on the originality of the products themselves.

"We are always striving to improve our products, whether it is something as simple as adding perforations to our line of Paint or Color books, or glitter to our beautiful full-color sticker books," she said.

The company is trying out new formats such as coloring books with stickers bound inside, color-your-own-sticker art and a paper doll storybook that includes a paper doll with clothes attached inside the book. Additionally, Dover is releasing a new line of reasonably priced kits packaged in attractive boxes, featuring best-selling themes such as dinosaurs, magic, stamp collecting, origami and chess.

These kinds of innovations keep the category fresh. And, although some may say that the Sudoku puzzle fad is destined to fizzle out, toy industry veterans agree that customers will continue to seek the challenge offered by a great word, number or logic puzzle for years to come.

The following is more information on products that follow this trend.

Author Michael Rios created this puzzle book especially for younger children looking to get in on the Sudoku craze. There is only one puzzle per page, and the numbers only go from 1 to 6, which makes the puzzle easier to master and gives a good foundation.

.

AD

On Avalon Publishing's Thunder's Mouth Press imprint, this book includes more than 140 Sudoku puzzles that come directly from the Sudoku source: Japan. It's a great starter book for kids. The puzzles are appropriate for beginners.

.

AD

Kids will enjoy this handcrafted wooden puzzle, keepsake magnet and exciting story that takes place in the rainforest. Children's imaginations and spirits soar as they put the pieces together to make the story come alive.

.

AD

This set includes the following Dover Little Activity Books: "The Little Dinosaur Activity Book" by Anna Pomaska; "The Little Dinosaurs Stained Glass Coloring Book" by Ted Menten; "Invisible Dinosaurs Magic Picture Book" by Anna Pomaska; "Dinosaur Tattoos" by Ruth Soffer; "Realistic Dinosaurs Stickers" by Turi MacCombie; "Twelve Dinosaur Bookmarks" by Patricia Wynne; and "Dinosaur Mazes" by Patricia Wynne.

.

AD

This puzzle book is designed for parents and children to enjoy together. The puzzles on each two-page spread are similar in style and are interconnected. For example, a child's word search has a hidden answer that is a riddle while the parent's puzzle has a word search with a hidden solution that is the answer to the riddle.

.

AD

Kids use their powers of deduction, do some super sleuthing and pit their wits against the great Dr. J. L. Quicksolve, Inspector Walker and Inspector Forsooth. These mini-mysteries cover crimes of every type, and each one offers an intriguing little story to unravel.

.

AD

A twist on the popular math puzzle Sudoku, here letters in every grid form a picture and instead of squares, become cool-looking shapes including a rocket ship, a teddy bear or a windsurfer. To make things even more interesting, the company has added a few more twists. Three of the puzzles don't have word lists. Kids have to create them from the clues given and, to top it all off, each puzzle has a hidden message. Once kids have circled all the correct phrases, the uncircled letters will spell out a silly quote, fun fact or a punch line to a riddle.

.

AD

The longer kids look, the more they get fooled. That's the excitement of optical illusion puzzles — especially when they are as colorful as these. Coins rearrange themselves. Pictures disappear and reappear. Puzzlers' eyes are deceived, and they must figure out how. There are 82 puzzles in all. It sells for $17.95 in hardcover and $9.95 in paperback.

.

AD