---
Put Your Money on the Dapple-Gray
Heirloom-style Rocking Horses Are a Good Bet for Profits
"There are always people with the money to pay for a quality product." — Anthony Dew, The Rocking Horse Shop

In an electronically dominated world, where children grow up at breakneck speed, handcrafted, heirloom-style rocking horses transport riders back to a simpler, more magical time. And customers are willing to pay a pretty penny for the journey.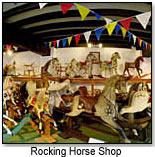 One of the most enchanting things about rocking horses is that they offer "all the fun of the real thing and none of the hassle," stated Anthony Dew, owner of The Rocking Horse Shop in Fangfoss, near York, England. "It's a large friend for a small child."
Children aren't the only ones enchanted by the mystique a rocking horse has to offer. Manufacturers said that adults often buy them as decorative art pieces to display in their homes. In recent months, a number of wealthy Arab buyers, apparently enamored by the fact that they can custom-order a rocking horse that looks just like its real-life counterpart, have spurred the craze for designer rocking horses, reported the Independent News Service in Ireland.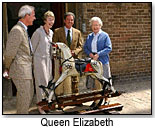 It appears that the market for handcrafted rocking horses remains strong throughout the world, despite their high prices. Buyers can expect to pay anywhere from $2,000 for a small horse to more than $17,000 for a custom-made limited-edition model, like the Magna Carta, produced by Stevenson Brothers. That horse, manufactured in a limited edition of 10, is crafted from a walnut tree planted on Rummymede Island in the Thames at Windsor to commemorate King John's signing of the Magna Carta, said Marc Stevenson, co-owner of Stevenson Brothers in Kent, England.
Although the designs differ from manufacturer to manufacturer, there are many similarities among them. Horses are generally made from hardwood, ranging from maple to oak to poplar. The horses' manes and tails are made from genuine horsehair. Buyers can generally specify particular features of their horse, including color of finish, saddle, eye color and type of stand. Many of the horses made today are outfitted on a gliding swing stand, rather than on traditional bow rockers.
American manufacturer Crayne Hennessy, based in Santa Fe, N.M., offers customers the choice of the swing sta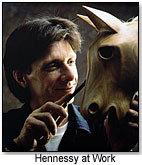 nd or bow rocker. Another unique feature of his Hennessy Horses (ToyDirectory) is their removable saddles and bridles.

"I really shoot to make a horse that looks like a horse and feels like a horse," Hennessy said. "The saddle and bridle are detachable, so the child can go through the whole fantasy of saddling up and grooming [his or her] horse."

For most rocking horse crafters, marketing is done by way of the Internet, through specialty stores, horse shows and word of mouth.

Hennessy said the Internet has been a boon to his business, which opened in 1994 and received a nice boost in 1998, when FAO Schwarz commissioned him to create 31 horses to sell in its upscale toy store. He said he's amazed that people will call him and order a horse costing several thousand dollars just based on a picture they've seen online. But, no one has ever been disappointed the quality of what he or she receives, he noted.

Based on their magical allure, rocking horses will likely continue to enchant buyers because, as Dew stated, "There are always people with the money to pay for a quality product."

Below, TDmonthly has corralled some of the finest handcrafted rocking horses available:









Hennessy Horses' Dapple-Gray Horses come in three different sizes: small, medium and large. Dapple gray is the most traditional finish for rocking horses, but customers can request any color they wish. The dappling is embedded deep within 20 coats of fine lacquer, giving a translucent, porcelain-like finish. It's available on a bow rocker or swing stand. They run $1,800 to $2,800, depending on size.

.

AD
---






Old and young can a ride on this beautiful, lightly colored horse made with a natural maple finish. Buyers can customize the horse by choosing the color of its saddle, bridle, saddlecloth, eyes, mane and rosette. They run $2,000-$3,800, depending on size.

.

AD
---






The dark, rich tones of this horse make it a beautiful toy or collectible. Buyers can customize by choosing the color of its saddle, bridle, saddlecloth, eyes, mane and rosette. They run $2,000 to $3,800, depending on size. Features worth noting: All solid brass fittings, saddles and bridles are genuine leather, and saddles are fully removable for the pleasure of grooming and "saddling up"

.

AD
---






Made of cherry wood, which has been used by craftsman for centuries, this horse is available with a couple of different saddle cloths: one in red suede, the other in tartan with a green saddle top. The horse comes in large or extra large sizes. They run $6,655 for a large and $7,975 for an extra large.

.

AD
---






Tinkerbell is a limited edition, one of which was presented to Queen Elizabeth in May 2005. Tinkerbell is a replica of one of the queen's favorite ponies and is made from oak and is hand finished. The model is limited to 100 pieces.

.

AD
---






Being twins themselves, the Stevenson Brothers designed this unique set of horses that enables two children to race together side by side, with no one winning and no one losing. Each horse has a unique sequential number and is dated.

.

AD
---






This ready-to-ride dapple-gray horse is hand carved with features such as top-grade leather bridle and saddlery, horsehair mane and tail, solid brass buckles, brackets and stirrups. The horse is mounted on an ash safety stand with a turned post.

.

AD
---






Customers can commission a custom horse designed just to their specifications. These horses are individually carved using quality hardwoods — principally tulipwood heads and bodies with beech legs — and mounted on ash or maple safety stands or ash bow rockers. They are offered in a choice of traditional dapple-gray, antique paint or stained and lacquered natural wood finishes. Buyers can also select from a wide range of hair colors, as well as saddle styles and colors.

.

AD
---
THIS BANNER IS AN AD:
---
---