---
Tonner Dolls Puts on a Show!
Big Girls Are Little Dolls: Appeals to Tweens
Playing with dolls is a way for people — not just little girls — to be creative and to express themselves.
TDmonthly gets the scoop direct from tween trendsetter Juliette Brindak.
A three-course gourmet meal with a very exotic salad; tender, juicy chicken and then apple pie a la mode for dessert: Broadway musical stars? A fashion show? Sound like a glitterati premier for Brangelina? Nope, it was all for a doll!
Dolls have always been associated with little girls. Growing up, they'll play with the dolls and after they reach a certain age, dolls become no longer cool. If tweens are still playing with them, they're playing with them on the sly and usually have them in a big tub under their beds. Tonner Doll Company (ToyShow)makes the idea that dolls are just for little girls completely old fashioned. And having a full-feature fashion show with live models dressed up as dolls? Even the adults wanted to get in on the act.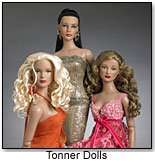 For the Tonner Doll Company's 15th anniversary, Tyler Wentworth, the company's flagship trendsetter, put on a fashion show of her new collection. What was so cool was that there were the actual dolls dressed up in the outfits and then models that looked like the dolls in life-size clothes. Robert Tonner, who used to work in the fashion industry (Bill Blass), was able to combine his old passion and his new. The fashion show brought these dolls to life.

For those not in the doll "know," the Tyler Wentworth collection features a doll that seems as if she's based on an actual person, she's so detailed and thought out. In fact, she is a fictional fashion designer who owns her own company and whose life is represented through the dolls. By using Tyler as almost an alter-ego, Robert Tonner brings a whole new aspect to the Tonner doll line. Not only are the dolls exquisite, but one can see that their clothing is, too.

Being up-close to the fashion show, I got to see the intricate details of the clothes and how extraordinary they were. The real-life clothes were perfectly matched up with the dolls' outfits and they put a whole new meaning to the dolls. The dolls weren't just dolls anymore, but they were real people — which is what the Tyler Wentworth collection is trying to accomplish. The models not only looked like the dolls themselves, but they also had the same persona and gave off the same vibe that the dolls did.

It's all so classy. The Tonner Doll Company creates figures that are not only high quality, but also extremely beautiful. Looking at these dolls causes collectors' jaws to drop and makes anyone who doesn't collect wish they did.

There are many different lines of Tonner dolls. Some are specialty dolls such as those based on characters from the "Harry Potter"movies, "The Wizard of Oz" and "Memoirs of a Geisha." Others are Tonner classics such as Effanbee or Betsy McCall. But in all cases, Robert Tonner has not settled for just mimicking his source, he's taken the doll form and turned it into art.

Robert Tonner stressed when I talked with him "if you don't take the dolls out of the boxes, they never have a life." Although many people love to have their dolls up on shelves in boxes so one day they can sell them for thousands of dollars, what is the fun in that? All that time just looking at the doll and never actually being able to dress it up or play with it seems such a waste. Seeing the models dressed up like the dolls gave the dolls a life and made them real. Playing with dolls is a way for people — not just little girls — to be creative and to express themselves. The Tonner Doll Company allows people to do that through their diverse and exceptional dolls.


The following is more information on unique Tonner Dolls.









.

AD
---






Tyler Wentworth wears "Irish Incantation" — a custom-woven chartreuse European lace over a shimmering under layer of metallic chiffon. The Empire-waisted gown is garnished with a silk ribbon flower and tendrils. The limited edition "Irish Incantation" will be sold at doll and toy specialty retailers nationwide in 2006. The doll comes dressed with a custom stand. Other outfits available separately.

.

AD
---






Tyler Wentworth is New York's hottest fashion designer, creating jazzy and glamorous fashions from the House of Wentworth; kid sister, Marley Wentworth, aspires to be an artist too. From the Tonner Doll Company Tyler Wentworth Collection, the 2006 16" Tyler Wentworth and 12" Marley Wentworth are made from high-quality vinyl and hard plastic, featuring multiple points of articulation. The dolls' hair is rooted of top-quality saran, and both styles feature hand-detailed, painted eyes; a custom display stand is included with each doll. Basic Tyler Wentworth dolls start at $59.99; Basic Marley Wentworth dolls start at $39.99; Separately available fashion ensembles start at $29.99.

.

AD
---






From the Alice in Wonderland Collection, Tonner's 16" Queen of Hearts is a monarch of style at her coronation, wearing a faux-fur trimmed red and black velvet gown. Other Victorian/fantasy-themed costumes will be available. The limited-edition doll will be sold at doll and toy specialty retailers nationwide and comes with a custom stand. Separately available outfits range in price from $59.99 to $99.99.

.

AD
---






The magnificent crowning glory to the Tonner fashion dolls are the 22" American Models — portrait dolls of unparalleled luxury. Monte Carlo, new for 2006, is dressed in an Empire-waisted gown topped with French lace and hand-beaded detail. The skirt extends into a chiffon overlay. The limited-edition doll will be sold at doll and toy specialty retailers nationwide. The doll comes dressed with a stand. Separate clothing for this line is also available.

.

AD
---






The Tonner Doll Company is proud to introduce the 2006 faces from The Chase Modeling Agency, New York's top choice for fashion models. From the Tyler Wentworth Collection, multi-ethnic 16" Chase Models are made from high-quality vinyl and hard plastic, featuring multiple points of articulation for the most fashionable poses. The dolls have rooted hair of top-quality saran and hand-detailed, painted eyes. A custom display stand is included with each doll. Dolls, outfits and accessories are sold separately. The Chase Modeling Agency Collection of clothing will be sold at doll and toy specialty retailers nationwide. Ensembles start at $49.99, separates at $11.99.

.

AD
---






From The Wizard of Oz Collection, Robert Tonner introduces a new character for 2006 to add to the glamorous Witches of Oz Collection. It includes a new Fashion Lady of Oz — Lady Ozmopolitan — who comes dressed in an outfit inspired by the film's Emerald City Hairdresser's costume by designer, Adrian. Other costumes, also inspired by Adrian's Emerald City costumes, will be available. The limited-edition doll will be sold at doll and toy specialty retailers nationwide. Stand and dress are included. Separately available outfits range from $59.99 to $99.99.

.

AD
---






Carrie Chan visits San Francisco to organize a charity festival in the City´s famed Presidio. She travels in style wearing a Tyler Wentworth green linen dress with satin ribbons, including coordinating handbag, shoes and sunglasses. She features the articulated body with bending wrists. She has raven hair and forward-glancing, hand-detailed brown eyes. This doll is now in stock and shipping.

.

AD
---






This Premier Dealer Exclusive Edition will be available starting early in 2006. Sydney has long saffron waves, articulated body (without bending wrists) and forward-glancing blue eyes) She wears a black-and-white chiffon gown with a skirt of contrasting godets.

.

AD
---






Limited to 1000 pieces, Spring Dance Sayuri has raven hair, forward-glancing gray/blue eyes and is not intended to be a likeness of the December 2005 film´s actress. The "Memoirs of a Geisha" Collection dolls will feature the 16" Tyler Wentworth bending wrist articulated body with a re-sculpted, smaller bust line and flat feet. Using kabuki-style themes, the doll's visible skin areas are molded in luminous white vinyl/hard plastic. Sayuri wears an elaborate silver kimono, custom embroidered to match the film's costume, with swirls and cranes, and lined in red. Underneath, she wears the undergarments reproduced in exacting detail as she completes her debut "Dance of the Old Capitol"; even the sandals are re-created with tiny bells inside. Please note that the final production doll may vary from this prototype image.

.

AD
---






Tonner Doll Company is proud to present Harry Potter as portrayed by Daniel Radcliffe, authorized by Warner Bros. Entertainment. Tonner Doll Company translates the film's costumes into miniature works of art in a special limited-edition offering. Harry wears the famous Hogwart's School of Witchcraft & Wizardry student sweater. His hand-detailed face painting is matched to the likeness of Daniel Radcliffe as Harry Potter — right down to Harry's infamous lightning-shaped scar inflicted by nemesis, Lord Voldemort. The 17" Harry Potter features remarkably engineered jointing, with 14 points of articulation that include the neck, shoulders, elbows, wrists, side-to-side chest joint, ball-jointed hips, knees and ankles. Crafted in hard plastic and vinyl, Harry has a specially sculpted wand-holding hand, which can also hold other custom accessories, such as his beloved magical owl, Hedwig. Custom display stand is included. New for 2006, Ron Weasley and Hermione Granger join the Harry Potter Collection of fine dolls from Tonner Doll Company.

.

AD
---






Welcome to the world of Tyler Wentworth and Friends — the stunning 16" fashion dolls for girls 8 to 12 years from an award-winning designer straight from Fashion Avenue. All of the dolls have beautiful faces with hand-painted features, long, brushable hair, realistic body proportions and articulated vinyl bodies made to withstand years of play. The designer fashions and accessories are made with today's fashions in mind — without being too hip or trendy. Tyler's fashions reflect the quality and attention to detail you expect from the finest maker of fashion dolls. Tyler and Friends are available in "ready-to-dress" Basic Dolls and high-fashion Dressed Dolls with complete outfit ensembles; custom doll stand is included. Basic dolls start at $59.99; Dressed Dolls start at $99.99.

.

AD
---






Before he delved into dolls, Robert Tonner was senior designer for Bill Blass's sportswear division. The Tyler Wentworth doll is herself a mini-fashion designer. The clothes that "she" creates are backed by Tonner's strong, classic design sense. For 2006, "There are some wonderful outfit collections and the return of Tyler ready-to-wear boutique," said Tom Courtney, director of marketing for Tonner. The dolls are extremely detailed and wear only the finest garments from the Wentworth collection, but what else would you expect?

.

AD
---
THIS BANNER IS AN AD:
---
---