---
Unusual Gifts Catch Shoppers' Eyes
These Products Reach Beyond Unicorns and Candles
If you're shopping for unusual gifts for unusual shoppers,

TD

monthly Magazine has found a few for you. Since nobody likes to give the same old gift as everyone else, these new offerings should make your customers' shopping just a little bit easier:
Disney Mickey & Minnie by ADC Yangzhou Hongchang Arts and Crafts Co.,Ltd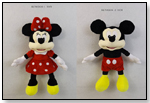 Classic! A super-soft chenille plush stuffed animal. So cuddly you'll never want to put it down! 10/30/2015 (Price: $5.5; Age: 3 to 5) [Add to my Inquiry Basket][?]



Enamel Best Friends Heart Necklaces by COOL JEWELS WHOLESALE FASHION JEWELRY


Best friends necklaces are always a popular seller! These Enamel Best Friends Heart Necklace feature a silver ball chain and come in pairs of 2.
Cost : $3.00 /necklace
Retails: $8.99 - $12.99
See our other Best Friends Jewelry by clicking here http://www.cooljewels.com/bestfriends.aspx to visit the Cool Jewels® website. 6/27/2014 [Add to my Inquiry Basket][?]



Kippah Kantor Hanukkah by KIPPAH KANTOR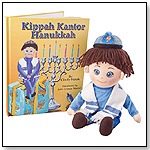 This product is composed of a book telling a story of the appearance of a Kippah Kantor and an adorable Kippah Kantor doll. A Kippah Kantor magically visits during the Hanukkah season, appearing when kids and families do good deeds. In the story, children learn that they are rewarded with their own Kippah Kantor for being a good person and doing mitvahs. Kippah Kantors watch day and night to see all the things that children do right. Each night, the Kippah Kantor hides around the house for the children to find the next day. 4/8/2013 (Price: $29.99)



Hello Kitty Dress Up Watch Set by NAKAJIMA USA, INC.
Create a different look everyday with this multi band wrist watch. Five interchangeable bands to match your child's mood or outfit. The iconic die cut head is a fashion favorite for every Hello Kitty fan. 12/20/2012 (Price: $29.00) [Add to my Inquiry Basket][?]



3-D Butterfly Nail Art by PIGGY PAINT LLC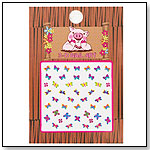 New Nail Art to apply after Piggy Paint has dried. Then seal the Nail Art on the nail with Piggy Paint topcoat. So much fun. 3-D Butterfly Nail Art Topcoat or Glass Slippers is recommended to seal design. Choking Hazard: Not intended for children under 5. Launch date: November 2012. 11/14/2012 (Price: $2.99; Age: 6 and up)



Noah's Ark Boo Boo Blessings Adhesive Bandages by WEE BELIEVERS

Noah and crew sail to the rescue with our new Boo+Boo Blessings adhesive bandages. 20 colorful bandages starring Noah and his animal friends are a cheerful way to help soothe a flood of tears away. 10 styles. 3 1/4" x 3". Launch date: September 2012. 10/2/2012 (Price: $2.49; Age: All Ages) [Add to my Inquiry Basket][?]



16 Piece Cupcake Kit by CURIOUS CHEF INC.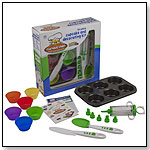 The Curious Chef line provides kids with real, functional, kitchen utensils. The 16 PC Cupcake Kit is just one of many items that helps families create special memories centered on the joy of cooking and positive eating habits. "Curious Chef is the only complete line of real cooking utensils designed for kids that have safety features built-in with kids' size (and behaviors) in mind," Taylor Crenshaw, brand manager for Tailor Made Products, told TDmonthly. Launch date: January 2009. 9/17/2012 (Price: $24.99; Age: 3 to 12) [Add to my Inquiry Basket][?]



Hanukkah Box of Questions by MELISSA & DOUG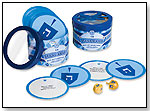 Keeping family and friends gathered around the holiday table doesn't take a miracle - just great questions. "What three values does your family cherish most?" and "What is the best Chanukah gift you have ever received?" are two of the 82 questions on these conversation-starting cards. Make way through the deck to share holiday memories, and create a new tradition with this box of 82 conversation-starters. 9/14/2012 (Price: $13.99; Age: 6 and up)



Planet Wise Snack Products with Zippers by PLANET WISE INC.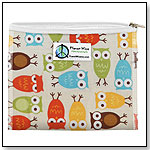 The popular Planet Wise Snack Products are now available in a zipper closure. Replace disposable plastic baggies with these reusable, FDA food safe snack and sandwich bags. Patent Pending seam sealing keeps food fresh and with the large selection of colors and prints, there is sure to be one for every taste. Made in the USA. Launch date: 2012. 9/12/2012 (Price: $7.99; Age: All Ages) [Add to my Inquiry Basket][?]



Mink Blanket by GREAT DIVIDE CORP


Each blanket is an opportunity to wrap children in the warmth of Huggles love. The blanket is an extension of the doll's personality, characterizing one of their favorite things. Launch date: March 2012. 7/13/2012 (Price: $19.99; Age: 3 to 12) [Add to my Inquiry Basket][?]



sixkid Rocking Horse by BECK TO NATURE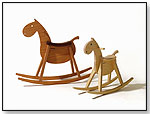 The eco-friendly, handcrafted SIXKID ROCKING HORSE is a modern and natural version of the traditional children's piece, appealing to any generation. It's design is based on classic forms with a unique, modern twist. With no loose pieces and ergonomically shaped saddle it makes riding safe and enjoyable for little ones. Made of sustainable European beech with a walnut saddle, the rocking horse is finished with oils and waxes and are not treated with paint, chemicals, or lead. The fine joinery requires only four screws for assembly. Two sizes are available: one for 18 months and older and one for 3 years and older. They meet all US safety standards. Imported and distributed by Beck To Nature. Made in Hungary, EU. Launch date: November 2011. 6/27/2012 (Price: $399.00; Age: 2 to 6) [Add to my Inquiry Basket][?]



Digital eReader Light by MARK-MY-TIME LLC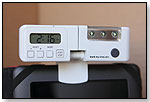 The new Mark-My-Time Digital eReader Light combines the unique features of a back-lit LCD screen, time of day clock, cumulative timer to 100 hours, adjustable LED light, countdown timer with alarm and auto light shut off. This tool makes it simple to monitor daily reading minutes on eReader displays. Easy to use with any hardback or paperback book. Launch date: June 15, 2012. 4/10/2012 (Price: $19.95; Age: 7 and up) [Add to my Inquiry Basket][?]



Gee Bee R 2 Sportster #11 by AIRCRAFT MODELS CORP.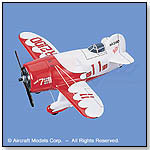 Legendary pilot and scientist James "Jimmy" Doolittle won the coveted 100-mile Thompson Trophy Race in 1932 flying a Gee Bee Super-Sportster at an average speed of more than 252 m.p.h. The stubby, bumblebee-like craft named after its manufacturer, Granville Brothers, was powerful, fast and dangerous due to its giant engine, short wings, rearward cockpit and teardrop shape. Aircraft Models Corp. have been producers of the best handmade Mahogany Aircraft Models for decades. We offer a wide variety of handcrafted model planes and military plaques. Museum-quality models that a collector and pilot would proudly display as a symbol for their passion in aviation and their endearing memories of the past. "All our models are completely hand crafted in kiln-dried Philippine Mahogany; no form resins or decals are ever used," Rafael Salonga, sales manager at Aircaft Models Corp., told TDmonthly. Launch date: July 1992. 3/5/2012 (Price: $158.00; Age: 10 and up) [Add to my Inquiry Basket][?]



Children's Christmas/Nutcracker Scarf Activity Kit by ARTS EDUCATION IDEAS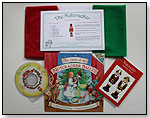 This Christmas inspired kit includes: 6 washable, durable nylon 27" square IDEAScarves in Christmas colors. 2 of each of the following colors: Santa suit red, holly green and snow ball white. The Nutcracker (Peter IIyich Tchaikovsky) Music CD with 7 music selections instructional/informational insert. The Story of the Nutcracker Ballet - Paperback by Diane Goode. Nutcracker Activity Book - by Victoria Fremont, a fun candy cane pencil and a sturdy, self-closing, reusable carrying bag with handle. Made in the USA. Launch date: October 2011. 12/8/2011 (Price: $24.99; Age: 4 to 10) [Add to my Inquiry Basket][?]



Hanukkah Surprises - Gift Assortment Filled With Toys by A PERFECT GIFT COMPANY LLC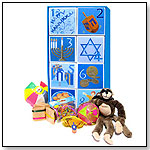 Packaged with a ribbon and greeting card, ready to give. 8 sturdy cardboard boxes, each with a hand drawn illustration, contained in an outer, brightly colored package. This beautiful package will decorate your home as one box is opened each night OR Remove them from the outer carton and give one box at a time with no wrapping required. Toys included are: Switch Pitch ball, Jacob's Ladder, Dreidel, milk chocolate gelt, Amazing Flying Monkey, Fortune Telling Fish, Punch Balloons, Disappearing coin trick, Paper Ballons, and Silly Bands. Also available without gifts for $19.95. 9/8/2011 (Price: $39.95; Age: 3 and up) [Add to my Inquiry Basket][?]



Gift Card Maze by MAG--NIF INC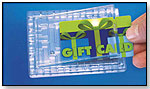 Remove the cover and place gift card inside, remove the tab, and it's ready to give. It's a great way to give an any occasion gift. More than just a puzzle, this item makes gift giving fun. It's also fun for the person giving the gift get to see the recipient have to solve the maze first in order to receive the gift. Launch date: April 2009. 8/29/2011 (Price: $4.99; Age: 9 and up) [Add to my Inquiry Basket][?]



Wishing Watch by WISHING WATCH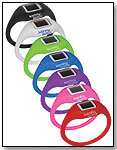 Who hasn't checked a clock or watch to see "11:11" staring back at them? Search 11:11 on Facebook and Twitter or ask just about anyone and you will learn that 11:11 is the ideal time to make a wish. Enter Wishing Watch, the fashionable, fun jelly band accessory that makes wishing easy and exciting with its daily alarm at 11:11a.m. Wishing Watch is available in seven hot colors and is water resistant. Launch date: August 2011. 8/5/2011 (Price: $11.11; Age: 8 and up) [Add to my Inquiry Basket][?]



LEGO® CITY Playmat by NEAT-OH! INTERNATIONAL LLC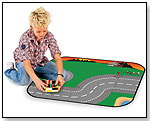 Kids can use this easy to fold up, double-sided LEGO playmat for imaginative play any time, and place. When one side just isn't enough, kids can use both LEGO city -capes to play and build on. LEGO Blocks not included. LEGO, The LEGO logo, the Brick and Knob configuration are trademarks of the LEGO Group. ©2010 LEGO 5/6/2011 (Price: $9.99; Age: 3 and up) [Add to my Inquiry Basket][?]



Cupcake Dots by ARTIST POINT GIFTWRAP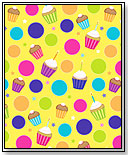 This exclusive design is printed on 50# premium coated paper. Available in 18" (price give), 24", and 30" widths. Roll lengths are either 417' or 833'. (

Watch Video) 3/24/2011 (Price: $77.00) [Add to my Inquiry Basket][?]



Nap Mats by LAMBS & IVY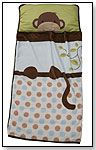 All-in-one pillow+mat+blanket. An easy solution for daycare, Preschool, travel, Grandma's house or just any time a little one needs to relax. This easy to carry mat that is colorful and versatile. Easy to roll up, has Velcro closures and a carry handle. There is also a name tag included. Comes in three different styles. 3/22/2011 (Price: $17.21; Age: 2 to 5) [Add to my Inquiry Basket][?]



Bud's Buddy Blanket - Blue by BUNNIES BY THE BAY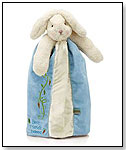 Plush bunny with soft blue velour blanket lined and edged in silky satin. Blanket is open in the back for easier snuggling. "Best Friends Indeed" embroidery. Machine wash & tumble dry. Size: 16" 3/22/2011 (Price: $24.00; Age: All Ages) [Add to my Inquiry Basket][?]



Childhood Gift Wrap by DISEGNO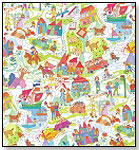 This colorful line of giftwrap from Disegno is made of eco-friendly Kraftpaper (sustainable PEFC/FSC cultivation) and is CO2 neutral. The creative design features children playing, a castle, a volcano, princesses and knights, and more. This design is available as counter-roll wrapping paper, paper shopping bags, gift bags, and gift certificates. Once a child opens their gift, the wrap can be used as a border in their room, hung as a poster, or laminated onto cardboard and cut into puzzle pieces. 1/13/2011 (Age: 3 to 10) [Add to my Inquiry Basket][?]



baby and kids' giraffe coin bank by ALEX MARSHALL STUDIOS


Alex Marshall Studios is adding a giraffe coin bank to their line of handmade, personalized baby and kids' ceramics. Available in character or silhouette design, each bank is handmade in their northern California studio and can be personalized with the name and date of birth. Each piece is made from a white earthenware clay, is CPSIA compliant and measures 7.5 x 2.5 x 12" h. 1/12/2011 (Price: $76.00; Age: All Ages) [Add to my Inquiry Basket][?]



Bestie Buds™ by VIOLETGUMDROP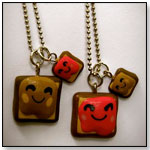 Bestie Buds can show their bestie love with bestie necklaces based on sweet treats. There are nine adorable sets available, including peanut butter & jelly, milk & cookie and ice cream & cake. "We also have 2 charms on each necklace instead of the old style which is just one of each," Darcee Matlen, President of VioletGumDrop, told TDmonthly. 12/8/2010 (Price: $22.00; Age: 6 and up) [Add to my Inquiry Basket][?]



Go-La Rolla Portable Play Mat by GO-LA ROLLA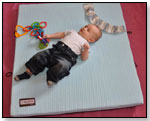 This portable play mat is eco-friendly, and made in Canada. Play mat is available in three chic two-tone combinations of pink/brown, blue/brown, and natural/brown.
Awards: 2010 Parent Tested Parent Approved Award; 2010 Parent Tested Parent Approved Environmental Award; 2010 Pediatrician Approved - Dr. Natalie Geary 11/5/2010 (Price: $100.00; Age: 0 to 2) [Add to my Inquiry Basket][?]



Poo-Pourri by S2 SYNERGY LLC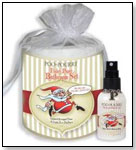 Poo~Pourri's formula of essential oils such as a fresh evergreen and holly scents should be sprayed into the toilet water before you go and no one else will ever know. A couple of drops of this spray creates a film along the water's surface that traps odor at its source. This solution to embarrassing bathroom emergencies is also safe for the planet. The 2 oz retails for $9.95 and the 4 oz retails for $14.95. 11/3/2010 (Price: $14.95) [Add to my Inquiry Basket][?]



The Simpsons Yellow Album Hand Painted Cel by ENTERTAINMENT EARTH INC.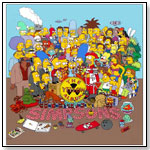 A clever parody of the classic Beatles album Sgt. Pepper's Lonely Hearts Club Band, this handpainted cel is a 150-piece, hand-numbered limited edition from Acme Archives. It features stunning artwork straight from The Simpsons, measures 15-inches tall x 14-inches wide, and comes with a certificate of authenticity. 11/3/2010 (Price: $1667.00) [Add to my Inquiry Basket][?]



Blue Dino by BIG BELLY BANKS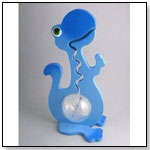 Handcrafted in the USA. Drop a quarter, dime, nickel or penny into the opening of the wooden track and watch the money fall into the Belly. Constructed of high gloss painted wood - 20 inches tall. Features a plastic "Belly" that is opened by unscrewing the center bolt. Great gift - makes learning to save fun! (

Watch Video) 11/1/2010 (Price: $42.99) [Add to my Inquiry Basket][?]



The New Yorker baby collection dish sets - Elephants by SILLY SOULS LLC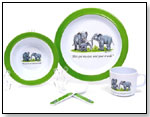 Here is a 5-dish set engraved with a classic elephants New Yorker cartoon. Each set comes in the New Yorker baby collection window gift box that can sit on a shelf or hang on the wall. Packaging includes care instructions in English and French. 10/28/2010 (Price: $19.99; Age: All Ages) [Add to my Inquiry Basket][?]



Monarchs Treasure Box by ENCHANTMINTS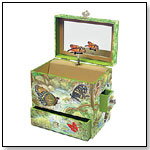 Painted on all sides with colorful butterflies, the Monarch Treasure Box from Enchantmints contains a multitude of places for tiny keepsakes. Jewelry, craft supplies, or any ephemera that has captured a girl's imagination can be tucked into its various drawers and compartments. Closed, the box measures 6" x 4" x 6". The underside of the lid is mirrored, and when open a delicate Monarch butterfly slowly rotates while music plays.
— Two out of 44 retailers interviewed in September 2010 said jewelry and treasure boxes from Enchantmints are a best-selling keepsake in their stores.
— In an October 2011 survey, Powell Phillips, owner of Phillip's Toy Mart in Nashville, Tenn., told TDmonthly that jewelry boxes from Enchantmints were his best selling keepsake item. 10/28/2010



DIY Lip Balm Making Kit by KISS NATURALS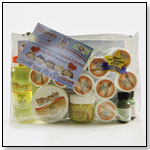 This Lip Balm kit can make up to 10 all-natural lip balms. Kit contains 2 bottles of essential oils, Shea butter, Safflower oil and Beeswax. To create the lip balm, the beeswax, safflower oil and shea butter are melted together over a stovetop or microwave followed by the addition of the essential oils. Lip balms are ready to use in 30 minutes.
— In a December 2012 survey about bestselling toys, Candace Gooch, owner of At Once All Agog in Limerick, Maine, told TDmonthly that they sell about 10 lip balm kits each month. 10/20/2010 (Price: $19.95) [Add to my Inquiry Basket][?]



Recycled Gift Tags by FISH LIPS PAPER DESIGNS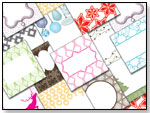 Fish Lips' gift tags come in bold, geometric designs to coordinate with our Everyday & Holiday Gift Wraps. The 3" square tags are printed on ultra thick cardstock and are a stylish accessory for any package! Gift tags have a ribbon for easy attachment and are sold in sets of 6. Designed, printed and packaged in the USA on 100% Post Consumer Waste Recycled paper with soy inks. 10/19/2010 (Price: $3.00; Age: All Ages) [Add to my Inquiry Basket][?]



Guess How Much I Love You, Nutbrown Hare Blanket Buddy by KIDS PREFERRED INC.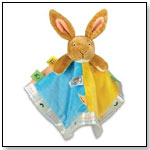 A clutchable mini blanket with the head and arms of Nutbrown Hare in the middle. The blankie is satin on one side and has patches of velvety velour on the other side. Between the patches are small satin ribbon tabs with images of butterflies, feather, and mushroom on them.
Awards: Oppenheim Toy Portfolio Best Toy Award, Gold Seal, 2010. 10/14/2010 (Price: $14.99; Age: 0 to 2) [Add to my Inquiry Basket][?]



Vibe IT by WIDE IDEAS INC.


Vibe IT is a fun way to listen to your favorite music, movie or play a game on your portable device. Vibe IT turns almost anything into a speaker, just remove the acoustic generator from the Vibe IT cube and place it on any hollow or an object that can vibrate. With the reusable sticky material found on the acoustic generator, it will stick to any object and turn that object into a speaker. 10/5/2010 (Price: $19.99) [Add to my Inquiry Basket][?]



Star Trek U.S.S. Enterprise Web Cam by DREAM CHEEKY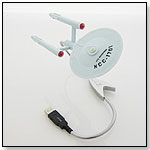 This original Starship Enterprise NCC-1701 USB webcam features engines that light up red to give users the full starship effect. 8/26/2010 (Price: $30.00; Age: 14 and up)



Sticky Pixies Thea Rose Fairy Tee by STICKY PIXIES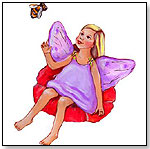 This fall tee features a fairy that comes complete with a velcro-attached dress. Girls can remove the dress and attach a different one. Additional dresses are sold separately. Fairy dresses are handmade in the USA. Made of tulle, special glittery fabrics, and flowers. 8/24/2010 (Price: $34.00; Age: 4 to 12)



Handstand Kids Cookbooks by HANDSTAND KIDS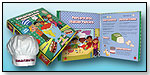 The Handstand Kids Cookbooks are fully-illustrated, international children's cookbooks that introduce children to the language, culture and cuisine of three different countries (Italy, Mexico and China) while encouraging healthy eating, community involvement and helping out in the kitchen. Each kit comes uniquely packaged with a cooking accessory. The Italian Cookbook is packaged in a pizza box with a chef's hat, the Mexican Cookbook comes in a tortilla bag with a child-sized oven mitt and Chinese Cookbook is packaged in a take-out box with a set of chopsticks. 8/24/2010 (Price: $25.00; Age: 3 to 14) [Add to my Inquiry Basket][?]



DUPLICATE Sports blankets and burp cloths by TEAMEES
These baby blankets are designed to appeal to a new or expecting father. Available in football, basketball, soccer or baseball shapes with special stitching, the super-soft blankets are come in three sizes and are also available with matching burp cloths. 8/16/2010 (Price: $53.00; Age: All Ages) [Add to my Inquiry Basket][?]



Blessing Blanket by MINKY COUTURE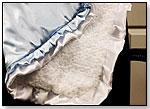 This blanket features plush white minky swirl material and soft blue satin, finished with blue and white satin ruffle trim. (

Watch Video) 8/11/2010 (Price: $55.00; Age: 0 and up) [Add to my Inquiry Basket][?]



Goldilocks Baby Record Book by TERRA TRADITIONS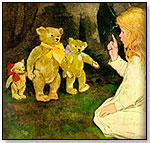 This linen journal captures the classic "Goldilocks" fairy tale. The book is also available with Swarovski crystal accents. 7/30/2010 (Price: $49.95)



Hannah's Kittens by HANNAH'S KITTENS INC.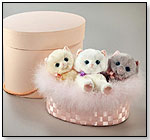 Daisy, Violet and Sweet Pea are luxurious, weighted plush kittens designed to feel like real kittens. Made of fluffy French faux fur and satiny fabrics, they measure 6"-7" long. A portion of proceeds goes to animal rescue and children's literacy charities. Price shown is for the set of three kittens.
AWARDS: 2009 Family Choice Award, 2009 Publisher's Choice Award (

Watch Video) 7/26/2010 (Price: $245.00; Age: 3 and up) [Add to my Inquiry Basket][?]



PhotoStory by Creations by You, Inc.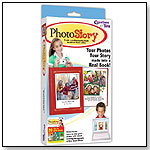 PhotoStory includes the complete cost of a professionally produced, full-color hardback photo book. A unique kit number is provided to help kids make a book online with user-friendly website. The bonus photography guidebook will teach kids how to use their camera. "Kids are getting digital cameras at very young ages and have no outlet for thier photos besides social networking sites. While there are many photobook options, we are the only one with a focus on this young market. We have hundreds of preloaded stickers and backgrounds which can be added to layered pages and are designed around what kids are photographing," Chapelle Brunk, Marketing Specialist, Creations by You, told TDmonthly.
Awards: 2010 Creative Child Magazine Kids Product of the Year 7/16/2010 (Price: $21.95; Age: 9 and up) [Add to my Inquiry Basket][?]



Fun Time Table Mat by THE PIGGY STORY INC.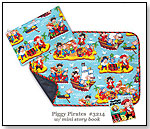 This placemat with reversible chalk mat is durable, waterproof and easy to clean. The mat turns any table into a creative play space or clean eating area, then easily folds into the included travel pouch to hold creative essentials or eating utensils. 7/9/2010 (Price: $9.00; Age: 3 to 8)



Universal Siliskin Wideneck by SILIKIDS LLC


Universal Siliskin Wideneck silicone covers for glass bottles and metal containers are designed to fit a variety of large and small glass baby bottles and slide on and off for easy cleaning. These safe, silicone sleeves help prevent breakage of glass baby bottles, and are a translucent silicone which allows you to see measurements and liquid in the bottle. Siliskins are hypo allergenic, have no open pores to harbor bacteria, are dishwasher and microwave safe, and can be boiled to sterilize. Small Wideneck Siliskins come in Red, Sky Blue, Teal Green, and Yellow, and fit the Born Free 5oz glass bottle, Nuk Wideneck 120ml glass bottle, 12oz Kleen Kanteen, and 10oz Sigg. Large Wideneck Siliskins (MSRP $8.95) come in Green, Light Blue, Lilac, and Yellow, and fit the Born Free 9oz glass bottle, Nuk Wideneck 240ml glass bottle, Fogo Straw Sippy by Thermos, 13.5oz Sigg, 12oz Soda/Beer can, and even mason jars. 7/8/2010 (Price: $6.95; Age: All Ages) [Add to my Inquiry Basket][?]



Dr. Seuss Cat in the Hat Layette Set by TREND LAB, LLC


This Dr. Seuss Cat in the Hat four-piece set includes a bodysuit (0-3 month), bib, blanket and padded hanger. The set is available in red or white. 6/28/2010 (Price: $24.95; Age: 0 to 0) [Add to my Inquiry Basket][?]



Cult Films by LANGENSCHEIDT PUBLISHING GROUP


This selection from author Will Dodson consists of six oversized movie poster postcards and a flat-spined book filled with vintage stills. "Cult Films" focuses on the sometimes campy, sometimes gruesome, sometimes thrilling movies that have attracted a small yet dedicated knot of fans over the decades. This collection is vividly illustrated with black-and-white and color images throughout. "There's something about the quirky and bizarre nature of cult films that appeals to the movie-watcher in all of us. Cult Films strikes that same chord, covering ground never before seen by non-hardcore cult movie enthusiasts," Langenscheidt Publishing Group Marketing Assistant Andrea Sper told TDmonthly. 6/14/2010 (Price: $14.99; Age: All Ages)




Writer's Bio:
ALISON MAREK is an award-winning writer, director and cartoonist whose work has been published by Fairchild Publications and DC Comics (Piranha Press), broadcast on Showtime and other cable networks, and viewed worldwide in film festivals. See her short films and print work on www.alisonmarek.com. Watch her nefarious villains in the web series www.MuggsMovers.com. Get inspired by her cartoons "Daily ARFFirmations to Unleash Your Inner Fido" at www.ARFFirmations.com. Phew! And then ...
Read more articles by this author
THIS BANNER IS AN AD:
---
---