---
Wild Republic Gives Back
Steve Irwin Action Figures Help Wildlife for Real
"You need a blend of equity, innovation and passion." — Kim Hammeren, Wild Republic

A love of nature and children gave Wild Republic its beginning after founder G.B. Pillai noticed that gift stores at zoos, aquariums and museums could do better at offering merchandise that reflected the visitor experience. To remedy the problem, he designed and supplied top-quality replicas of wildlife, and showed them to these institutions.

That was 27 years ago, and it didn't take long for the specialty shops to jump on board. Today, Wild Republic continues to supply these stores. But it since has recruited other retailers, including mass accounts and mom-and-pop stores, to carry some of its 3,500 plush and plastic nature-related products with an educational component.

Maintaining the Focus

"The zoo, museum and aquarium market requires educational content in each package, and we like to keep that component in place for all retail accounts," said Kim Hammeren, director of special projects. "Our toys are fun and educational."

But it's not just the educational emphasis that makes Wild Republic unique: "We pay attention to the details of individual animal characteristics, and we also customize items for retailers," Hammeren added.

If a museum has a unique exhibit, or a zoo has a new animal that it wants to highlight, Wild Republic will create a custom item, he said.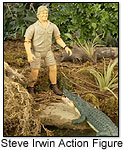 A License for Conservation

The company's first big license — an inbound license — is the Steve Irwin line, which was released in conjunction with the 2007 American International Toy Fair in February. It includes the flagship Steve Irwin Talking Action Figure and a "Bindi's Friends" line featuring the voice of the Irwins' daughter, Bindi.

The line grew from the company's pre-established relationship with the Australia Zoo, which the late Steve Irwin owned with his wife, Terri.

"The Steve Irwin concept began with customizing a few items for the Australia Zoo that just flew out the doors in Australia," Hammeren added. "We think [Bindi's Friends] will have the same staying power as the Mary-Kate and Ashley brand had with young fans, but this will be all about conservation and wildlife preservation."

A portion of proceeds from these product lines will go to conservational causes through the Australia Zoo.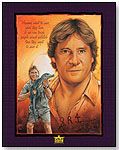 No Recycling Here

The toy industry has been a part of Hammeren's entire career. Starting with a licensing division of American Greetings called Those Characters From Cleveland, he helped develop the original Care Bears and Strawberry Shortcake, testing the concepts through greeting cards.

People in the toy business need to have a passion for toys and innovative ideas, he said. "It's gotten to be a recycled world, and there's so much that goes out the door that's just an extension of a TV brand. You need a blend of equity, innovation and passion."

The passion that Pillai had 27 years ago continues today through Wild Republic, which remains focused on the products and the customer, and continues to give back to the world.

See some of the Wild Republic's products here:

Writer's Bio:
Terri Hughes-Lazzell is a freelance journalist based in Ossian, Ind. After spending nearly a decade as a daily newspaper reporter, she has worked as a freelance journalist for more than ten years, writing about a variety of topics. Her work appears in newspapers, magazines and specialty publications nationwide.
Read more articles by this author
THIS BANNER IS AN AD:
---
---