---
Play It Quickly
Group Games Work the Brain and the Clock
"Price doesn't matter, but they want something that's easy to understand and quick to play." — Roger Lee, Olney Toys
With additional reporting by regional correspondents Agata Antonow, Virginia Davis, Christine Lebednik, Terri Hughes-Lazzell and Brenda Ruggiero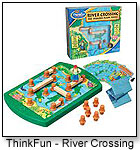 Games designed for families and other groups are the most popular, 51 specialty retailers across the nation told

TD

monthly Magazine, but more players doesn't necessarily mean more time for play. Several retailers indicated that customers want quick-play games that call for strategy and challenge, but are equally simple and easy to understand.

What's Selling

"In today's busy society, the games we sell the most of are those that go quickly — not drag-out three-hour games. They need to be simple…but strategic," said Danny Givens, owner of Little Dickens in Lynchburg, Va.

"One example is Gobblet [by Blue Orange (ToyDirectory)] — a wooden tic-tac-toe game," he cited.

Although fast play is a recognized trend, owner Shanna Frieling of Giggles Toys & More in Bozeman, Mont., is "finding the opposite to be true." She's having success with the long-playing Settlers of Catan by Mayfair Games (ToyShow). Five retailers mentioned the game or its new expansion packs.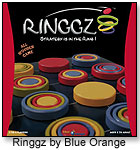 Eleven commented on the popularity of games that support time with family and friends. Especially in demand are those with cross-generational appeal.

In addition to perpetual best sellers Blokus by Educational Insights (ToyDirectory) and Apples to Apples by Out of the Box Publishing (ToyDirectory), the Cranium line was mentioned by retailers 13 times.

How It's Selling

Sometimes, quick sales depend on quick demos.

"Games sell well if we can explain them to a customer in 30 seconds," said Miles Altman, owner of King Arthur's Court Toys in Cincinnati.

Some retailers play to sell. Mrs. Tiggy Winkles in Tucson, Ariz., utilizes a huge demonstration table to play games alongside customers. "It changes the atmosphere of the store," buyer David Correa told

TD

monthly.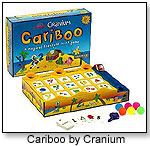 "Games sell better if we've tried them," added Bill Rayment, co-owner of Toy Crossing in Harbor Beach, Mich. "If we like them, we push them."

What to Make of It

"Price doesn't matter" with games, co-owner Roger Lee of Olney Toys in Olney, Md., summed up, "but they want something that's easy to understand and quick to play."

Read on for more about popular games:







.

AD
---






.

AD
---






.

AD
---






Designed by Klaus Teuber, this game allows players to expand their Settlers of Catan game in new directions by adding islands, pirates, gold, ships and trade. Players work to explore and colonize the newly populated Archipelago of Catan, building settlements, roads and villages by trading commodities from the land and islands. The game is suitable for three to four players and takes 60 to 90 minutes.

.

AD
---






.

AD
---






Desert islands, treasure, hungry sharks, treacherous seas and, of course, pirate battles all await you in Dread Pirate. This beautiful coffee table game comes packaged in an authentic wooden treasure chest and is played upon a wonderfully illustrated cloth treasure map. Choose a ship and a port of call, and set sail in search of treasure. Trade in a foreign port or sail broadside to another captain and take your best shot. Be the first pirate to collect all types of jewels and land on Dread Island to become the most feared and powerful captain on the high seas. Journey back with your family for a high seas treasure hunting, pirate adventure! Perfect for four players.

.

AD
---






.

AD
---






.

AD
---






.

AD
---






.

AD
---






.

AD
---






.

AD
---
THIS BANNER IS AN AD:
---
---