---
New Games Have Global Effects
Companies Capitalize on Foreign Markets and Language Skills
"The idea of being part of a quasi-real-life massively multiplayer experience appeals to just about everyone." — Rob Fleischer, Mind Candy Design

Japan is a hot market for Family Pastimes (ToyDirectory) games that trade competition for cooperation. An alternate reality game has attracted tens of thousands of players worldwide in the search for a hidden cube … and a $200,000 reward. And at least a couple of companies are taking language lessons to a new level, manufacturers told

TD

monthly Magazine.

Foreign Attraction

"The cooperative play principle [is] sort of my rule of thumb for designing games," said Family Pastimes President Jim Deacove. "I never pitch players against one another."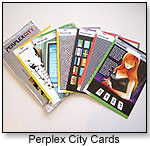 Deacove says his family-friendly approach is working, as it has gained popularity in the Netherlands, where his games are in 85 stores, and in other international markets such as Japan, where "they were really receptive to it."

As Season One of the alternate reality Perplex City game by Mind Candy Design winds to a close, online records reveal more than 50,000 active players, the company's Rob Fleischer told

TD

monthly.

"It's not constrained to one kind of medium," he said of Perplex City, which is now also a board game (distributed in the United States by University Games) but broadly encompasses playing cards, mobile phone interaction and live events across the globe.

"The idea of being part of a quasi-real-life massively multiplayer experience appeals to just about everyone, from hardcore MMO (Massively Multiplayer Online) players to puzzle-addicted moms and dads," Fleischer added.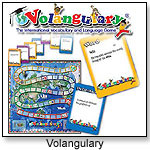 Speaking Up

When it comes to global communication, some manufacturers are taking a direct educational route to impact language skills. Sherwin Burrowes shared that his game Volangulary (ToyShow) aims to give immigrants an effective way to learn a new language, apart from a potentially embarrassing classroom setting.

"The goal of the game is that people would feel more comfortable using the language and be able to communicate better," he told

TD

monthly.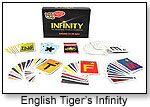 English Tiger Games, "though initially designed for ESL classrooms, can also be used by learners in English-speaking countries as educational aids and motivators," noted President Liam Finn.

"There's a certain amount of memorization and rote learning that has to go on initially in language learning. Any means of getting students to interact with the language could be helpful in that way," Dr. MaryAnn Christison, a linguistics professor at The University of Utah, told

TD

monthly about games designed to aid language study.

Something like English Tiger's Irregular Verbs Bingo, she noted, may not be effective alone because it's not contextualized, "but if Bingo follows a number of activities and it's a game to help [students] check what they've already learned, then it's fine."

English Tiger products are currently only sold in South Korean bookstores, but the company's "goal is to expand so that learners around the world can enjoy our useful and entertaining products," Finn added.

Read on to see what else is new in the world of games:







.

AD
---






.

AD
---






.

AD
---






.

AD
---






The object of the game is to achieve a Happy Retirement by obtaining a balanced lifestyle (an outcome that most people do not achieve in real life). Players acquire lifestyles and an income that are generally beyond a typical person's means. Players have to make sets consisting of three different types of lifestyles: expensive (e.g., traveling the world), not so expensive (e.g., mountain-bike trips) and free (e.g., good friends). Not included in the rules is the fact that the most valuable lifestyles to own are the ones that are free. Players find this out during game play. The most valuable attribute on the board is "Positive Attitude." Although the game was designed for Baby Boomers, children love to play it, too, because you can't get "bumped out" of the game. They also like having fistfuls of money. Parents consider the game to be educational and fun, as kids learn about values, negotiation and the cost of living. Game play runs 90 minutes. President Martin Kral of Marty's Games Corp. said his game "touches a part of everyone's lives. ...There are currently 90 million people in North America over the age of 50, and in 20 years, there will be over 180 million, and they all want a Happy Retirement."

.

AD
---






.

AD
---






.

AD
---






.

AD
---






.

AD
---






.

AD
---






Created by a backgammon champion, Mindgammon is the board game designed for today. It captures the essence of the original "backgammon" while making it interestingly different. Every roll of the dice challenges the mind and it is literally a thrill a roll. Whether you have twenty minutes or two hours, Mindgammon will take you and your mind away from the monotony and rigor of your day and recharge your brain and outlook of life. You can play Mindgammon with someone just for fun or to hone your competitive skills. It is possible your playing partner may not be your best friend after you have beaten him/her a dozen times in a row. But, do remember it is only a game!" Have fun!

.

AD
---






.

AD
---






.

AD
---






.

AD
---






Halley's Revenge is a light strategy game with the excitement of a high-speed chase. The game is for two to four players, and the object is to capture as many of an opponent's satellites as possible before the comet takes over the board. Halley's Revenge has no limit to its wrath, and it moves at an incredible rate, gobbling up everything in its path. As Halley's comet occupies more spaces, satellite movement becomes more difficult. Halley's comet is out for revenge. Approximate playing time is 20 to 30 minutes.

.

AD
---






.

AD
---
THIS BANNER IS AN AD:
---
---