---
A Fresh Cut of the Tree
Newer Wooden Toys Prompt Repeat Sales
"Retailers who stock Holztiger products like them because they are a steady seller throughout the year, with people coming back for more." — Marilyn Chalais, Holztiger

Wooden toys are traditionally known — and trusted — for their quality. And even in an age of electronic frenzy and plastics galore, companies such as Applepie Toy Distribution still opt to make wood their focus, providing the same superiority in product offerings that stores and customers have depended on for generations.


Trustworthy Timber

Ron Ranke, sales manager for Bajo Toys (ToyDirectory), told

TD

monthly the company's manufacturer, Wjociech Bajor, "very carefully chooses the timber from his own local woods and orchards in Poland," selecting one of 14 woods based on whether the product is a pull toy, push toy or puzzle.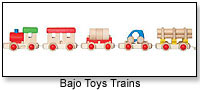 Brand new Applepie Toy Distribution, offering unique Pull-Along Pals that wiggle, similarly depends on value.

"People are looking for nice quality toys," President Rick Tomasco said. "[Ours are] made of heirloom-quality wood and can be passed down through generations."

Tag Toys also have quality appeal, according to CFO Barbara Villafana. The product is "not mass manufactured," she said. "We do use computerized machinery, but, for the most part, it's hands-on construction."

Recurring Sales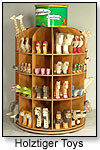 Holztiger (ToyDirectory) wooden products are sold exclusively in specialty outlets and don't even touch the mass market ... or computers. Retailers are pleased, U.S. Agent Marilyn Chalais of Holztiger told

TD

monthly, because customers return for more.

"Retailers who stock Holztiger products like them because they are a steady seller throughout the year, with people coming back for more and more of the figures every month," she said.

Keva Planks (ToyDirectory), said President Ken Scheel, is also experiencing success with repeat sales, though in this case, it's just with one product — identical wooden planks.

Read on for a few of the latest wooden toys:





Wholesale Price: (Log in to view)

MSRP: $70.00

Age Range: 1 and upLaunch Date: April 2007Gender: Boys And Girls





Dino and his friends are true ride-along pals. "All of our items are designed in England," President Rick Tomasco of Applepie Toy Distribution told TDmonthly, "and the design team over there is constantly working on really neat stuff to offer to the U.S. market." Launch date: April 2007.

ToyDirectory Product ID#: 10892

(added 1/4/2007)

.

AD
---







Bajo Toys USA is the recipient of the 2006 "Best Toys of the Year" Award, presented by the publisher of Child Magazine. Bajo's Baby Walker was selected to receive this prestigious award, and an article appeared in the November 2006 edition.
— "The entire focus of all the designs, regardless of what ages of children it's for, is on the educational and learning aspect of the toy," sales manager Ron Ranke said about Bajo Toys manufacturer Wojciech Bajor. "If he designs something, he wants it to have educational value."

ToyDirectory Product ID#: 9628

(added 10/6/2006)

.

AD
---




MSRP: $79.95

Age Range: 4 to 6SKU or Item #: CMS-45Launch Date: January 2006Gender: Boys And Girls





This game features a word board and letter cards that include letters for the complete alphabet with extra vowels and consonants. A child or teacher selects letter cards from the back to spell a word. To play, a child tosses the die to determine which color card can be turned to reveal a letter, and then has a chance to guess the word, playing until a word is guessed correctly. The game teaches children to mentally complete words with only partial information — an important reading sub-skill for developing word recognition and reading speed. Tag Toys are "unique and they can't be found in the mass market stores," CFO Barbara Villafana told TDmonthly. Launch date: 2006.

ToyDirectory Product ID#: 11168

(added 1/15/2007)

.

AD
---




MSRP: $160.00

Age Range: 8 and upLaunch Date: November 2006Gender: Boys And Girls





Designed by architect Steven W. Hurd, these blocks are the first in a series of architecturally themed building blocks created for all ages. Each set is designed around a particular building type, but the unique pieces allow for creativity and imaginative construction. The blocks are carved from imported hardwood, and the set includes 145 pieces, 15 different shapes, a printed plan and instructions. Castle Blocks are also available. "The Cathedral shape offers a dramatic initial building project and the unique shapes allow for a different level of imaginative play than most sets of building blocks," Hurd told TDmonthly. Launch date: November 2006.

ToyDirectory Product ID#: 11539

(added 2/21/2007)

.

AD
---






This versatile set includes 100 beautiful hardwood maple planks and a full color KEVA Guide Book. Children can play games of strategy, skill and balance with these perfectly cut, identical construction blocks that stack with surprising stability. Narrow towers can reach all the way to the ceiling. This incredible stability is achieved by cutting the planks with great precision.
— President Ken Scheel of Keva Planks pointed out that "the concept of using a construction set that only has one piece to choose from is very unique. … Each person can build with his or her own skill level and have lots of fun with it."

ToyDirectory Product ID#: 10696

(added 12/14/2006)

.

AD
---

Writer's Bio:
Julie L. Jones has written articles for both newspapers and magazines. Before joining the staff of TDmonthly Magazine, she worked as a communications writer and provided editorial support for a market research company.
Read more articles by this author
THIS BANNER IS AN AD:
---
---