---
Preschool/Early School: Wooden Toys Rule
Blocks, Frames and Games Make Kids Think
While investigating blocks, games and frames for little kids,

TD

monthly's Preschool/Early School Roundtable participants favored products that were made with pleasing colors and high-quality materials, and that required problem-solving skills and strategy. They disliked poor instructions, rules that were too numerous and inflexibility in how the product could be used.

Participants were World Bank policy advisor Gail Richardson with Alexander (6 years) and Jessica (4); finance executive Shannon Harris with Tripp (5); stay-at-home mother Heather Jones with Reece (7), Cameron (5) and Meg (3); sales executive Stephanie Kirby with Sarah (5) and Emma (4); and writer/editor Elise Yousoufian with Aaron (5) and Hanna (5).

Fabulantis by EUROPLAY CORP.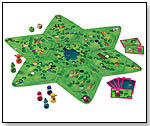 Gender: Boys and Girls
Age: 6 and Up
Price: $30.00

What It Is: A board game with wooden pieces that leads players through a mysterious forest and has multiple goals.

What the Moms Thought
"The entire game/package was visually attractive," Jones said. Richardson called it "challenging — a strategy game with a twist." But some aspects that make it challenging also make it "difficult to understand," noted Kirby. Participants agreed this is definitely for the 6-and-up crowd.

What the Kids Said
Alexander (6) showed excitement: "Mom, let me figure out how to set the board up. Let's play again!" The children asked questions about the various characters, what a gremlin is, and how to play the game.

How to Improve It
Harris remarked that assembling the game was tedious and it had too many parts. The board should stay flat (it does not), and the game should be "easier for kids to understand," she added.

Would You Want Another Toy Like This?
Mothers appreciated how the game calls on and develops older children's skills in problem solving and strategy. It involves competition with outcomes the children can influence — a characteristic appropriate for the older children the game targets, and one that I would seek in a toy as my children enter first grade.

---
Fantasy Land Jigsaw Puzzle Blocks by HABA USA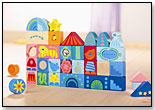 Gender: Boys and Girls
Age: 1 and Up
Price: $45.00

What It Is: A set of blocks/puzzle parts made of fancifully colored and decorated wooden pieces.

What the Moms Thought
The blocks are beautiful to see and touch. They "can be rearranged…with lots of mixing and matching of patterns, enabling the children to reinvent what is beautiful in many different ways," wrote Yousoufian. Harris noted the "visual stimulations on various blocks."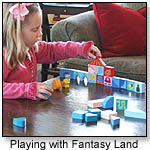 What the Kids Said
Jones' boys, Reece (7) and Cameron (5), said Fantasy Land is "a baby toy because of the look of the blocks." But Kirby said Emma (4) and Sarah (5) "kept asking for us to view their progress and would change the setup frequently."

How to Improve It
Jones said there could be a "larger quantity [of pieces] for building," and Richardson suggested "a booklet with a few more ideas on what to do with the blocks." Some children wanted more models to replicate besides those on the box.

Would You Want Another Toy Like This?
The children who liked this toy really liked it — regardless of age or sex. They would likely be interested in more blocks or a bigger set. Alexander (6) summed it up:
"I am going to make a whole village; … Mom, can you get some more pieces?"

To read more about HABA in this month's issue, click here.

---
L'il DaVinci Gallery Edition Art Frames by DYNAMIC FRAMES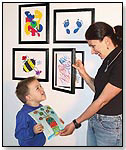 Gender: Boys and Girls
Age: All Ages
Price: $26.95

What It Is: A frame with an approximately 8-1/2" x 11" display area that stores up to 50 sheets of paper. The displayed work can be changed easily, so that any of the other pages can be displayed.

What the Moms Thought
Children this age love to show off their work, and the frame gives them a chance to valorize their creations. It also serves as a treasure box from which children can choose work to showcase.

What the Kids Said
Many children agreed with Aaron (5), who said, "I like it because you can put paper in it. It's so cool." They liked being able to manipulate the display; after framing a piece of his art, Aaron said, "I can do it."

How to Improve It
Dynamic Frames could be improved by including mats for placing smaller works of art. (Editor's Note: "Magnetic Whiteboard" by Dynamic Frames allows the presentation of smaller works and is available separately.) Kirby suggested that the frames be offered in a variety of materials.

Would You Want Another Toy Like This?
Richardson ordered seven as holiday gifts. "It is well done, very functional, easy to use, and pleasing to look at," she said.

Writer's Bio:
Elise Yousoufian engages in paid work as a writer/editor on complex negotiations for airplane maker Airbus. Her two children completed four years at a Montessori school and enter first grade this year at the local elementary school. She finds watching Aaron and Hanna one of her life's highlights.
Read more articles by this author
THIS BANNER IS AN AD:
---
---